14 TV Shows Right On The Bubble Between Cancellation And Renewal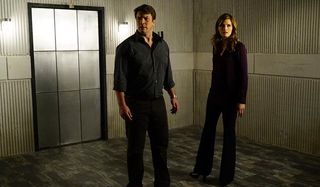 Every year, we see the same sorts of trends happening to TV shows. Programs that started high in the fall often will begin faltering after they return from hiatus. Other shows that have started low in the fall get shuffled off into new timeslots, etc. These trends might not be a great sign for any of the particular shows, but they're actually not death sentences for network TV series. It just means a show is on the bubble. And as the ratings get lower each year, leaving room for social media and other platforms to make a difference, more and more shows find themselves in the unlucky situation of being right on the bubble.
This spring, we've culled through all of the big TV shows on the major networks and have come up with a list of programs that are hurting in the ratings and very well may not be on the schedule when the new season kicks off. Without further ado, here are the network TV shows that are right on the bubble between cancellation and renewal. If a low-rated show is missing from this list, go ahead and assume we think it is going to be cancelled.
Sleepy Hollow, Fox
Sleepy Hollow has been a perpetual favorite on lists like these over the past couple of seasons. After a startlingly good first season, the supernatural drama took some unlikeable turns in Season 2. While things have looked up a bit in Season 3, a complete rewrite—including Betsy Ross—has changed the narrative and turned off more audiences. Things got so bad, Fox shipped the show off to Friday nights, where its last original only did a .8 rating. There's always the chance Fox might push the show to a fourth season and additional episodes, but since Sleepy Hollow isn't close to hitting the traditional syndication mark, now might be as good of a time as any time to say sayonara to Sleepy Hollow.
Castle, ABC
Castle has been creeping lower in the ratings as the years have worn on, but this is the first year the show has really seen bad ratings worth remarking on. Like a lot of long-running procedurals, Castle is starting to seem a little fatigued and stands out as an older program among younger, sharper network TV shows. The creative team has even written a finale that will serve as an ending should the show not get renewed. Still, fans have fond feelings for Castle and ABC may give the drama another season to wrap up its storyline, similar to what Fox is doing for the Bones cast and crew.
Grandfathered, Fox
Watching John Stamos act cool while spending time with adorable little kids has been a formula that has worked in the past. It seemed to be working pretty well this fall, too, when Grandfathered first hit the schedule. However, over time the ratings for Grandfathered have faltered. The show's still likable enough, but we have a feeling Fox is going to either axe Grandfathered or the also low-rated The Grinder, leaving Grandfathered's future very much up in the air.
The Grinder, Fox
Things are not looking good for The Grinder. While Brooklyn Nine-Nine and New Girl have done decent ratings on Tuesday nights, both Grandfathered and The Grinder have been soft, and unfortunately, The Grinder has had slightly worse ratings than the John Stamos-led show. The only saving grace that The Grinder has is that it's awesome. (If you don't believe me, Rob Lowe's already gotten a Golden Globe nod, which means someone else out there has been paying attention.) The Rob Lowe and Fred Savage-led series has known exactly what kind of comedy it has wanted to be since it first premiered and has only gotten better since. That said, the last Grinder episode only did a .6 rating, which is legitimately terrible. If Fox decides to keep it, the acclaim will certainly help.
Hawaii Five-0, CBS
CBS is a different beast than the other networks, and even its low-rated programs tend to do better than some of the other channels' middle-range stuff. Thus, it's tough to make a call on some of its offerings. Hawaii Five-0 has been a show that's had meh ratings for the last couple of seasons and already airs in a horrible Friday night timeslot. That said, it has been a good complement to Blue Bloods and doesn't get the worst ratings on the network. For instance, a recent outing did a 1.1 rating, better than a lot of other stuff that airs on Friday nights. If CBS decides to drop it, it will be to make room for newer stuff on the schedule, and with The Good Wife ending (and other shows on the bubble), that may not be a problem. We'll have to wait and see.
The Muppets, ABC
The Muppets' trajectory has been very tumultuous during its first season. The show started out with incredibly high ratings, but saw a sharp ratings decline soon after. Then, the series went through a retooling of sorts before it came back at midseason. Some shows take a while to really find their footing, like Parks and Recreation and others. Plus, The Muppets has never been a total disaster. It has just struggled to find its voice and footing and whether or not keeping the well-known property on the air is worth it will be up to ABC to decide.
Grimm, NBC
Grimm has been crushing the Friday night lineup over at NBC for years now, so why is it just now landing on a bubble list like this one? The answer is simple: The ratings are not looking good. The show has hit series lows in recent weeks and is inching below the 1.0 mark. NBC could cancel it, but with shows like Truth Be Told and The Player already axed and other shows (like Telenovela) also on the bubble, Grimm could also come back for Season 6.
Agent Carter, ABC
If any show on this list is a true bubble show, it's Agent Carter. The series didn't manage to gain as much traction during its second season as it did during its first one. However, Agent Carter is a coveted Marvel property, it features a popular Marvel character and it fits nicely into Agents of S.H.I.E.L.D.'s winter hiatus. The show's ratings certainly aren't anything to boast about, but I could see ABC and Marvel wanting to keep the show around just to keep the character in the popular consciousness for longer. Plus, we need to know what happens after that ending.
Elementary, CBS
Elementary has had its ups and downs, plot-wise, over the years, and ended on a harrowing note last spring when Sherlock Holmes briefly got back into drugs. The show is back to its usual consulting antics this season, however, and the series has even thrown in Sherlock's dad (John Noble) to shake things up. It may not be enough, however. While the rest of CBS' Thursday night lineup has crushed, Elementary has seen lower ratings than in years past. The good news? The show does good Live+7 day ratings, and increased a whopping 82% in its last count. Still, it's certainly not a lock for next year, at all.
Telenovela, NBC
A lot of NBC's programs are already renewed for the 2016-2017 season. The stuff that isn't is really not looking all that great. Telenovela is about a fictional telenovela. The show boasts Eva Longoria and a pretty stellar cast. Unfortunately, it hasn't gotten a lot of traction since premiering back in December. Recent episodes have fallen below 3 million viewers, and we don't think the weirdly timed December premiere date totally helped. Still, NBC has bigger problems—see You, Me and the Apocalypse.
Nashville, ABC
Nashville is currently in its fourth season over at ABC, and the show has one thing that is really going for it: consistency. Nashville has never been a huge ratings bringer over at the network, and sure, it's seen a small chunk of its viewership leave during Season 4, but mostly it keeps ho-humming along and doing decent numbers every week. It's really on the low-end compared to some of ABC's other programming, but it's also kind-of the little engine that could and just keeps on doing its thing, slowly but surely, week in and week out. ABC definitely knows what it's getting with the show, but that may not be enough to sign on for Season 5.
The Mysteries of Laura, NBC
The Mysteries of Laura was on these sorts of lists last year, because the show is in an odd position. It actually has a fairly high overall viewership; the Season 2 finale, for instance, did well over 7.4 million total viewers. However, none of these viewers are young people, making The Mysteries of Laura less of an exciting prospect with advertisers. NBC has other disasters, but we're not ready to call this one renewed, yet.
American Crime, ABC
Of all of ABC's major dramas America Crime may have the most prestige and the most serious storyline. It's that acclaim that helped the show to land a second season and that acclaim that may help the show to land a third. It's also probably helpful that ABC has a lot of shows in a similar position, or worse. Blood & Oil was already cancelled and The Family could easily follow suit. If ABC has room in the lineup, American Crime might come back, even if it had episodes that only got a .8 rating before Live+ viewership. Then again, maybe not.
Cooper Barrett's Guide To Surviving Life, Fox
Cooper Barrett's Guide To Surviving Life has not been on the schedule for very long, but it's been around long enough for us to add it to our bubble list. The series is doing fewer than 2 million viewers each week, and because of this, Fox is switching the series with Bob's Burgers in its Sunday night lineup. That means it's going to air at 7:30 ET, which is not particularly good. Still, because few episodes have aired, it's averaging a 1.2 rating, which is not a disaster. The show just needs to hope that timeslot change isn't a death sentence.
Photos courtesy of NBC, CBS, FOX and ABC
This poll is no longer available.
Your Daily Blend of Entertainment News
Reality TV fan with a pinch of Disney fairy dust thrown in. Theme park junkie. If you've created a rom-com I've probably watched it.