The Upcoming TV Series Anton Yelchin Didn't Get To Complete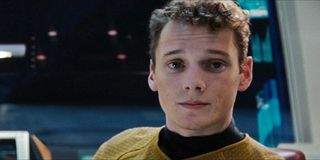 It's been just a couple of days since popular actor Anton Yelchin perished in a horrific accident. The 27-year-old actor left behind a pretty substantial body of work, and while some projects will continue to be released in the months following Yelchin's untimely passing, there are some projects the actor signed on for that he didn't get to complete. One of these was recording the voice for a character on the upcoming series Trollhunters, which is being produced by Guillermo del Toro.
Trollhunters had been coming together over at DreamWorks Animation for some time, but hadn't found a network or seemed to have moved forward in the production process until late last week. Just a few days ago, Netflix announced that the program would be a part of its programming slate, but Deadline reports the project was actually far deeper in the process of coming together than a simple announcement. In fact, reports indicate that Anton Yelchin had not just been signed on for Trollhunters, he had actually completed a large percentage of the work required for the first season of the series to get off the ground.
So far, Netflix and DreamWorks Animation are staying mum about what will happen to the voice work Anton Yelchin accomplished. It's possible that a new actor could take over the vocals for the character, or could take over during the episodes that Anton Yelchin was unable to complete. Yelchin's role on the series was actually pretty important. He starred in Trollhunters as a young man named Jim who lives in a suburb called Arcadia. During the series, Jim, along with his two best friends, finds out that a bunch of trolls leave beneath his hometown. A mystical amulet is somehow also involved.
Anton Yelchin was set to star in Trollhunters opposite a few other big names. Kelsey Grammer and Ron Perlman are also set to do voiceover work for major characters in the Netflix project. Both Perlman and Grammer will play trolls in the upcoming series. Perlman's troll will be a villainous troll named Bular and Grammer gets the worse end of the deal here, taking on the role of a troll named Blinky. Blinky might have a worse name, but at least he gets to be kindhearted.
Obviously, the shock of Anton Yelchin's death is still pretty raw at this point. The young actor was found dead, pinned between his vehicle and his mailbox on Sunday morning. Later news indicated that his Jeep SUV had had a safety recall due to rollaway risk. Eventually, Trollhunters will need to move forward with a new plan in place, but the Netflix show will probably wait to figure out what it wants to do after the shock of the actor's death dies down somewhat.
Fans can see Anton Yelchin in one of his final roles when Star Trek Beyond premieres on July 22. A full list of Yelchin's upcoming roles can be found here.
Reality TV fan with a pinch of Disney fairy dust thrown in. Theme park junkie. If you've created a rom-com I've probably watched it.
Your Daily Blend of Entertainment News
Thank you for signing up to CinemaBlend. You will receive a verification email shortly.
There was a problem. Please refresh the page and try again.