Watch This Wild America's Got Talent Contestant Shoot A Bow And Arrow With Her Feet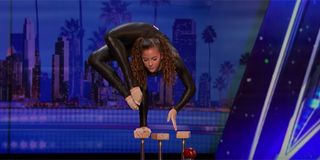 America's Got Talent has been airing on NBC for quite a long time at this point. While most reality shows get stale as they get older, AGT has featured enough weird acts throughout its years on the air that the show generally still feels fresh and interesting. During last night's auditions, teenaged contestant Sofie Dossi pulled out the stops, putting together a contortionist act that featured an intense bow and arrow shot. In fact, she pulled it off using only her feet. Check it out:
Contortionists are clearly not a new concept and some of the flip and twist stuff that Sofie Dossi attempts as part of her act are things the audience has likely seen before. But the bow and arrow gimmick is entirely new to me at least, as is some of the stuff she attempts with homemade "canes" her father made for her act, which includes an apple held up by a toilet paper holder. If you'd like to check out her full act, we've included it, below.
Getting through the early rounds and getting to appear on the stage in front of the judges is an accomplishment in itself. Moving forward to the next round is an even bigger deal. But what sets the winners and losers apart on America's Got Talent is whether or not the contestants can come up with new and unusual ways to wow the audience each week. Contortionist skills are generally really impressive, but it's essentially a lot of the same twisting and turning. We'll have to wait and see if the 14-year-old is able to pull off new and exciting stuff each week.
She'll be facing some stiff competition. We've already seen a girl with a unique voice who writes her own music. We've also seen a really clever mime with an extremely funny act. And a pizza boy blew us away with his lounge act. If Sofie Dossi plans to remain in the competition, she has a much harder path ahead of her than say, the singers, as she'll have to continue doing bigger and bolder things each week. But as far as the competition goes, she's off to a good start.
New episodes of America's Got Talent air on Tuesdays at 8 p.m. ET on NBC. You can find out what else the networks have coming up this summer with our TV premiere schedule.
Amazing Race & Top Chef superfan with a pinch of Disney fairy dust thrown in. If you've created a rom-com I've probably watched it.