How The Late Show's Stephen Colbert Could Bring The Colbert Report Back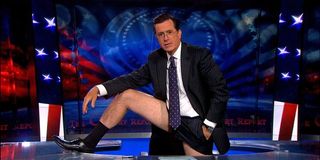 Late night funnyman Stephen Colbert's jump from Comedy Central to CBS for The Late Show meant that his fans would get to see a lot more of him, but no more of the "Dr. Stephen T. Colbert" character from The Colbert Report. Dr. Stephen was a fictionalized version of Colbert who was conservative, right-wing, well-intentioned, and slightly off his rocker. The Colbert Report became the perfect weeknight chaser to Jon Stewart's more overtly liberal Daily Show. Although both comic newsmen are gone from Comedy Central now, Stewart will soon join Colbert on The Late Show during the upcoming Republican National Convention. According to Stephen Colbert, the reunion may mean that Dr. Stephen will make a reappearance. Here's what he's teased so far about the character possibly re-emerging despite his departure from The Colbert Report:
Stephen Colbert revealed that his Colbert Report character may be coming back when he stopped by CBS This Morning to discuss his upcoming live coverage of the Republican National Convention, which will take place in Cleveland starting on July 18. Despite Colbert leaving The Colbert Report, because he felt that people no longer wanted the sort of divisive comedy that he put out with his satire, it makes sense that he'll reprise Dr. Stephen for the RNC. The 2016 presidential election will be the first since Colbert left his fake news show on Comedy Central; frankly, campaign season just wouldn't feel right without Dr. Stephen transforming political ridiculousness into political hilarity.
Of course, Dr. Stephen might never have been so funny if he didn't work as a foil to Jon Stewart on The Daily Show, which aired in the timeslot immediately before The Colbert Report on Comedy Central. Their shows together made for a fabulous hour of fake news for four nights per week. The fact that Jon Stewart will be appearing on The Late Show just as Dr. Stephen evidently returns is all the more reason to get excited.
The duo shouldn't have any trouble getting back into their old rhythm once more. They may no longer host shows on the same network, but they still work together. Jon Stewart is an executive producer for The Late Show, and he's been in front of the camera a few times with Stephen Colbert as well.
Personally, I've found that the 2016 presidential election hasn't felt right without the dynamic duo of Stephen Colbert and Jon Stewart turning the depressing into the entertaining. I can only hope at this point that Dr. Stephen is as much fun as I remember from his years as star of The Colbert Report. Luckily, none of us will have to wait too long to see if Jon Stewart can bring Dr. Stephen out in Stephen Colbert once more. Their episode of The Late Show airs on Monday, July 18 to kick off RNC coverage in style.
Resident of One Chicago, Bachelor Nation, and Cleveland. Has opinions about crossovers, Star Wars, and superheroes. Will not time travel.
Your Daily Blend of Entertainment News
Thank you for signing up to CinemaBlend. You will receive a verification email shortly.
There was a problem. Please refresh the page and try again.