The Genius Way Kevin Smith Wants To Make His Buckaroo Banzai Show Awesome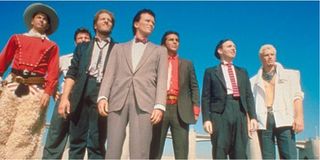 As television gains more and more respect as an artistic medium, it begins to drive more prestigious talent to work within its confines. Kevin Smith recently re-tried his hand at small screen directing on The Flash to great effect, and he will soon have the opportunity to continue in that medium with his 10-episode update of The Adventures of Buckaroo Banzai Across the 8th Dimension for Amazon. However, he has no intention of going it alone, and Smith recently revealed how he plans to make Buckaroo Banzai a collaborative filmmaking experience, and the big names he's throwing around make this a seriously exciting prospect. He said:
Kevin Smith laid out his plan to make the Buckaroo Banzai something to remember.while speaking to Comingsoon.net at Fantasia Fest. The genre-bending project has several characteristics that perfectly suit it to the capable hands of several different and well-established filmmakers. For the episodes of the series that require more sci-fi chops and a quick-witted, cult sensibility, Smith is wise in wanting to hand the series off to filmmakers like Richard Kelly and Edgar Wright. For the episodes that juxtapose numerous set pieces with heavy dialogue scenes, he'll talk to someone like Quentin Tarantino, who has a proven track record handling that type of workload.
It most likely helps that there's a very specific source material available to keep everyone on track. As Buckaroo Banzai will take ten episodes to follow the overarching narrative of the original 1984 film, Kevin Smith can at the very least use that original source to give general guidelines regarding tonal and visual consistency. Smith claims that all of these filmmakers are similar fans of the 1984 tale of a brilliant hero's quest to save Earth from an alien attack, so he can trust them to direct autonomously.
We have a distinct feeling that Kevin Smith might be onto something with this particular methodology. Although none of the aforementioned filmmakers have done too much in the realm of television in recent years, Smith recently proved that great things can happen when a competent movie director takes the leap to the small screen. (And Edgar Wright's Spaced and Asylum are two of the best TV comedies of all time, so there's his cred.) Smith's work on "The Runaway Dinosaur" episode of The CW's The Flash easily stood out as a top-tier episode of the hit series' second season, and he has shown a clear interest in continuing his work as a TV director. If he can enlist his own dream team of directors to make a similar leap, then we're in no position to complain about anything.
Nothing is set in stone, but this idea has us incredibly excited about where Kevin Smith's Buckaroo Banzai could go from here. We will bring you more information related to the upcoming Amazon series as more details become available to us.
Originally from Connecticut, Conner grew up in San Diego and graduated from Chapman University in 2014. He now lives in Los Angeles working in and around the entertainment industry and can mostly be found binging horror movies and chugging coffee.
Your Daily Blend of Entertainment News
Thank you for signing up to CinemaBlend. You will receive a verification email shortly.
There was a problem. Please refresh the page and try again.