Netflix's The Punisher Is Adding A Major Comic Character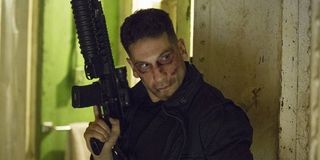 One batch, two batch, penny and dime... Charlie Cox's Matt Murdock may have been the focal point of Daredevil's second season, but Jon Bernthal's Frank Castle was the one who truly stole the show. The Punisher's wildly popular debut as a side character is allowing him to spin off into a Netflix project of his very own, and as such it looks like some awesome elements from The Punisher mythos will soon debut as well. Frank better update his Wi-Fi connection, because it appears that his solo series will see him meeting up with his longtime ally: Microchip.
According to a new report from MCU Exchange, it seems The Punisher solo series has started auditions for its supporting cast of characters. The project remains in the early stages of pre-production, but it appears that The Punisher has started searching for Frank Castle's friend and tech-support, David "Microchip" Lieberman. Technically Marvel is currently casting for a character named Dennis Landstrom, but the similar initials lead many to believe that the name is simply a placeholder for Mr. Lieberman's imminent arrival.
We've known for some time that Microchip would eventually arrive in the Netflix corner of the Marvel Cinematic Universe. During the finale of Daredevil's latest season we had a chance to see Frank Castle finally return home and bid farewell to his deceased family before firmly becoming The Punisher in earnest. During this somber goodbye, Frank opened up a picture frame and pulled out a compact disc with the word "Micro" written on it. Astute fans instantly picked up on the reference, and now it looks like we will get to see that loose end neatly tied up when The Punisher gets his own series.
As die-hard Punisher fans, this news comes as a great shock, and a huge relief. With the casting process for Microchip already underway, it seemingly corroborates the rumors that The Punisher could debut much sooner than anticipated -- possibly even some time next year. We knew the show was coming, but we weren't sure it would happen this fast.
For those of you who don't already know, David "Microchip" Lieberman is one of The Punisher's few consistent allies in Marvel Comics. He's a legendary computer hacker who provides Frank with gadgets, tech-support on his missions, and even a bit of hands-on computer training to enhance his war on crime. Think of him like Batman's Oracle, only instead of a redheaded teenage girl he's a chubby, balding man with an affinity for booze. That definitely sounds like someone Frank Castle would hang out with, don't you think?
Microchip's history isn't limited to the comics. The character popped up numerous times whenever The Punisher crossed over with the Web Head in the 1990s classic, Spider-Man: The Animated Series, and actor Wayne Knight portrayed the first ever live-action version of the character in his most recent film outing, Punisher: War Zone. Although that particular movie didn't go over too well with fans, the former Newman proved decidedly effective in the role, and it established that Microchip could work well alongside the grim Marvel anti-hero in live-action.
Although The Punisher does not yet have an official release date, we're hoping it comes soon. Until then, make sure to catch Luke Cage when the latest Defender's solo series premieres on September 30. Beyond that, make sure to check out our fall premiere guide and mark your calendars accordingly.
Your Daily Blend of Entertainment News
Originally from Connecticut, Conner grew up in San Diego and graduated from Chapman University in 2014. He now lives in Los Angeles working in and around the entertainment industry and can mostly be found binging horror movies and chugging coffee.