Katie Cassidy Will Be Back On Arrow Sooner Than We Thought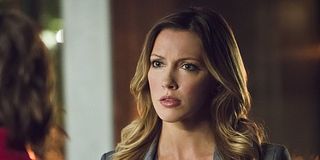 The death of Katie Cassidy's Laurel Lance will forever be remembered as one of the biggest moments in Arrow's history. That's saying something when we consider the insanity that's happened on that show over the years. Arrow takes place in a comic book universe, where death is easily avoidable (and often reversible) but the Laurel that we have come to know and love over the last four years seems genuinely gone. However, don't mourn too much, as it now seems that we will still get a chance to see the late Laurel as early as Arrow's Season 5 premiere.
Katie Cassidy will return to Arrow as Laurel during the Season 5 premiere this coming October. The actress took the stage at Salt Lake Comic-Con this weekend (via Comicbook.com) and revealed that she definitely will appear as Laurel Lance during the very first episode of the new season. Although she wouldn't (or couldn't) go into any further detail, the general consensus seems to be that this is when we will finally get to learn what they dying Laurel said to Oliver while lying in her Star City hospital bed, as that bit of whispering has become one of Season 4's biggest mysteries.
This revelation makes plenty of sense. After all, we've known for quite some time that Laurel would have some sort of bearing on the fifth season of Arrow. The trailer shown at San Diego Comic-Con establishes that Oliver continues to mourn her demise well into the new season, and he has very much thrown himself into his Green Arrow persona as a means of coping with his failure to protect her.
Of course, there's always the possibility that Laurel Lance could also appear in Arrow's season premiere as her Earth-2 doppelganger, Black Siren. However, given the fact that the Emerald Archer's solo series appears to be moving towards a more realistic and grounded atmosphere this season, that seems unlikely to happen in the first episode of the season. Regardless, Black Siren is still out there.
Then there's the possibility of Laurel actually coming back to life as a result of Flashpoint, although that seems even less likely than the Black Siren scenario. Her death has thus far carried so much dramatic weight (and there have been so many deaths in the Lance family) that it just seems unlikely that Flashpoint will have a permanent impact on that particular moment in the Arrow-verse. Quentin's heart can only take so much.
That being said, we do know that Katie Cassidy's exposure in the Arrow-verse will soon be greatly expanded, as the actress has inked a deal to appear on The Flash, Arrow, and Legends of Tomorrow -- not unlike similar deals made by Wentworth Miller and John Barrowman. Even if Laurel is truly dead, that should keep fans of Ms. Cassidy incredibly excited for the foreseeable future.
The death of Earth-1's Laurel Lance will go down as either the bravest, or the most foolish, decision ever made by the Arrow creative team. Although initially somewhat grating, the elder Lance sister had recently become one of the most popular characters on the series. Having taken on the role of Black Canary, her character finally found a missing balance in her life. However, given the prominence of Arrow's Olicity romance, Black Canary ultimately became the expendable member of Team Arrow when Damien Darhk came to town, and we all know how that ended. We continue to mourn her death, but it's nice to know that she will receive a proper sendoff once we learn her final words to Oliver.
CinemaBlend will keep you up to date with all of the latest and greatest Arrow news as more details become available to us. The Emerald Archer's solo series will return to The CW on Wednesday, October 5 at 8 p.m. EST. Until then make sure to check out our comprehensive fall TV premiere guide and fill our your calendars accordingly.
Your Daily Blend of Entertainment News
Originally from Connecticut, Conner grew up in San Diego and graduated from Chapman University in 2014. He now lives in Los Angeles working in and around the entertainment industry and can mostly be found binging horror movies and chugging coffee.