Legends Of Tomorrow Season 2: What We Know So Far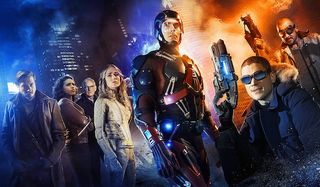 The CW has easily staked its claim as one of the definitive networks for superhero television with The Flash and Arrow. Those two shows combined have provided audiences with some of the most faithfully adapted live-action DC storylines ever adapted to the screen -- silver or small. However, the network didn't stop with these solo adventures, resulting in the mind-blowing premiere of Legends of Tomorrow earlier this year.
Even prior to the conclusion of the first season of Legends of Tomorrow, The CW quickly announced that a second would follow. This doesn't exactly come as a huge shock to us; Legends of Tomorrow has become one of the network's strongest performing shows, and has gone to great lengths in order to further increase the overall scope of the Arrow-verse beyond its humble beginnings. With that in mind we have taken it upon ourselves to compile all of the information we have about the upcoming season of the massive superhero team-up show.
Is Legends Of Tomorrow Renewed?
The CW recently revealed that Legends of Tomorrow would in fact receive a second season. Although the freshman series did not match the 2014 premiere ratings of The Flash, it still continues to draw in a healthy amount of viewers each week, making it a strong performer for The CW.
However, the future of Legends of Tomorrow was not always this bright. Prior to the premiere of the series, certain rumors had swirled indicating that show's expensive production might prevent it from getting a second season. Luckily, it seems to have performed well enough for that not to be an issue for the network.
When Will Legends Of Tomorrow Premiere?
San Diego Comic-Con provided us with a ton of great information regarding the upcoming season of Legends of Tomorrow. One such tidbit that we finally managed to get our hands on is the Season 2 premiere date. It now looks as though Legends of Tomorrow will premiere on Thursday, October 13 -- one week after The Flash and Arrow return to their regular schedule slots. It's unclear as to whether or not this staggered premiere will somehow factor into the chronology of the Arrow-verse, but hey, that's what time travel is for, right?
What Have We Seen From Legends Of Tomorrow Season 2?
Although we know for certain that Legends of Tomorrow will receive a second season, we have yet to really see much from Season 2. We know for a fact that the titular team will join forces with Justice Society member Rex Tyler, but the exact threat that they will face has not yet been fully introduced. The Season 2 trailer for Legends mainly consisted of recycled footage from the first season, but the new footage showed the team heading back to 1945 to prevent an atomic bomb from going off in New York, while Rex Tyler warns Rip that the Legends are in trouble. The exact nature of this trouble remains to be seen, but we already know that Legends of Tomorrow regularly deals with high stakes, apocalyptic drama. Take a look.
Where Did Legends Of Tomorrow Leave Off?
Against all odds, the first season of Legends of Tomorrow somehow managed to end on a more or less happy note. Following the self-sacrifice of Captain Cold, Rip Hunter and his team of Legends used the blind spot that they created when they destroyed The Vanishing Point to get the drop on Vandal Savage and kill every incarnation of the madman across history.
The ultimate demise of Savage finally freed Hawkman and Hawkgirl from his constant, looming presence over their lives, inspiring them to take a break from the hero business and try to live a life together free of violence. However, the rest of the team opted to stick with Rip and continue to defend Time in the absence of The Time Masters. As they prepared to board the Waverider and set out on a new journey, Justice Society member Rex "Hourman" Tyler appeared from the sky and implored them to join him on a brand new mission.
What Will Be The Story of Legends Of Tomorrow Season 2
The first season of Legends of Tomorrow ended with the Legends coming face to face with a bona fide member of the Justice Society of America, Rex Tyler a.k.a Hourman. Without giving us too many details, the superhero told the team that he needed their help, and that they WOULD die if they stepped on The Waverider. This single act enlists the Legends to work alongside the JSA and sees them going after a mysterious presences that threatens history itself.
During the Legends of Tomorrow panel at San Diego Comic-Con, the cast and crew revealed that Season 2 of Legends of Tomorrow would rely much more on mystery as a means of storytelling. Rather than one long protracted story of revenge against Vandal Savage, the coming season will see the Legends unraveling the mystery of WHOM the current threat to history is.
Who Is Involved With Legends Of Tomorrow Season 2?
The first season of Legends of Tomorrow definitely proved itself as a major success and as such we can likely assume that The CW won't shake things up very much behind the scenes. Executive producers Andrew Kreisberg, Marc Guggenheim, and Greg Berlanti have remained active in their roles during the first season of Legends, and we are willing to wager that they will continue to do so as the show enters its second season. This creative group has thus far done an impeccable job with The CW's DC universe, so we as fans have nothing but faith in their ability to continue to deliver the goods as Legends of Tomorrow enters its highly anticipated second season.
Rip Hunter
British actor Arthur Darvill deserves a ton of credit for getting audiences to fall in love with his version of Time Master Rip Hunter so quickly. Rip Hunter was always the most likely candidate to return for the second season of Legends of Tomorrow, even if he had a seriously close call during the first season finale. He's the leader of the team, he possesses an immense knowledge of time travel, and he's the closest thing the ensemble cast has to a main character.
The first season of Legends of Tomorrow revolved around Rip's vendetta against Vandal Savage (which has now clearly come to an end) but he's still a Time Master with a strong sense of duty towards safeguarding history. His knowledge of time travel will likely continue to act as a major factor in the team's continued successes, but his decision to follow Rex Tyler likely means he will become more of a secondary player than the show's primary protagonist.
Sara Lance a.k.a White Canary
A smart gambler would have put money on Sara Lance making it through the events of Legends of Tomorrow's first season, as her survival always seemed fairly certain. She's died so many times that killing her now would lack any meaningful impact. With that in mind, her character has gone through an immense arc over the first season on Legends, and despite the death of her sister Laurel Lance on Arrow she opted to remain a member of Rip's team for the foreseeable future. And, according to new footage in the Season 2 trailer, it even looks like she might get a chance for revenge as a result of her decision.
Sara Lance has been a fan favorite character within the Arrow-verse ever since Caity Lotz took over the role during the second season of Arrow. She developed a special kinship with Rip Hunter during the first season of Legends of Tomorrow, so we can likely assume that they will continue to develop a professional, personal, or even romantic relationship as the series moves forward -- especially with Captain Cold now out of the picture. Of course, if she's killed again the team could always look into replacing her with someone like Connor Hawke or Nyssa al Ghul as the team's resident ninja. Let's keep our fingers crossed that she remains safe.
Ray Palmer a.k.a The Atom
Ray Palmer a.k.a The Atom is a superhero firmly rooted in the world of high-concept science fiction. His overall persona and style of heroics seem to mesh well with the flamboyant nature of Legends of Tomorrow, and in many ways he has become the face of the series ever since the show was announced last year. He easily made the choice to stick around after taking down Vandal Savage, and he will likely continue to represent a major player among the Legends ensemble.
Brandon Routh has continuously shined as Palmer over the course of his tenure within the Arrow-verse. Premiering during the third season of Arrow, the former Superman has become a central figure in The CW's DC universe, appearing on all three of its current series. He even recently spoke out about potentially meeting The CW's new Superman on screen when Tyler Hoechlin debuts as the Kryptonian on Supergirl; The CW cannot get rid of him before that awesome moment goes down. In fact, Ray has already "died" once in this universe, making it seem unlikely that Legends will kill him again any time soon.
Mick Rory a.k.a Heatwave
The dynamic between Captain Cold and Heatwave provided much of Legends of Tomorrow's finest emotional punch during Season 1. Wentworth Miller's Leonard Snart became one of the most beloved characters in the entire Arrow-verse, and many fans adored watching him go from straight-up bad guy to anti-hero. Heatwave has undergone a similar transformation, going from a fire-obsessed psychopath to a jaded warrior on a path to redemption -- eventually finding it when the team killed Savage.
While speaking at the Legends of Tomorrow panel at San Diego Comic-Con, Dominic Purcell let it slip that Mick Rory will still very much find himself dealing with the fallout of Leonard Snart's death in Season 2. Alone for the first time in his life, he will have to cope with the loss of a dear friend, as well as the anger at his former partner in crime for leaving him. These feelings will undoubtedly be compounded when he gets a look at the villainous lineup for Legends of Tomorrow Season 2.
Leonard Snart a.k.a. Captain Cold
Leonard Snart is the leader of the Captain Cold/Heat Wave dynamic duo and easily the more level-headed of the two. Wentworth Miller's Rogue turned anti-hero turned bona fide hero easily stood out as one of the biggest fan favorites of Legends of Tomorrow's first season. He was deadly, he had brains, and he had guts, which made it all the more heartbreaking when he sacrificed himself in the Vanishing Point as one final middle finger to the Time Masters. His death will most certainly weigh heavily on the team -- Rory in particular.
However, we all know that death is never the end in these sorts of comic book scenarios. Although Wentworth Miller has some major commitments over at the Prison Break revival on FOX, he recently confirmed that he has signed on to appear on several DC series throughout The CW. A past version of Leonard Snart still exists in the Legends of Tomorrow universe, and he will most certainly show up to cause trouble for the team, having completely forgotten the heroics he learned while a member of Rip Hunter's crew -- but more on that later...
Martin Stein And Jefferson Jackson a.k.a Firestorm
It seems that a few near death experiences wasn't enough to deter Firestorm from taking off and retiring. Although both Martin Stein and Jefferson Jackson both have loved ones waiting for them back in Central City, the duo known as Firestorm opted to remain on the team for the second season of Legends of Tomorrow.
Over the course of the first season of the freshman series, both Stein and Jax continuously proved their worth to the team through a combination of their superpowers, and their respective talents for science and engineering. We expect that usefulness will only continue to rear its head as the retirement of Hawkman and Hawkgirl shoulders Firestorm with the burden of being the only team members who actually have superpowers.
Carter Hall And Kendra Saunders a.k.a Hawkman And Hawkgirl
Aside from Rip Hunter, the two characters with the strongest emotional connection to Season 1 of Legends of Tomorrow came in the form of Carter Hall and Kendra Saunders a.k.a Hawkman and Hawkgirl, respectively. Their centuries long battle with Vandal Savage provided the foundation for the first season's narrative, and Carter's death at the hands of the immortal tyrant early in Season 1 brought the entire team together.
With that in mind, there isn't much of a reason for Legends to bring Kendra and Carter back into the fray very often during the events of Season 2. Both of these characters received neat endings to their respective character arcs, and giving them too much of the spotlight could undo that nice conclusion. We have a feeling that they will probably show up at some point for a guest spot or two (they're alive in basically every era of human civilization) but chances are Legends of Tomorrow has let these two heroes run their course.
Will There Be New Additions To Legends Of Tomorrow Team?
Never rule out the possibility that new additions could join the Legends of Tomorrow team at any given time. Although only one member of the team received a genuine death throughout the course of Legends' first season -- we're not counting Hawkman -- that move showed that The CW still has no qualms against killing fan-favorites, which means team members might need to be replaced.
This possibility leaves the door open for numerous established characters to sign on to Rip Hunter's team. The Arrow-verse has introduced an immense stable of characters, so the possibilities seem endless. We learned from the San Diego Comic-Con Legends of Tomorrow panel that Jonah Hex would definitely return. Let's keep our fingers crossed that heroes like Connor Hawke and John Constantine might also return to the fray at some point. Aside from those possibilities, we have gotten word that some classic DC heroes will definitely be showing up to help the Legends out.
Justice Society Of America
After months of speculation, San Diego Comic-Con finally gave us considerably more insight into the nature of Legends of Tomorrow's version of the Justice Society of America. Although the lineup of the team has changed considerably over the years, the Legends version will feature a roster including Vixen, Citizen Steel, Obsidian, Stargirl, and Dr. Mid-Nite, all in addition to Rex Tyler's Hourman.
Another major Comic-Con revelation about the JSA is the simple fact that the Justice Society of America will hail from the 1940s. This seems like homage to the team's initial publications, and it makes sense because the Legends of Tomorrow Season 2 trailer showed the legends going back in time to the 1940s in order to face off against Nazis threatening to detonate an atomic warhead in New York City. Who knows, perhaps this introduction will pave the way for a modern day Arrow-verse Justice League.
The Legion Of Doom
One of the most fantastic developments regarding the upcoming season of Legends of Tomorrow is the revelation that the titular team will eventually face off against the Arrowverse's version of the Legion of Doom. Comprised of Malcolm Merlyn, Damien Darhk, Eobard Thawne, and a past version of Leonard Snart, this ensemble of certified bad guys brings a personal battle to each and every member of the Legends team.
Of course, those of you with even a cursory knowledge of the comic book version of the Legion of Doom will instantly recognize that some serious liberties have been taken here. While the Legion's purpose seems to remain the same -- combining forces to present an increased threat to our heroes -- the lineup has changed considerably in the sense that longtime mainstays such as Lex Luthor, The Joker, and the now deceased Ra's Al Ghul and Vandal Savage are nowhere to be found.