Apparently, Dancing With The Stars' Ryan Lochte Was Injured By Those Protesters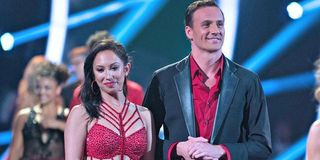 Dancing with the Stars got off to an eventful premiere when Ryan Lochte performed to a crowd that protested his casting in various ways, following the controversy that occurred at the Rio Olympics. A couple of the protesters even stormed the stage, and Ryan Lochte's dancing partner Cheryl Burke just revealed that her partner was injured when it happened. Here's what Cheryl Burke had to say:
If you know much about Dancing with the Stars, you should know that injuries plague some of the contestants nearly every season. A lot of times the competitors will dance through minor issues---presumably like ankle injuries---but sometimes the issues are bad enough that those involved with the show have had to drop out. Obviously, this ankle injury doesn't seem to be a game changer for the Season 23 dancing duo, but it still sucks for Ryan Lochte as a contestant that he was injured this early in the game. It's also no good that he was injured in a way that totally could have been prevented.
Cheryl Burke told People that the whole experience during Monday night's episode was pretty crazy. She also mentioned that what happened isn't really what Dancing with the Stars is supposed to be about. In fact, it's supposed to be a safe space for competitors and viewers at home. It's supposed to be family-friendly programming. That's not exactly what happened this week.
During Monday night's episode, a slew of people got tickets to the Dancing with the Stars taping. They sat quietly through most of the performances, but after Ryan Lochte finished competing, they revealed anti-Ryan Lochte t-shirts they'd hidden under their clothes. Booing and jeering ensued, and a lot of the brouhaha happened when Carrie Ann was trying to give her critique. As noted prior, two men even stormed the stage and attempted to take down Ryan Lochte. The men were later arrested. Although, things settled down after the protesters were removed, it was unexpectedly scary.
Although both Cheryl Burke and Ryan Lochte were clearly shaken, it looks as if they are already practicing their quickstep for next week and are doing everything they can not to let the incident get them down. You can find out how they do when Dancing with the Stars airs on Monday nights at 8 p.m. ET, only on ABC. To find out when the rest of your favorite shows are returning, head here.
Amazing Race & Top Chef superfan with a pinch of Disney fairy dust thrown in. If you've created a rom-com I've probably watched it.
Your Daily Blend of Entertainment News
Thank you for signing up to CinemaBlend. You will receive a verification email shortly.
There was a problem. Please refresh the page and try again.