The 8 Best Jokes From The 2016 Primetime Emmy Awards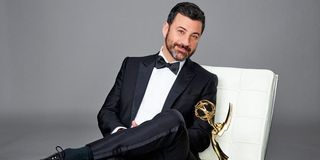 A gifted host on a TV awards show will usually keep things running at a good pace. The host will know how to cut the speeches of celebrities short, not to mention will know how to go with the flow and cut sketches when a broadcast is running long. It helps when a TV host is not only affable, but amusing as well. During the 68th Annual Emmy Awards, Jimmy Kimmel brought his a-game, taking not only lead actors but even producers to task in a way that was both amusing and a little edgier than usual. Still, Jimmy Kimmel wasn't the only person who threw some unexpected laughs at us during tonight's broadcast. You can catch our favorite jokes, below.
Jimmy Kimmel Roasts Mark Burnett
Jimmy Kimmel took a few pretty hard shots during his monologue this year. No one was roasted harder than Mark Burnett, the famous TV producer who is responsible for several big shows like Shark Tank. Jimmy Kimmel wasn't giving him flack for the ABC reality series; instead, he was giving him flack for bringing Donald Trump to television when he created The Apprentice and its follow-up The Celebrity Apprentice. In fact, Kimmel took the joke pretty far, noting that we have Mark Burnett to thank for where we are today with the election and so forth.
It went on for a minute or so, including one comment about a plan to put Miley Cyrus on the Supreme court and booting Mark Burnett over that wall Donald Trump plans to build should he win the election.
Aziz Ansari and Alan Yang Crack Jokes About How To Get More Asian Talent In The Arts
Aziz Ansari was all over the 2016 Emmy Awards. At one point he and his creative partner on Netflix's Master of None, Alan Yang, won in the writing for a comedy series category. They used the platform to talk about how they hoped more Asian individuals would get into the arts, but they did it in a way that also proved to be pretty amusing. Here's Alan Yang's specific joke:
In the context of an otherwise pretty sincere speech, this joke caught us off guard, in a good way. We'll be remembering the speech from the two funny guys in the days to come.
The Emmys Voiceover Person "Introduced" Bill Cosby
Jimmy Kimmel and co. pulled a fast one on the stars attending the Emmys but also the audience watching from home. In the middle of the broadcast, the voiceover guy introduced Bill Cosby as the next person coming out onstage. There was the most awkward of pauses, and then Jimmy Kimmel popped up onstage, telling the riveted audience that he was just messing around and wanted to see how we'd all react to hearing Bill Cosby get announced. It was yet another unexpected moment, and it'll probably be best remembered for Tina Fey seemingly mouthing something like, "Is this a Cosby joke?" in the background.
So Many O.J. Simpson Case Jokes
American Crime Story was on fire during the Emmy's, so much so that a big topic of conversation was O.J. Simpson. From a car chase joke played out during the opening video to jokes about Marcia Clark and Sarah Paulson, who played Clark on The People v O.J. Simpson, jokes about the FX series and the real life case that inspired it were all the rage. Among them were some off-color bits, including but not limited to:
Regardless of where he's looking from, something tells me famed lawyer Johnnie Cochran would have gotten a good laugh at that.
Kit Harington And Andy Samberg's Hilarious Emmys Soundbites
I mean really, there's not much we can say about this other than simply include the quotes. After Kit Harington and Andy Samberg came onstage to present the best Variety talk series award, the two pitched some Emmys soundbites the show can use before the ceremony. It started out tame, but then...
You can always count on Andy Samberg to do something profoundly weird.
John Oliver's Hilarious And Touching Emmys Win
It's been clear for the last couple of TV seasons that John Oliver has picked up the mantle where the likes of Jon Stewart and Stephen Colbert left off. His work paid off at the 2016 Emmy Awards when his HBO series Last Week Tonight With John Oliver won the award for Outstanding Variety Series. After thanking a lot of people, John Oliver cracked a nerdtastic joke about actually wanting to be played off for talking too long.
Luckily, the ABC broadcast obliged. In addition, Jimmy Kimmel followed this up with a joke about how he too was wondering when they would play John Oliver off. Considering Jimmy Kimmel Live was up for the same award, the joke hit all the right notes.
Matt Damon's Feud With Jimmy Kimmel... Continued
Speaking of Jimmy Kimmel losing out to John Oliver, his loss conveniently led to one of the greatest bits of the night and one of the moments that will likely prove to be one of the most talked about. Shortly after the host officially lost his category, Matt Damon dropped by the 2016 Emmy Awards for no other reason than to give Kimmel a hard time for failing. It was brilliant.
You can check out the full and vicious video of Matt Damon giving Jimmy Kimmel crap for losing out to another late night host here.
The Perfect Setup For A Maggie Smith Joke
Downton Abbey has notoriously cleaned up at awards ceremonies over the past few years, and apparently, this year was really no exception. The ITV drama recently ended its run, and Jimmy Kimmel wasted no time in cracking a joke about how Maggie Smith didn't even bother to show up for the Emmys, despite it being the show's last season. This ended up being the perfect setup for a follow-up joke because Maggie Smith actually ended up winning her category this year.
As soon as it happened, Jimmy Kimmel strutted back onstage and told the Downton Abbey actress that she could find her award in the lost and found. Sure, it wasn't the most offensive or the most blue bit of the night, but the setup for the joke couldn't have been more perfect.
For a full update on who won and who lost the major categories at the 2016 Primetime Emmy Awards, check out our updated list.
Your Daily Blend of Entertainment News
Reality TV fan with a pinch of Disney fairy dust thrown in. Theme park junkie. If you've created a rom-com I've probably watched it.