The Best Horror TV Shows You Can Stream Right Now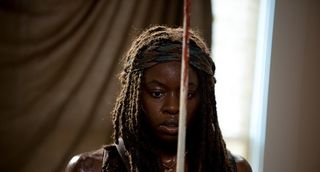 "Oh, the outside world is frightening, where monsters are resurrected by lightning. So we stay inside to stream, and we scream, and we scream, and we scream." It's a shame that Halloween carols aren't more in vogue. Thankfully, horror TV is having one hell of a heyday, and it's never been easier to find a huge number of quality genre series at your fingertips, assuming your Internet bill isn't...past due. (Wolf howls.)
Just in time for Halloween, here are some of the best horror TV shows that you can currently find on the ever-growing number of official streaming sites out there. I'm not going to pretend that this is an exhaustive and all-encompassing list, as I intentionally brought in more modern shows that not everyone might be familiar with, which meant that other popular stalwarts that aren't solely horror-tinged (like Twilight Zone) didn't make the cut. But hopefully you'll be too busy geeking out on gore and ghouls galore to notice.
The Walking Dead
Currently one of the most popular cable series of all time, The Walking Dead is a major reason why the horror genre is booming on the small screen right now. It has spent six years following Rick Grimes and his crew of coming-and-going survivors carving a path back to a semblance of civilization, and there's no end in sight, especially now that Negan has arrived. While some fans will deride The Walking Dead's creative team for how the stories have been adapted from the comic series, no one is knocking the top-tier makeup, gore and special effects that executive producer Greg Nicotero and his team put together on a weekly basis. If you're into visceral messes and turn-on-a-dime action sequences, this is the show for you.
Where You Can Watch: Netflix has Seasons 1-6 of The Walking Dead available, with the Season 7 premiere currently available on AMC's website for free and without the need for a subscription.
Hannibal
After Thomas Harris' mostly stellar novels about Hannibal Lecter, combined with the seminal suspense/horror classic Silence of the Lambs, there was trepidation coupled with the TV debut of the culinary cannibal. But as fans of show creator Bryan Fuller know all too well, the man is incapable of creating second-rate fiction, and Hannibal gets top marks all around for masterful storytelling, exquisite set design and cinematography, bone-chilling kills and an ensemble cast that had zero weak spots. But perhaps the best thing about Hannibal was the surreal mental horror that Hannibal puts his unwitting hunter Will Graham through, as there is nothing on TV quite like it. NBC gets props for keeping it on the air for three low-rated seasons, but the bigger rewards go to whoever makes Season 4 happen.
Where You Can Watch: All three seasons of Hannibal are available on Amazon for Prime subscribers.
Stranger Things
Even though Netflix likes to keep a tight lock on how its many original series are doing as far as viewership goes, nobody needed any hard data to know just how popular Stranger Things has been since it debuted over the summer. Why? Because just about everyone without hermit tendencies has been talking about it, from the stellar cast to the unexplained mysteries to the creepy-as-balls Upside Down otherworld. The meshing of sci-fi within the creature feature tale was only made better with the 1980s backdrop, giving us some of the sweetest and most relistenable TV music out there. On a scale of 1-10, it gets an Eleven.
Where You Can Watch: Season 1 of Stranger Things is available exclusively on Netflix.
Ash Vs Evil Dead
Last year gave horror fans one of the best surprises ever, with Bruce Campbell and Sam Raimi reteaming to bring the world of Evil Dead into the new millennium in the best way possible: completely soaked in blood and guts. It seems like Starz has spared no expense in each half-hour episode of Ash vs Evil Dead, which puts most horror movies to shame in the special effects department, with the bulk of the nastiness bypassing CGI for physical stunts and set-ups. And even though Ash and his two sidekicks Pablo and Kelly are just as hilarious as they are badass, this is a show that has audiences go from laughing to screaming in a split-second. Horror has never been groovier.
Where You Can Watch: Season 1 of Ash vs Evil Dead is available to stream on Starz's website and all the usual apps, with Season 2 episodes going up as they air.
Beyond The Walls
The recently released French miniseries Beyond the Walls serves as the first exclusive TV show for the on-the-rise horror streaming site Shudder.com, and if this is any indication of what the company will acquire and produce in the future, we should start mailing in all our money. Created by Hervé Hadmar and Marc Herpoux, Beyond the Walls is the rare TV horror that embraces the realms of fantasy and magic as its subgenres, rather than zombies or serial killers. Veerle Baetens stars as Lisa, an antisocial woman who moves into a new place and finds there are other forces at work. It's not an original pitch, but Beyond the Walls is unpredictable and haunting like few other projects before it on either the big or small screen. And because of its relatively short runtime, it's best to know as little as possible going in.
Where You Can Watch: As stated earlier, Beyond the Walls is a Shudder exclusive, so that's where you can find the miniseries' three episodes.
American Horror Story
For better or worse, there hasn't been anything on TV quite like American Horror Story before, as co-creators Ryan Murphy and Brad Falchuk immediately made it clear this show would throw everything possible at viewers, regardless of if any of it was meant to stick. With characters ranging from rapist ghosts to Nazi mad scientists to voodoo queens to two-headed entertainers to immortal hotel staff, American Horror Story delivers the kinds of scares and violence-laden threats that most shows would balk at, and even though there's always an unevenness involved with each season, the one-of-a-kind shocks make it worth the ride. And it's pretty funny, too.
Where You Can Watch: One of the most popular horror shows in the modern era, American Horror Story has all five finished seasons available to stream on all three of the biggies: Netflix, Hulu and Amazon, with all previous episodes of its current Roanoke season able for view on FX's website.
The Real Ghostbusters
If you're in need of lightening things up a bit, look no further than one of the very best horror-tinged cartoons, The Real Ghostbusters. (Not to be confused with that other Ghost Busters cartoon, which has its own merits.) Created during a high point for both Ghostbusters love and 1980s animation, this hit animated series was surprisingly intense in its first seasons, embracing the horror and weirdness of its many paranormal threats. Later seasons eased up on the fear factor, especially with the super-cartoonish side stories centered on Slimer, but there's no denying that show villains like Samhain and The Boogieman are among the spookiest elements of this entire franchise.
Where You Can Watch: Unfortunately, there isn't anywhere to find full seasons of The Real Ghostbusters, but Crackle does have a decent selection of episodes from Season 2 and Season 3 available for free, so we all win.
Penny Dreadful
The success of Pride and Prejudice and Zombies brought about a variety of similar projects across all forms of entertainment, and mash-ups have arguably never been more enjoyable or well-conceived than the gorgeously gothic Showtime series Penny Dreadful from creator John Logan. With a demonized Eva Green at its center, Penny Dreadful brought an all-star cast into an intelligent narrative that incorporated story elements from literary horror classics like Dracula, The Picture of Dorian Gray, Frankenstein and more. And if the mood-soaked show was ever winking at audiences with all these references, it's just because there was blood in its eye.
Where You Can Watch: You can find all three seasons of Penny Dreadful on Netflix, as well as Hulu, assuming you have the Showtime add-on, or on Showtime's website and apps.
American Gothic
Not to be confused with the recently cancelled CBS mystery, this American Gothic is one of the more underrated and under-referenced shows of the past 25 years. Created by former teen idol Shaun Cassidy, with Evil Dead's Sam Raimi as an E.P., American Gothic only got one extremely dark season, but it still made the most of its time on CBS (of all places). Currently making audiences guffaw on Veep, actor Gary Cole was a thrilling revelation as the devilishly evil small town sheriff Lucas Buck, who used his corrupt ways and supernatural forces to plague the citizens of Trinity, South Carolina. Watch it and wonder how in the hell this played on a broadcast network the same year Full House went off the air.
Where You Can Watch: Hulu currently has all 22 episodes from the single season of American Gothic.
Channel Zero
Much as the Internet has changed the way people watch TV - this list wouldn't have existed 5 years ago, for example - the online world itself is increasingly an inspiration for the entertainment industry. Case in point: Syfy's outrageously unsettling new anthology series Channel Zero, for which limited-episode seasons are based on creepypastas, the online version of a legend or campfire tale. Created by author and TV scribe Nick Antosca, Channel Zero is in the middle of its first season, which is based on Kris Straub's Candle Cove, about a children's puppet show and how it may or may not tie into a man returning home years after his twin brother disappeared. I might be jumping the gun by adding this so early, but it's easily one of the best new horror shows in years.
Where You Can Watch: Syfy is posting episodes of Channel Zero as they're released to its website and apps across multiple platforms, such as iOS, Android and Roku.
Tales From The Darkside
Now to end things on an underrated classic. Created by the Living Dead franchise mastermind George A. Romero, the anthology series Tales from the Darkside was originally supposed to be a TV version of Creepshow, but became a wholly engaging show in its own right. Never losing sight of its audience, Tales from the Darkside delivered tales that both spooked audiences and made them laugh with gallows humor, with stories that touched upon monsters, curses, psychic machines, demons and more, sometimes by famous authors such as Stephen King and Harlan Ellison. Not to mention all the familiar faces to be found, and in all their 1980s glory!
Where You Can Watch: All four seasons of Tales From the Darkside are available on Amazon and Shudder.
One of the best things about going and finding each of these shows on their respective streaming sites is that you'll almost definitely be given a handful of related series to watch. So this list is technically the gift that keeps on giving, and you'll hopefully still be getting your spine tingled by the time Christmas rolls around. (I don't know why all the yuletide references.) But we also know everything else hitting the small screen between now and then, and you can find them all in our fall TV schedule.
Assistant Managing Editor
Nick is a Cajun Country native, and is often asked why he doesn't sound like that's the case. His love for his wife and daughters is almost equaled by his love of gasp-for-breath laughter and gasp-for-breath horror. A lifetime spent in the vicinity of a television screen led to his current dream job, as well as his knowledge of too many TV themes and ad jingles.