How Jane The Virgin Finally Lost Her Virginity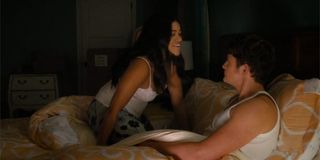 Jane The Virgin has always been a show about Jane and how her virginity has affected her life. Because Jane has been proud of her virginity, and because it certainly came into play after she was artificially inseminated and became an icon of miracles at the school she worked at, losing her virginity has always been a big upcoming plot point. When Jane was married a few weeks ago, it seemed inevitable that Michael would finally take her "v" card, but now it has happened, and the scenes were handled extremely deftly by the CW series.
During this week's episode, Jane and Michael were finally given the OK to have sex. They've actually been married for a short while, now, but Michael was shot on the night of their wedding and he has been recovering in the time since. After getting the OK, they had a plan to make time in their busy schedule to have sex. Unfortunately, Jane's family completely derailed that plan. Her father had movers drop by, and then her mother and grandmother popped in, bringing cake. Jane tried to tell them she didn't have time
And so we waited. We waited while Jane interviewed her grandmother and met with her advisor at college. We then waited as she worked on the chapter of the love story she had been writing for school. Then, finally Michael came home and Jane the Virgin was able to pull "the Virgin" part off of its title.
Afterward, things hit the fan pretty quickly, but not before Jane had a moment to realize she is now a married person who has had sex, even blanketly stating:
A few moment later, she sends her chapter of her book off to her professor without realizing she's actually sending footage of herself having sex with Michael for the first time. It's the type of plot that would be found in a telenovela and fits perfectly in the cheeky Jane the Virgin. The next day, Jane gets a critique from her professor about her story and is advised to let the sex help her story out, although she has a bigger fish to fry, considering there was a "glitch" in their lovemaking and Michael didn't quite get her there.
We never expected Jane to remain a virgin forever, and we're really glad she ended up having sex on her own terms and when she was ready. We're also happy that the CW drama didn't portray lovemaking as this perfect moment for Jane. She has early challenges in the bedroom like a lot of other women, and she has to grapple with losing a part of her identity once it's gone. Now, we're interested to see where Jane the non-virgin goes in the weeks to come.
New episodes of Jane The Virgin air on Mondays at 8 p.m. ET, only on the CW. Catch up on the latest episodes for free over at The CW's site.
Reality TV fan with a pinch of Disney fairy dust thrown in. Theme park junkie. If you've created a rom-com I've probably watched it.
Your Daily Blend of Entertainment News
Thank you for signing up to CinemaBlend. You will receive a verification email shortly.
There was a problem. Please refresh the page and try again.