Did Gotham Just Introduce A Villain From Batman's Animated Series?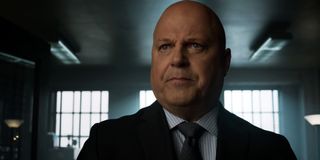 A lot of villains have appeared on Gotham at this point, and they've either been characters from the comics or those that were created just for the show. Well, now it looks like the series might be giving us a villain that has only ever been used on an animated show. Barnes might be turning into a version of The Judge.
I know what you're thinking: "Huh?" OK, so, before we get too deep into this theory, let's back up a bit. We already know that Barnes isn't totally in his right mind anymore, after having been infected with a single drop of Alice Tetch's bad blood. Mr. Law and Order has, in fact, now turned downright murderous in the most horrifying way when it comes to bad guys. After getting a tip on a plastic surgeon named Symon who makes his money giving new faces to Gotham's most wanted, Barnes reluctantly arrests him (you know since there would be a witness if he just killed him), even though the newfound voices in his head are declaring the man guilty.
Sure enough, Symon gets released from GCPD custody and is soon at Carmine Falcone's party, and, unfortunately for Symon, Barnes is there, too. He corners Symon in the bathroom and the voices in his head continue to ring out as Barnes holds Symon by his neck and tells him, "I am judge, jury, and executioner" and then uses his new super strength to shove Symon through the wall and all the way out of the building. Damn. Barnes is no joke now, y'all.
So, what makes it seem like Barnes is becoming The Judge? The main clue is in the words that swirl around in Barnes' head before he doles out his punishment to Symon. That chorus of "guilty, guilty, guilty" is the same thing that played out when The Judge was handing down sentences during an episode of The New Batman Adventures called "Judgment Day," which aired in 1998. And, while it's possible that the show is doing something super different and turning Barnes into this super-niche animated vigilante, there are some other weird aspects to taking the character in this direction.
First among those oddities? Well, in the animated series we learn that The Judge is actually another personality of Harvey Dent. That's right, Harvey has already become Two-Face, and now he's manifested yet another personality who's attempting to clean up Gotham in the most direct way possible. So, now, on Gotham, we might have them taking a vigilante/villain who was established as the alternate personality of another well-known villain (that's Two-Face) and assigning that personality to a totally different character (Barnes).
You might be thinking that that's not that big of a deal, since comic-based shows like Gotham can switch things around from well-established storylines frequently to suit their purposes. But! What's extra weird about this is that, if you'll remember, Gotham already has Harvey Dent as a character on the show. So, why would they so alter The Judge, when they could easily have Harvey come around and turn all badass vigilante/villain? Who knows, really. Maybe they didn't want to wait to turn Harvey into The Judge without Two-Face first being part of the equation. Or, maybe they just felt like this was a better change for Barnes; him going from very by-the-book to pulling criminals apart or throwing them out of buildings is certainly a new look for the character. Actually, how fucked up would it be if they had Barnes turn into The Judge and then also turn into Two-Face? I think a lot of fanboys and fangirls would riot.
For now, of course, this is all just speculation, but it would be wild if this turns out to actually be the way things are heading for not-so-normal-anymore Barnes. We can all see how things shake out when Gotham airs Mondays on FOX.
Your Daily Blend of Entertainment News
Yennefer's apprentice, Gilmore Girl; will Vulcan nerve pinch pretty much anyone if prompted with cheese...Yes, even Jamie Fraser.