Gotham Just Cast Selina Kyle's Mother, Check Her Out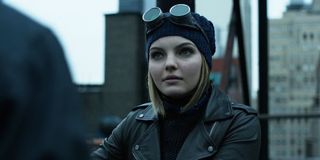 Selina Kyle has seen plenty of ups and downs so far in Gotham Season 3, and we haven't even hit the midpoint yet. Her pal Ivy was transformed from a little girl into an adult, her buddy Bruce's doppelganger made a move on her, the real Bruce made a move on her, a couple of criminals nearly tortured her, and she frequents a bar run by the bonkers Barbara Kean. Soon, Selina's life will get even more complicated when her mom enters the scene. Now, we know just who will be playing Selina's mother: Ivana Milicevic of Banshee fame. If you aren't familiar with the Cinemax show, you can check her out, below.
Ivana Milicevic will play Maria Kyle, a woman who seems to have passed on here street smarts to her daughter. She's a drifter who is rarely found in the same place on a regular basis, and she has cultivated multiple identities so that she can get anywhere at a moment's notice. Maria lives on the wrong side of the law, but she does have one quality that is entirely straightforward: love for her daughter. Despite abandoning Selina to life alone on the streets, Maria counts her daughter as the only person alive whom she truly loves. The role is recurring, according to TVLine, which means we should get to see a decent amount of Milicevic in the role.
The role will be Ivana Milicevic's second on the small screen since the end of her four-season run on Cinemax's Banshee in May of 2016. She appeared in four episodes of the Starz series Power earlier this year. Gotham will see her back on one of the broadcast networks for the first time since Vegas on CBS back in 2012. There's no saying how much of Milicevic we can expect in the future of Gotham. Assuming she's not killed off at some point in Season 3, she could become a player in the long run of the show. We can assume that Selina won't be dying before she fulfills at least some of her comic destiny to become Catwoman.
It's hard to use DC Comics to do much guessing about Selina's relationship with her long-absent mom on Gotham. The Maria Kyle of comic lore was only briefly touched upon as a woman who loved cats and killed herself when Selina was a child. Maria may be one of the comic characters that Gotham takes the most liberties with.
We probably shouldn't count on an entirely joyous reunion between mother and daughter when Ivana Milicevic makes her Gotham debut. Selina has been on her own on the streets for too long for her to likely greet her mom with open arms, and Maria doesn't sound like the most maternal figure. Still, it seems that mother and daughter have an awful lot in common. I wouldn't be surprised if we get to see an elaborate heist courtesy of the cat burglary skills of the Kyle ladies.
We'll have to wait and see. Tune in to Fox on Mondays at 8 p.m. ET to discover what's next for Selina Kyle on Gotham.
Resident of One Chicago, Bachelor Nation, and Cleveland. Has opinions about crossovers, Star Wars, and superheroes. Will not time travel.
Your Daily Blend of Entertainment News
Thank you for signing up to CinemaBlend. You will receive a verification email shortly.
There was a problem. Please refresh the page and try again.