How NBC Will Honor Pearl Harbor's 75th Anniversary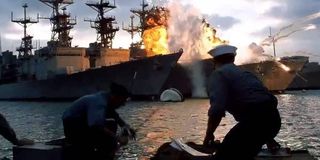 If you're an American, then there's a very good chance that you're familiar with the importance of December 7, 1941. That date will forever "live in infamy," as it was the day the Japanese navy bombed Pearl Harbor and galvanized the American military to enter WWII. It's a date that conjures up powerful memories every year, and this year will mark the 75th anniversary of that tragedy. In order to pay respects those who lost their lives on that fateful day, NBC has announced that it will deliver a special broadcast straight from Pearl Harbor.
We've just learned that Lester Holt will host the December 7 episode of NBC Nightly News live from Hawaii to honor the 75th anniversary of the Japanese attack on Pearl Harbor. During the course of the broadcast, Holt will conduct special interviews with WWII veterans, as well as the families of those who served. Additionally, the host will be speaking with legendary broadcaster Tom Brokaw about Brokaw's own reporting on the Greatest Generation over the course of his career.
Lester Holt won't be the only member of the NBC News team present in Pearl Harbor to help celebrate and honor the anniversary of the attack. NBC reporter Joe Fryer will also provide coverage from Hawaii, and he will contribute regularly from the naval port throughout the week of the anniversary.
The attack on Pearl Harbor has become iconic in the annals of history, and that iconography has been mirrored in pop culture numerous times. From straightforward action movies like Tora! Tora! Tora!, to more comedic takes on American fear of the Japanese in 1941!, December 7, 1941 has become an instantly recognizable pop culture moment signifying a major turning point in our country's history. Even Michael Bay's Pearl Harbor -- which has become widely criticized over the years for its inaccuracies -- treats the date with an appropriate level of reverence.
Of course, the weight of the attack is made even more apparent when we consider the human cost of that day. During the course of the Japanese attack on the American naval port, roughly 2,013 Americans were killed and 1,178 were wounded. Due to the fact that we were not officially at war during the time of the attack, every single casualty was considered a non-combatant. No doubt haunting facts like these and many more will be a part of the NBC Nightly News broadcast.
CinemaBlend will bring you any and all relevant film and television news related to the upcoming 75th anniversary of Pearl Harbor as more details become available to us. Make sure to tune in to NBC Nightly News on December 7 at 6:30 p.m. EST to watch the heartfelt broadcast and pay your respects. For more information concerning all of the most highly anticipated spring television debuts, make sure to take a look at CinemaBlend's comprehensive midseason premiere guide.
Originally from Connecticut, Conner grew up in San Diego and graduated from Chapman University in 2014. He now lives in Los Angeles working in and around the entertainment industry and can mostly be found binging horror movies and chugging coffee.