The Huge Number Of People Who Watched Leah Remini's new Scientology Show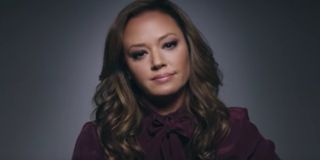 Actress Leah Remini is known for being outspoken about what she believes in, and she took that outspokenness to A&E for a new series about her experiences with Scientology. From a young age, Remini was a member of the Church for many years, but she very publicly left back in 2013. Her unscripted show Leah Remini: Scientology and the Aftermath debuted on A&E on November 29, and the ratings prove just how many people are interested in her perspective. As it turns out, quite a lot of people are interested.
The series premiere of Leah Remini: Scientology and the Aftermath pulled in a whopping 2.1 million viewers for A&E. Of those 2.1 million, 1.1 million were in the valuable 25 - 54 demographic and 913,000 were in the 18 - 49 demographic. The numbers mean that the first episode of the show is A&E's most-viewed new series premiere in more than two years, as well as one of the top unscripted cable premieres in 2016 to date. The debut even did well on social media, ranking as the top trending series on Twitter in the 10 p.m. hour that night.
Of course, 2.1 million viewers is practically incomparable to the ratings consistently drawn by high-profile shows on the major broadcast networks, and A&E will almost certainly never catch up to cable channel fare like AMC's The Walking Dead and HBO's Game of Thrones, but 2.1 million is an incredibly impressive number for an A&E series premiere. The network likely has a huge hit with Leah Remini: Scientology and the Aftermath, with the only bad news for A&E being that it's a limited run series.
The show will run for eight one-hour episodes in which Leah Remini exposes stories of heartbreak, harassment, and emotional distress allegedly caused by the Church of Scientology and its flock. She has recruited former high-ranking Church executives to share their insight, as well as former members of the Church who have agreed to speak publicly about their experiences. Such a thing used to be extremely rare, but projects like HBO's Going Clear have opened the door for others to follow in going public with their stories.
Remini reportedly left Scientology in 2013 after she was alarmed at the disappearance of a fellow member (which she realized while at Tom Cruise's wedding), and she has revealed that she could not remain part of an organization that told her what to do. Her departure from Scientology evidently cost her a lot of friends who remained with the Church, but Leah Remini: Scientology and the Aftermath clearly shows that she's not afraid to burn even more bridges if that's what it takes to tell her story.
The Church of Scientology hasn't taken well to Leah Remini's allegations on her series, claiming that she is "in it for the money" and is working to "distort the truth" about Scientology. The truth may always be a case of she-said/they-said between Remini and the Church, but to see for yourself what Remini has to say in Leah Remini: Scientology and the Aftermath, tune in to A&E on Tuesdays at 10 p.m. ET for the rest of the eight episodes. Check out our midseason TV premiere schedule to see what else you'll be able to catch on the small screen in the near future.
Resident of One Chicago, Bachelor Nation, and Cleveland. Has opinions about crossovers, Star Wars, and superheroes. Will not time travel.
Your Daily Blend of Entertainment News
Thank you for signing up to CinemaBlend. You will receive a verification email shortly.
There was a problem. Please refresh the page and try again.