What The Sand Snakes Are Probably Doing In Game Of Thrones Season 7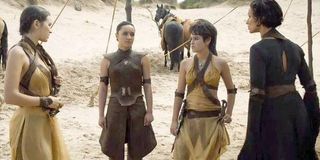 If the reports prove true, this Game of Thrones article features a slew of major spoilers. Don't keep reading if you want to go into Season 7 with a completely fresh perspective!
This week in Game of Thrones news, two of the Sand Snakes were finally spotted filming in Spain. Indira Varma and Rosabell Laurenti Sellers were seen near a location where Game of Thrones has been filming, although they weren't seen on set. While there have been no grainy photographs of either actress filming scenes, reports indicate that the Sand Snakes will be a key part of Daenerys Targaryen's potential takeover.
Per Watchers on the Wall, we know that when Season 7 kicks off the Sand Snakes will be back and will be aligning themselves with Dany. There's going to be a lot of girl power on that team if true. Yara Greyjoy is already on Team Targaryen, and Olenna Tyrell is reportedly a major force joining up with Dany, too. Throw in Dorne and the Sand Snakes and that should be a pretty fun team. Now, The Sand Snakes are reportedly back on set and potentially--but not definitely--filming a major scene involving the... Lannisters. The new scene may tie into a major plotline we already heard might be happening.
When last we saw the Sand Snakes they had rather abruptly taken out a slew of important people, including Princess Myrcella, Trystane and Prince Doran. So far in the plot, their roles haven't been as key or as cool as many fans had been anticipating prior to their introduction, and it would be nice to get a clearer picture of their motivations and personalities. Hopefully during Season 7 the characters will be a little more exciting than they've been previously.
Previous reports have indicated that Daenerys and her crew will eventually be meeting up with Jon Snow and his crew, and that Euron Greyjoy will be teaming up with Cersei Lannister. HBO, of course, is reluctant to confirm any details about new episodes coming up, and every single minute details is unlikely to pan out on the series. But even if just the gist ends up being correct, this season already sounds like bloody fun.
That scene is particularly spoilerific, so if you'd like to get into the more dastardly and specific spoilers, head over to the next page. BE FOREWARNED THAT THIS IS A MORE SPECIFIC SPOILER. If you'd like to read into what else we know about Game of Thrones Season 7, take a look at our what we know guide.
Major rumors have been indicating that Euron Greyjoy, acting for Cersei Lannister, will wreak havoc on Dany's ships and that at least one of the Sand Snakes will die in the aftermath. The new scene that is reportedly being filmed seems to be set at a later date than that initial scene and would feature the characters of Ellaria and Tyene, indicating that at least Obara or Nymeria don't survive. The fact that Indira Varma and Rosabell Laurenti Sellers were recently seen on set bodes well for their characters, although it isn't a surefire way of discerning whether or not their characters are safe. What is fact is that Winter has arrived, and with it more deaths will be coming---hopefully in the big budget, cinematic way we've come to expect from the series.
Your Daily Blend of Entertainment News
Reality TV fan with a pinch of Disney fairy dust thrown in. Theme park junkie. If you've created a rom-com I've probably watched it.