Check Out Game Of Thrones' Badass New Sand Snake Weapons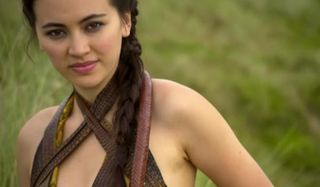 Game of Thrones has big plans to take us to new areas and introduce us to new characters when it returns to the schedule for its fifth season. Among these are the Sand Snakes, the fierce and proud bastard daughters of Prince Oberyn Martell of Dorne. The HBO drama recently released a brand new video featuring the Sand Snakes and their intense weaponry, giving us the opportunity to get a feel for Dorne's clothing, culture and weaponry. And unlike many of the women in King's Landing, these ladies all look pretty badass.
Obara Sand is the eldest of the Sand Snakes. Keyshia Castle-Hughes was signed on to play the character last summer, and since then we've learned plenty about the costume (which features nipple armor) and the weapons preferences of the character. Here, we get a good look at Obara's weapon of choice: a spear. The spear should be familiar, as Game of Thrones wanted to tie the weapon into Dorne culture. It's the same type of weapon that Oberyn Martell used in his epic fight against The Mountain.
Next up, we have Nymeria, a young woman with skills with a whip. Her weapon has leather handles and is so totally Indiana Jones (minus the snake design in the handle) that we can't wait to see her in action. Luckily, we haven't been totally in the dark about actress Jessica Henwick's capabilities in the fighting department. The Game of Thrones Season 5 trailer has given us a good look at Nymeria's capabilities already. Up close and personal, she looks even more dangerous.
Tyene Sand is a Sand Snake who has been changed a bit from her Song of Ice and Fire counterpart. In the books, she's blonde and has a mother who is not Ellaria Sand. However, she'll be played by the dark-haired Rosabell Laurenti Sellers this time around and will count Ellaria as her mother. Additionally, instead of being quietly dangerous, she looks to be as brazen as her sisters with those twin daggers.
Weapons typically play a big role in any season of Game of Thrones, but HBO's latest video takes a look at the brand new weapons and characters we'll be seeing in Season 5. If you are interested in more details about the weapons, you can check out the full video, below.
HBO's Game Of Thrones will return to the schedule on Sunday, April 12 at 9 p.m. ET. Silicon Valley and Veep will air following the episode. You can take a look at other midseason premieres here.
Reality TV fan with a pinch of Disney fairy dust thrown in. Theme park junkie. If you've created a rom-com I've probably watched it.
Your Daily Blend of Entertainment News
Thank you for signing up to CinemaBlend. You will receive a verification email shortly.
There was a problem. Please refresh the page and try again.