The Best Saturday Night Live Sketches Of 2016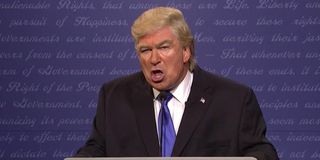 There's no doubt that Saturday Night Live has a tendency to go through peaks and valleys. Some years the show is fantastic, while in other years it's an absolute drag. That's simply what happens when a sketch series constantly tries out new performers and jokes for over four decades. Luckily for us, Saturday Night Live came out with its guns blazing in 2016, and delivered some absolutely phenomenal comedy routines.
With that in mind, we have taken it upon ourselves to compile a list of the year's best SNL sketches for your to review for yourself. Some of these sketches provided sharp political satire, while others relied on complete and utter absurdity, but all of them held a special place in our hearts for their ability to make us laugh. Check out our list and let us know your favorite Saturday Night Live sketch of 2016 in the comments section below!
Black Jeopardy
A Saturday Night Live sketch titled "Black Jeopardy" could've gone very south very quickly, but thanks to the undeniable charm of Tom Hanks (coupled with some razor sharp writing) the skit ended up becoming one of the best segments of the election season. The core premise? A white Donald Trump supporter named Doug (Hanks) finds himself pitted against two black women on the titular game show, and they soon realize that America's racial divides might not be as concrete as they previously thought. It's an incredibly insightful sketch, and it works because of the even-handed approach taken by the writers.
Undercover Boss: Starkiller Base
SNL has always had a distinct knack for tackling the pop culture phenomena of a given era, and arguably nothing was more culturally relevant last winter than The Force Awakens. A ridiculous parody of the CBS reality series, Undercover Boss: Starkiller Base features Adam Driver doing a delightfully deadpan Kylo Ren as he goes undercover in Starkiller Base to see what his employees really think of him. It's a hilarious sketch, as well as a pitch perfect send-up of Driver's brash character from Episode VII.
Haunted Elevator
There is absolutely no question that few Saturday Night Live characters have ever been more polarizing than Tom Hanks' David S. Pumpkins. The Halloween-themed Haunted Elevator sketch is an exercise in the completely absurd, and it wants you to ask one very important question "are we supposed to know who David S. Pumpkins is?" Haunted Elevator was a bold creative decision, and it definitely paid off, as it has gone on to become one of the most talked about sketches of the last year. Any questions?
Dunkin' Donuts
After a series of downer movies like Gone Baby Gone, The Assassination of Jesse James by the Coward Robert Ford, and Manchester by the Sea, we had pretty much forgotten about Casey Affleck's fantastic comedy chops. That being said, the Saturday Night Live Dunkin' Donuts sketch definitely showcases the actor's ability to deliver the laughs (as well as a fantastic Boston accent) in grand fashion. It's a wonderfully ludicrous segment, and yet it will feel oddly familiar to anyone who has ever spent time in a New England donut shop.
Wells For Sensitive Boys
Saturday Night Live has a long-running history of fantastic fake commercials, and Wells For Sensitive Boys is hands down one of the best to come out of 2016. The sketch already features a truly bizarre premise, but the thing that makes it truly great is Emma Stone's utter commitment to portraying a mother who is unflinchingly supportive of her son and his sensitive, grown-up personality. The best part of the sketch? The subtle acknowledgment that this boy's favorite movie is Y Tu Mama Tambien.
Election Night w/ Dave Chappelle & Chris Rock
Dave Chappelle's episode of Saturday Night Live didn't pull any punches when it came to satire or political commentary, and the Election Night sketch pretty much embodied that idea. Taking firm aim at the American liberal bubble, the skit depicted Dave Chappelle and Chris Rock as they relished their white friends' disbelief that Donald Trump actually won the election. It was an incredibly honest sketch, and it worked because it perfectly utilized Chappelle and Rock's specific brands blunt of comedy.
Leslie Jones On Weekend Update
Leslie Jones has taken a ton of flak over the course of the last year. Between her role in the controversial Ghostbusters reboot and her leaked nude photos, she has had to contend with plenty of online attacks. However, she took all of that in stride when she sat down at the Weekend Update desk, laid her cards on the table, and embraced the invasions of her own privacy. She has become known as one of the most brash and honest SNL cast members in recent memory, and this segment epitomizes why she's such an important member of the overall ensemble.
Love Actually w/ Hillary Clinton
Despite the fact that Hillary Clinton ultimately lost the 2016 presidential election, Saturday Night Live still found a number of ways to keep Kate McKinnon's impeccable impersonation of the former Secretary of State around. Easily the best post-election Hillary sketch came during the holiday season, when McKinnon and Cecily Strong shot a parody of Love Actually in which Clinton reaches out to an elector and tries to convince her not to vote for Donald Trump.
Bern Your Enthusiasm
It's a tall order to pick a favorite Larry David-Bernie Sanders Saturday Night Live moment from 2016, but Bern Your Enthusiasm simply has to be the best of the bunch. Over the course of the last year it was nearly impossible to tell where the Seinfeld creator began and the progressive Senator from Vermont ended, and this perfect parody of Curb Your Enthusiasm solidified that notion in hilarious fashion. The sketch is awkward, it's politically relevant, and it's damn near perfect.
Presidential Debate #1
Saturday Night Live experienced an immense resurgence in strong political satire over the course of the last year, but few political sketches matched the strength of the first presidential debate. Pitting Alec Baldwin's Donald Trump against Kate McKinnon's Hillary Clinton for the first time, the world watched in awe as we received one of the best debate spoofs since Will Ferrell's George W. Bush faced off against Darrell Hammond's Al Gore. Regardless of your political affiliation, you have to admit that both sides took a pretty serious (and hilarious) beating.
Farewell Mr. Bunting
Few scenes in movie history have become quite as iconic as the "O captain, my captain" scene from Dead Poets Society, and Farewell Mr. Bunting provided one of the best spoofs of that classic scene that we have ever seen. It's a slow burn scene, and it takes its time getting to the actual joke, but once it reaches its bloody climax it's completely worth it. The best humor comes from doing something completely unexpected, and that's exactly what Farewell Mr. Bunting does so well.
Dave Chappelle's Monologue
Earlier this year Dave Chappelle made his glorious return to sketch comedy, and his stint on Saturday Night Live could arguably be considered the most consistently funny SNL episode of 2016. The episode is packed to the brim with solid sketches, but Chappelle's monologue stands out because it perfectly showcases how the legendary stand-up comedian hasn't lost a step since retreating from public life. The bit is vulgar, insightful, and downright hilarious. With several Netflix specials slated to debut within the next year, Chappelle's monologue served as a tantalizing appetizer for what's to come.
Lin-Manuel Miranda's Monologue
I think we can all agree that Lin-Manuel Miranda's increased popularity has become one of the few silver linings of 2016, and his hosting stint on Saturday Night Live solidified his place as a master of all forms of performance. In particular, his monologue was him at peak Lin-Manuel, as he delivered a chilling and fantastic performance that perfectly capitalized on his Broadway expertise. If you were a fan of his work on Hamilton, then his monologue was right up your alley.
Bonus: Supermarket Sweep
Although this Supermarket Sweep sketch didn't officially make it to air due to time constraints, it was still an awesome segment that made waves online. The scene perfectly capitalizes on Melissa McCarthy's manic insanity and Vanessa Bayer's trademark timid persona as they depict two shoppers competing in a supermarket sweep contest. It's a relatively simple premise, but the sketch quickly devolves into chaos as McCarthy goes on an absolute rampage through the store. The sketch is so amazing that it really makes you wonder why they decided to cut it in the first place.
Your Daily Blend of Entertainment News
Originally from Connecticut, Conner grew up in San Diego and graduated from Chapman University in 2014. He now lives in Los Angeles working in and around the entertainment industry and can mostly be found binging horror movies and chugging coffee.