Meet Lin-Manuel Miranda: 9 Fascinating Things To Know About The Hamilton Mastermind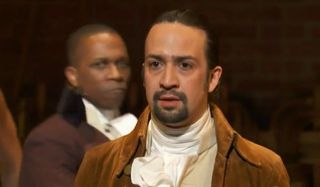 If you haven't heard of the musical theater genius that is Lin-Manuel Miranda, you probably haven't been paying attention to the world of Broadway over the past year. Miranda is a history-making musical theater writer and actor who is the mastermind behind the biggest Broadway hit in years: Hamilton. The hip hop musical which chronicles the life of American founding father Alexander Hamilton won a ton of awards this season, and getting tickets for the show is nearly impossible, with the cheapest tickets being over $800.
So who is this dude who managed to create such a massively successful Broadway musical, and has the type of brain to fuse American history and rap? It turns out he's a pretty interesting and unbelievable person. Here are some facts about the actor/writer that you might not necessarily know.
He Co-Wrote The Cantina Song In The Force Awakens
Lin-Manuel Miranda's talents don't exclusively reach the Broadway stage. In fact, he had a part to play in J.J. Abrams' triumphant Star Wars: The Force Awakens. Miranda wrote the new cantina song, which was heard when Han Solo, Rey, and Finn enter Maz Kanata's castle in Takodana. Miranda got the job after J.J. Abrams saw a performance of Hamilton, and got to meet the cast afterward. The Broadway composer reportedly offered to write a new cantina song, being a fan of the original one from A New Hope. J.J. Abrams ended up taking him up on this offer, and the two composed and sang the track together. In fact, Abrams would eventually perform the song live outside of Hamilton's theater alongside Lin-Manuel.
It Took Him A Year To Write One Song For Hamilton
It may look like Lin-Manuel Miranda has it made in the shade at the moment, but it wasn't always the case. Miranda began developing Hamilton starting in 2008, after reading Ron Chernow's biography of Alexander Hamilton, aptly titled Alexander Hamilton. Miranda started simply writing a rap about the Founding Father's life, which he eventually performed for the 2009 White House Evening of Poetry, Music, and the Spoken Word. He would then continue to write more songs for the future Broadway hit, which would eventually premiere Off-Broadway at the Public Theater in 2015. While developing a musical is usually a long process, Miranda has stated that it took him over a year to write the showstopper "My Shot", as he continued to rewrite and revise the song to properly reflect Hamilton's intellect and vocabulary.
He's Starring Opposite Emily Blunt In Mary Poppins Returns
While Lin-Manuel Miranda has made a few film appearances before, he's going to become a certified movie star in the near future. Miranda was recently cast in Disney's sequel to the classic Julie Andrews movie Mary Poppins, and Miranda scored a leading role, opposite Emily Blunt's take on Mary. Lin-Manuel will be playing the role of Jack, who will be a similar character to Dick Van Dyke's iconic role Bert. Like Bert, Miranda's role will be that of a chimney sweep who seems to have some preexisting relationship with the titular practically perfect nanny. So while many people might not know Lin-Manuel by name, they certainly will when Mary Poppins Returns flies into theaters.
Disney must love Lin-Manuel Miranda, and it appears that the feelings are mutual.
He's Won An Insane Amount Of Awards
Being a success of Lin-Manuel Miranda's stature is already the American dream, but it probably also feels great that he's got a ton of trophies to go along with it. Before Hamilton took over the great white way, Miranda wrote and starred in another super successful Broadway musical called In The Heights. Another hip-hop and rap infused musical, In The Heights revolves around the residents of a particular neighborhood (or barrio in Spanish) in Washington Heights, NYC. For this show, Miranda was awarded two Tony Awards (Best Musical and Best Original Score), and was also nominated for Best Actor In A Musical. The soundtrack also won a Grammy Award, and the show was nominated for a Pulitzer Prize. Hamilton was nominated for a record breaking16 Tony Awards this year, taking home 11, including Best Musical. Oh, and Miranda also has an Emmy for writing a song for a previous Tony Award ceremony.
Lin-Manuel Miranda Is A Serious Disney Fan
Disney fans are not exactly rare. Tons of kids grow up watching Disney's classic cartoon features, and they eventually pass them onto their own children. Lin-Manuel Miranda takes this a step further, though. Miranda has become a father recently, and he gave his son a very Disney-centric name. Born in 2014, baby Miranda is named Sebastian, after the singing crab from Disney's The Little Mermaid. And with a live-action version of the classic being mulled over by Disney, we just may see a resurgence of the Jamaican maestro's name in the near future.
He's Written Jingles For Political Ads, Including Former NY Governor Eliot Spitzer
Songwriters don't always get to simply compose passion projects. Many songwriters and artists have been known to take money from corporate or political gigs in order to pay the bills and continue the trajectory of their careers. This is exactly what happened in Lin-Manuel Miranda's past, where he was known to write jingles for political ads. The New York Times reported a few years ago about the humble beginnings to Miranda's flourishing theater career. Thanks to his father, who was a New York political consultant for years, he managed to snag a few jingle jobs for Democratic politicians, including none other than Eliot Spitzer.
You May Have Seen Him On TV Before
While we may know Lin-Manuel Miranda as a writer first, he is also a trained and successful actor. In addition to writing the music, lyrics, and book to both In the Heights and Hamilton, he also played leading roles in both shows and earned a Tony Nomination for each role. But besides his theater resume, Miranda has also been on screen a fair amount of times, usually on TV. His most significant role on TV was his recurring role as Dr. Ruben Marcado in the short lived NBC drama Do No Harm. Unfortunately, this show was cancelled after a mere two episodes, because we all know how NBC loves to cancel their new programs.
Because Do No Harm was seen by so few people, Lin-Manuel Miranda is probably best known for some of the day player roles he's taken in various TV series. He appeared in the season 9 episode of How I Met Your Mother called "Bedtime Stories". Miranda played the role of Gus, who is a rhyming and rapping bus passenger who gives Marshall some advice, while also spitting mad game. He also did a few appearances on Sesame Street, one of which earned him an Emmy Nomination for Outstanding Original Song. And his first TV role was as an unnamed bellboy in the last season of The Sopranos ("Remember When"), in addition to small roles in House, Modern Family, Inside Amy Schumer, and the film _The Odd Life Of Timothy Green. _
We hope this has been sufficiently educating for those of you don't know much about Lin-Manuel Miranda. You better study up though, as it looks like Miranda's career will only continue to grow in coming years. And we here at Cinema Blend will be there to report on it all.
He Worked Some Odd Jobs Before Making His Career In Theater
It's a tale we've all heard before. A young artist wants to make a career for themselves on Broadway, but spends the majority of their days waiting tables and slinging drinks before their big break. It turns out that Lin-Manuel Miranda did some day jobs too, although they weren't simply server jobs. Rather, Miranda worked as an English teacher for some time, as well as a restaurant reviewer for Manhattan Times. Noticeably more glamorous than being a waiter, these jobs surely affected his theatrical work moving forward. Studying the greats of Literature presumably helped Miranda shape his own stories, and being a writer (even a writer who focuses on culinary delights) must have affected the composition of his various Broadway shows. Plus being an English teacher let him live as if he was a character in the Broadway musical Bye Bye Birdie. So there's that.
His Father Wanted Him To Be A Lawyer
Parents usually have dreams or careers for their children which are largely fictitious, and often don't come to fruition. This seems to be exactly the case with Lin-Manuel Miranda's father, Luis A. Miranda. Lin-Manuel being a lawyer seemed like a lucrative job that would see the writer having a successful adult life, but he also apparently had some serious talent. Lin-Manuel Miranda did an unintentionally hilarious report in third grade about The Pushcart War which made his father think that the would make an impressive legal consult. Luckily for us you can check out this report below, which also technically happens to be Lin-Manuel's film debut.
Your Daily Blend of Entertainment News
Corey was born and raised in New Jersey. Double majored in theater and literature during undergrad. After working in administrative theater for a year in New York, he started as the Weekend Editor at CinemaBlend. He's since been able to work himself up to reviews, phoners, and press junkets-- and is now able to appear on camera with some of his favorite actors... just not as he would have predicted as a kid.