How Lethal Weapon's Leo Getz Is Different Than In The Movies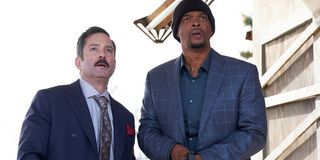 Fox premiered one of the most ambitious new series in the fall of 2016 with Lethal Weapon, and it would deliver a brand new take on legendary characters from one of the greatest action movie franchises of all time. We're well into the first season at this point, and we've seen that Damon Wayans and Clayne Crawford have made the roles of Murtaugh and Riggs their own. Thomas Lennon is set to make his Lethal Weapon debut as none other than Leo Getz in tonight's episode, and he spoke with CinemaBlend about how his version of the character is different from Joe Pesci's in the movies, saying this:
Joe Pesci played Leo Getz in Lethal Weapon 2, 3, and 4, and he's undoubtedly the most iconic actor of the film franchise after Danny Glover and Mel Gibson, so it would have been easy for any actor who tackled Leo on TV to just try and copy Pesci's work. Given that Thomas Lennon wasn't looking to recreate Pesci for the new version of the character, any fans expecting a Joe Pesci 2.0 performance may be in for a surprise when Lennon makes his Lethal Weapon debut. Instead of copying Pesci, he'll bring his own version of Leo to TV to interact with Damon Wayans' version of Murtaugh and Clayne Crawford's version of Riggs.
That said, Thomas Lennon was under a great deal of pressure to do justice to the character of Leo. Lethal Weapon movie fans have been hoping for and/or dreading the introduction of a new Leo, and Lennon was already making headlines for Lethal Weapon before he even began filming. He went on in his interview with CinemaBlend to explain that he did his best to make the TV Leo as funny and interesting as possible without stepping on Joe Pesci's work. All things considered, we should be in for a fun new take on an existing character.
While we haven't seen the episode yet, Thomas Lennon did give an idea of the sort of character his version of Leo will be. While filming a key scene with Damon Wayans and Clayne Crawford on set, Lennon dropped a cheeky joke, and it's not one that we can imagine coming from Joe Pesci:
I can't speak for Clayne Crawford, but I know I cracked up at the joke. Crawford is distinctly disheveled as Riggs, and the only things that are consistent about his look are the messy hair and mustache. Thomas Lennon is well-known on the TV circuit for rocking a mustache as Jim Dangle on Reno 911, and it's only fitting that facial hair banter went down on the set of Lethal Weapon while Lennon was around.
Although it's unfortunate that the line didn't make it to the final cut of the film, at least Reno 911! fans can get a kick out of seeing Thomas Lennon back in the epic mustache on the small screen. He did tease the possibility of another Reno 911 movie during our Lethal Weapon chat, so we may see him back in the 'stache and shorts as Dangle. In the meantime, however, we can only hope that he makes his way back to Lethal Weapon and give us more Leo in the future of the series. One episode almost certainly won't be enough.
You can catch Thomas Lennon as Leo Getz on Lethal Weapon at 8 p.m. ET on Fox, and don't forget to take a look at our midseason TV premiere schedule.
Resident of One Chicago, Bachelor Nation, and Cleveland. Has opinions about crossovers, Star Wars, and superheroes. Will not time travel.
Your Daily Blend of Entertainment News
Thank you for signing up to CinemaBlend. You will receive a verification email shortly.
There was a problem. Please refresh the page and try again.