The Glee Musical Number Ryan Murphy Regrets The Most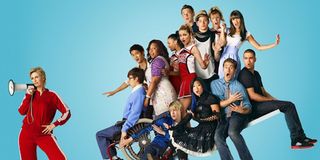 Ryan Murphy's Glee brought a lot of joy to the small screen with its musical numbers over the years, but that doesn't mean every single moment on the series was a big win. In fact, I can think of at least a couple of musical numbers that were too over-the-top and a couple more song choices that were not my favorite during the show's run. However, this story is not about my least favorite Glee moments. Instead, it's about Ryan Murphy's least favorite Glee musical moment. During a recent appearance on Watch What Happens Live, Ryan Murphy revealed that it is a pop song rendition that makes him cringe a little looking back:
As you may be noting reading this quote, Ryan Murphy just called the famous Psy song "Gangsta Style." Just when you think Ryan Murphy is hip, amiright? Taran Killam, who also appeared on the show, revealed that the song was actually called "Gangnam Style," and Murphy handled it pretty tactfully. Still, it's easy to see this was not his favorite musical number the show ever put together.
Glee eventually ran for six seasons on Fox and the Psy number came right in the middle of the show's run during Season 4. Looking back, the wildly energetic musical moment was a little goofy, but it should be noted that it's no goofier than the rest of us were behaving around the same time. Even Watch What Happens Live host Andy Cohen got into "Gangnam Style" when it came out. That's right, guys, the internet is forever.
Again, to Ryan Murphy's credit, "Gangnam Style" was a phenomenon that couldn't be stopped back in 2012. The song blew up everywhere, and even became the most viewed video on YouTube at the time, reaching more than a billion views, and fairly quickly. That song was extremely popular for months. It was everywhere, even on SNL, and it's not a huge shock that Glee jumped on the bandwagon. If you'd like to take a somewhat cringe-worthy trip down memory lane, you can give the video a watch, below.
Glee was always a show that was willing to try things. Some weeks we got Britney Spears or Madonna tributes and other weeks the show tried to appeal to its young audience and the latest pop songs. Not everything worked every week on the show, but that's true of most shows. Even if you have a lot of hits--and Glee made a lot of money off of tribute songs--you'll still have some misses. So what if "Gangnam Style" was a miss? It's still making me wish Glee was on the air, so I'd call that a win.
Ryan Murphy also talked about American Horror Story during the episode, so be sure to check it out!
Your Daily Blend of Entertainment News
Reality TV fan with a pinch of Disney fairy dust thrown in. Theme park junkie. If you've created a rom-com I've probably watched it.