Facebook To Produce Original TV Shows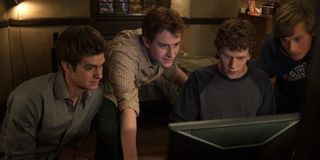 Streaming video is all the rage nowadays, with Netflix even overtaking cable TV when it comes to subscribers. Now, it seems that social media platform Facebook is looking to get in the game in a big way. Facebook may be good for much more than remembering family members' birthdays and keeping up with friends in the not-too-distant future, as it is reportedly in talks that could result in TV-caliber original content.
It seems already that Facebook isn't afraid to shell out the big bucks for original content. Earlier estimates stated that Facebook would pay around $250,000 per half hour of video, which was a already hefty chunk of change. According to a new report from The Wall Street Journal, however, the number is much higher. Facebook has evidently shown a willingness to foot the production bill for as much as $3 million per episode, and is currently meeting with Hollywood talent agencies.
The target demographic for Facebook's original content is the 13-34 age range, although the 17-30 range seems most coveted. The 13-34 demographic is significantly different from the 18-49 demo usually targeted by mainstream TV networks and streaming services. It indicates that Facebook is looking to secure a younger audience.
Facebook already has some video projects lined up. A relationship drama called Strangers is in the works, as well as a game show called Last State Standing. In Last State Standing, one contestant from every state will compete for a $500,000 grand prize. We also know of at least one show that Facebook is looking to rescue from cancellation, a la Hulu with The Mindy Project and Netflix with Arrested Development.
Of course, as Facebook is just starting out in the video biz, it's not looking for such a high profile (or expensive) series. Instead, it seems to be looking at Loosely Exactly Nicole, which ran for one season on MTV in fall 2016. It got the axe due to low ratings, but it could fare better if it is rescued and revived on a new platform like Facebook.
Interestingly, Facebook is not looking to release its streaming TV shows in the same manner as Netflix and Amazon. Those services produce and release full seasons at once, creating a culture of binge-watching that has consumers glued to their screens for hours at a time. Facebook will release episodes of its original series in the traditional manner of broadcast television and Hulu. Also unlike Netflix, Facebook is apparently willing to share its viewership data with outside companies, which could make for interesting comparisons to other platforms.
We'll have to wait and see what happens. The goal is to launch Facebook originals by late summer, so we may not actually have to wait too long. In the meantime, our summer TV schedule and Netflix premiere guide can help you pick what to watch on the small screen.
Resident of One Chicago, Bachelor Nation, and Cleveland. Has opinions about crossovers, Star Wars, and superheroes. Will not time travel.
Your Daily Blend of Entertainment News
Thank you for signing up to CinemaBlend. You will receive a verification email shortly.
There was a problem. Please refresh the page and try again.