Mr. Mercedes Review: David E. Kelley Takes A Disturbingly Fun Ride With Stephen King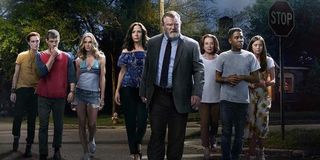 The Dark Tower just recently hit theaters, Spike's The Mist is heading towards its Season 1 finale, and IT's Pennywise will rush through Derry's pipes soon. With more adaptations just beyond the horizon, Stephen King's imagination is alive and well in pop culture, and it's quite possible the best of the bunch is currently hurtling towards audiences. With Audience Network's Mr. Mercedes, legal TV juggernaut David E. Kelley and an A+ cast trade in King's traditional horror for his pulpy crime drama, and the results are as deliciously dark and twisted and fun as fans could've hoped. Perhaps delicious is the wrong word...
A cat-and-mouse dance between the psyches of its protagonist and antagonist -- both polar opposites, save for a shared sense of world-weary fatigue -- Mr. Mercedes hides neither its cat nor its mouse from audiences, clearly uninterested in tethering its story to stock shocks and baffling twists. David E. Kelley and his creative team want viewers to know two things very, very well: what it's like to be inside the alcohol-addled brain of retired detective Bill Hodges, played to perfection by the ever-laudable Brendan Gleeson, and what it's like to be inside the migraine-addled brain of tech-savvy killer Brady Hartsfield, portrayed by a most sinister Harry Treadaway. Spoiler alert: one of those brains is much more disturbing than the other.
The series begins in the same way as the novel does, with a flashback centered on a crowd of people waiting in line falling victim to a thrill kill motorist using a vehicle as his weapon. The heinous brutality of the murders is made all the more disturbing by top notch direction from Kelley familiar Jack Bender, as well as a handful of similar real-life events in recent months. And in the show's present-day reality, the "Mr. Mercedes" case is still unsolved, which factors largely into Hodges' sour moods, as well as his thirst for whatever's most potent.
But while Hodges' social awkwardness with his amorous neighbor Ida (Holland Taylor) is about as good as it gets for his personality, his mental state fractures anew when he starts receiving horrifying messages from the Mr. Mercedes killer. As the episodes go on, viewers start to learn just how obsessive he got about solving the case when it was fresh, as well how quickly he's able to fall right back into that obsession, much to the dismay of his former partner, Det. Peter Dixon (Legion's Scott Lawrence). Brendan Gleeson embodies every bit of the Bill Hodges that Stephen King first put to paper, and TV audiences are all the better for witnessing his judgment-spewing jaunt to live-action.
Hodges is the equivalent of every stereotypical older person who doesn't understand technology, so when he first starts getting messages from his former nemesis (of sorts), Hodges enlists the assistance of his Internet-mentored yard-mower Jerome, played by Moonlight's Jharrel Jerome. While the episodes available for review didn't bring Jerome too deeply into Hodges' mission just yet, their kinship is as naturally uneven as one should be between a teenager and a retiree, and its development should be excellent. Mary Louise Parker enters the story as Janey, the sister of the woman who owned the Mercedes used to run down those initial victims, and Hodges also enlists her mind (and body) in re-attempting to crack the case.
Which brings us to the titular killer, a multi-talented and antisocial chap whose childhood was tailor-made to one day produce an emotionally stunted and bloodthirsty murderer. Coming off a winning turn as Victor Frankenstein on Penny Dreadful, Harry Treadaway inhabits some troublingly grim places as Brady Hartsfield, and Mr. Mercedes interestingly doesn't vilify Brady as often as other dramas might. (Not that his heinous actions are celebrated.) Brady's skills make him a perfect IT tech for a local electronics store, where he deals with an overbearing boss (Robert Stanton) and finds a unexpected and meaningful friendship with his coworker Lou (Breeda Wool). And because this is Stephen King, Brady also drives an ice cream truck around the neighborhoods as a side gig with ulterior motives.
But Brady isn't so much a workaholic as he is the lone surviving Hartsfield male left to get loved on by his mother Deborah, played by Kelly Lynch. That's a softcore way of hinting at the scandalous things that have gone on inside their family home, usually after Deborah drank all the clear liquor in the freezer, and while Brady is dealing with one of his attention-thwarting headaches. As such, Brady keeps himself busy outside of Deborah's reach, spending most of his home time scheming all top-secret-like in the basement.
There's sympathy to be found here, though almost completely for those whose lives Brady has ruined, and while viewers can easily understand that he is a also a victim -- a bi-product of his awkwardly botched upbringing -- Brady and his self-serving perversions are not above getting muffled by justice. Especially with a smile so skeevy.
Mr. Mercedes is the first novel in Stephen King's relatively recent crime trilogy centered around Bill Hodges, and David E. Kelley has done a fantastic job of bringing this dour -- but still often devilishly fun -- story into three dimensions, even if the TV show seems to be embracing the hard-boiled tropes that King turned on their heads. (At least early on, by way of Hodges' alcoholism outweighing his daytime TV obsessions.) If there's one major dispute to be had here, it's that the novel's true standout character Holly Gibney (played by Justine Lupe), didn't show up in those early episodes. Not that it's a real dispute, since she doesn't show up until the middle of the novel anyway, but it does feel weird to judge any form of Mr. Mercedes where she isn't present.
But judge it, I will, and I won't hesitate at all to judge it in high regards. As he did with HBO's Big Little Lies, David E. Kelley brought Mr. Mercedes to life in an engrossing way that burrows under your skin, and all while telling a fairly straightforward story whose biggest narrative trick is flashbacks. And through all the visceral and emotional turmoil, there are still many reasons to grin and cheer, even if it's just about watching a douchebag get just desserts. Why aren't more networks making TV like this? Certainly a vile soul like Brady is capable of collapsing the show's airbag of quality in the second half of the season, but from where I'm sitting, Mr. Mercedes looks to be the best TV adaptation of a Stephen King novel yet. Pretend the rating below is being presented as smiley face stickers on steering wheels.
Rev your engines and be wary of strange emails, as Mr. Mercedes will make its bloody debut on AT&T's Audience Network on Wednesday, August 9, at 8 p.m. ET. (Don't let the early airtime trick you into thinking this show could or should be seen by children, however.) To see when everything else is heading to the small screen in the near future, head to our summer premiere schedule and our fall TV schedule.
Your Daily Blend of Entertainment News
Assistant Managing Editor
Nick is a Cajun Country native, and is often asked why he doesn't sound like that's the case. His love for his wife and daughters is almost equaled by his love of gasp-for-breath laughter and gasp-for-breath horror. A lifetime spent in the vicinity of a television screen led to his current dream job, as well as his knowledge of too many TV themes and ad jingles.
Your Daily Blend of Entertainment News
Thank you for signing up to CinemaBlend. You will receive a verification email shortly.
There was a problem. Please refresh the page and try again.