Adult Swim Brutally Slammed Game Of Thrones After Last Night's Rick And Morty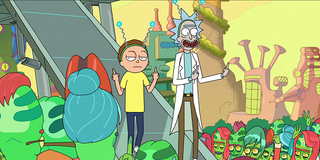 There wasa lot to talk about following Game of Thrones' Season 7 finale on Sunday night, but few were as brutal with their reactions to the final episode of the year than Adult Swim. The late night programming block shared its thoughts on Season 7 in the form of one of its trademark "bumps," particularly the one that aired right after the latest episode of Rick and Morty. As you'll see from the picture below, it wasn't very kind:
Better get your [brrrrp] vaccinations, Morty, because that burn was sick. Sick, Morty, like a [brrrrp] frickin' plague of frogs that hurts your feelings.
Ahem. For some additional context, the bump was aired without sound, and appeared through a slow fade-in-and-fade-out, similar to how post-episode "In Memoriam" cards appear. Apparently, there are a fair bit of people at Adult Swim who were not fans of Season 7 of Game of Thrones. That, or some particularly cheesed-off intern upset with some of the twists from last night snuck in and made that hot take on the fly!
In either case, Adult Swim might want to remember the old adage of not throwing stones in glass houses, as it's not as though shows like Assy McGee or some of its other miscellaneous past programs are noted for their writing excellence. At the same time, the brand isn't taking a stance that's radically different from other fans who complained about certain moments, as many have been outspoken with opinions claiming Game of Thrones "jumped the shark" in its most recent season. Fans who agree with Adult Swim undoubtedly will hope that wicked burn might, at the very least, reach a handful of people at HBO, perhaps causing some changes ahead of Season 8. (That almost definitely won't happen, but still.)
While Adult Swim may not have generally been a fan of Season 7 of Game of Thrones -- airing that bump after one of its most highly rated series wasn't a punch-pulling move -- the mature-skewing programming block has definitely shown the HBO series some love in the past; in its own weird way, of course. This has ranged from various Robot Chicken sketches to a hilariously absurd mash-up featuring Thrones scenes blended with sick(!) skating footage:
Unfortunately, Adult Swim waited until the Season 7 finale of Game of Thrones to fire shots at the show, so the chances of any dragon-centered retaliations, or even just snide reactions, from the GoT staff appear slim. That's probably for the best anyway, as the season finale definitely provided more talking points worth obsessing over than a text bump could ever provide. Check out some of the questions we are asking right here, and those who are in need of a new series to watch following GoT's end for the year should visit our fall premiere guide.
Mick likes good television, but also reality television. He grew up on Star Wars, DC, Marvel, and pro wrestling and loves to discuss and dissect most of it. He's been writing online for over a decade and never dreamed he'd be in the position he is today.
Your Daily Blend of Entertainment News
Thank you for signing up to CinemaBlend. You will receive a verification email shortly.
There was a problem. Please refresh the page and try again.