Knightfall Review: History Channel's New Medieval Drama Is Packed With Action And Surprising Twists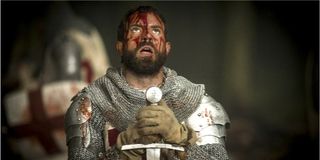 Thanks to the massive success of shows like Game of Thrones and, to a lesser extent, Vikings and Outlander, costume dramas that deal in love, war and intrigue are no strangers to the airwaves. Now, the History Channel, which is home to Vikings, is at it again with Knightfall, a tale of Templar Knights and the royal court they help serve. Well, even if you're not a fan of all things costumed, Knightfall will probably have just the right amount of action and court conspiracy for you.
Knightfall starts in 1291 during the battle of Acre that leads the Templars to lose their last stronghold in the Holy Land. As these warrior monks flee the city, they also lose one of the Christian relics they're charged with protecting: the Holy Grail. Fifteen years later, when they are home in Paris, a surprising clue as to the whereabouts of the Grail is brought to the attention of Templar Knight Landry (Tom Cullen), their new leader, whose courage and dedication send him (and his men) on a dangerous mission to locate the Holy Grail and bring it back to followers of Christianity for good. Their efforts will be hampered by court intrigue, assassins, a secret society and more difficulties than Landry could imagine.
Landry is joined in his mission by fellow Templar Knights Gawain (Pádraic Delaney), Tancrede (Simon Merrells) and new recruit Parsifal (Bobby Schofield), but all is not well in the Brotherhood, as old wounds and differing beliefs will threaten to tear them apart. Landry is also dealing with the royal family, which has problems of their own. France is currently enjoying a tenuous peace with England, but a large portion of that hinges on the betrothal of King Philip IV (Ed Stoppard) and Queen Joan Of Navarre's (Olivia Ross) young daughter, Princess Isabella (Sabrina Bartlett) to the Prince of England. Unfortunately, Isabella has her own ideas of who she'd like to marry and they could threaten all the plans of the king's advisor, William De Nogaret (Julian Ovenden), and the country itself.
The 10-episode series, which comes from creators Don Handfield (The Founder) and Richard Rayner, who also executive produce along with Oscar nominated actor Jeremy Renner (The Hurt Locker, Arrival, Wind River) and others, does a very good job at throwing twists at the audience on a regular basis. While most of the players aren't as duplicitous as the ones you'd find on a show like Game of Thrones, everyone has his or her own hidden agendas and desires, and while a few of these aspirations are pretty easy to guess at, quite a few certainly are not, meaning that Knightfall will leave you guessing enough to keep you coming back for more.
Knightfall also keeps its Templar Knights on their toes when it comes to doing battle. These are warrior monks, after all, and they are called upon to fight frequently imposing foes on a regular basis, leaving you to wonder whether or not your favorites will make it out alive.
I feel like Knightfall has found a sweet spot where the right combination of bloody action, sex, mysterious alliances and two-timing plans can easily draw in fans who are less likely to be interested in shows that offer such things. Anyone looking for heavy doses of blood and sex along with their history might be disappointed, but if you're more of a historical drama buff who simply doesn't mind that those things are along for the ride, Knightfall should be right up your alley.
The performances on the show are all pitch perfect, with Cullen doing great work as the newly appointed leader of the Templars who's trying to fulfill his many duties while hiding a secret that would threaten his life. Other standouts are Bartlett as the Princess, who turns out to be much more committed to her desires than anyone could have guessed, and Jim Carter (Downton Abbey) as Pope Boniface VIII, who seems to be the most chill pope a show like this has ever seen.
You can delve into the world of the Templar Knights when Knightfall debuts on History, December 6 at 10 p.m. EST/9 p.m. CST.
Bachelor Nation, Gilmore Girl; will Vulcan nerve pinch pretty much anyone if prompted with cheese...Yes, even Jamie Fraser.
Your Daily Blend of Entertainment News
Thank you for signing up to CinemaBlend. You will receive a verification email shortly.
There was a problem. Please refresh the page and try again.