2007 Fall TV Preview: Carpoolers On ABC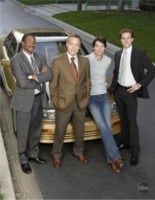 Carpoolers - Season 1
Premieres: Tuesday, October 2nd, 8:30 p.m. EST
Network:ABC
Creator(s):Anthony Russo, Bruce McCulloch, Darryl Frank, David Miner, Joe Russo, Justin Falvey, Marsh McCall
Starring:Allison Munn, Faith Ford, Fred Goss, Jerry Minor, Jerry O'Connell, T.J. Miller, Tim Peper
Website: ABC.com
In the carpool lane, no one can hear you scream. So goes the tagline for this new half-hour comedy about four guys who use their daily drive-time to vent about everything under the sun, including wives, jobs, toasters…that's right, nothing is off limits.
Laird (Jerry O'Connell) is a recently divorced ladies' man who's also a dentist. Aubrey (Jerry Minor) is a shy homemaker and breadwinner. Gracen (Fred Goss) is ultra-conservative and traditional. And Dougie (Tim Peper) is newly married and fresh with love. They're like the Wild Hogs guys, only in a car instead of on motorcycles.
Could it be that guys have the same problems as girls, only we never hear it, because they never talk about it? After all, that would be too girlish. But the guys in this show have to talk about SOMEthing during that one-hour commute to and from work every weekday. That's great for viewers, because it gives us a sneak peek into what guys talk about when no one's around.
In addition to the peering-into-their-lives business, this show looks fun because these guys are all different ages with different family dynamics. They'd never spend time together outside of the carpool lane, but that daily commute has a weird kind of bonding effect on them.
Zany, kooky, awkward…I think this show has the chops to go the distance and be – dare I say it – as quirky-funny as The Office. Hope that statement doesn't come back to haunt me.
Your Daily Blend of Entertainment News
Thank you for signing up to CinemaBlend. You will receive a verification email shortly.
There was a problem. Please refresh the page and try again.