The 2007 Peabody Awards Honor TV's Best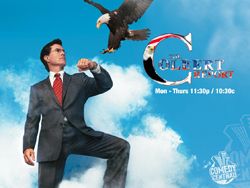 Ah, the Peabody Awards. When I first read that they had been awarded for 2007, I realized I'd never heard of them before. I've been watching TV for a good long time (over 25 years), and I don't think I've ever heard anyone say that they won a Peabody Award.
Since I didn't know what the heck they were, I thought I'd investigate before I report on their results. Turns out that it is a pretty prestigious thing. They've been awarding them for 67 years now, and it is the award for electronic media. It is given by University of Georgia's Grady College of Journalism and Mass Communication, and is awarded annually.
What really drew me to this story was the fact that they recognized one of my very favorite people on television. He's been beaten for other awards by the likes of Barry Manilow and Tony Bennett – but he is number one in my book! I am now a fan of the Peabody Award, because they saw true talent in my crush, Stephen Colbert!
Should you desire to see the awards being given, you can go to the Official Peabody Awards site.
For everyone else, here are some of the winners and their descriptions (from a press release):
"30 Rock - Universal Media Studios in association with Broadway Video Television and Little Stranger Inc.
Tina Fey`s creation is not only a great workplace comedy in the tradition of "The Mary Tyler Moore Show," complete with fresh, indelible secondary characters, but also a sly, gleeful satire of corporate media, especially the network that airs it.
Bob Woodruff Reporting: Wounds of War – The Long Road Home of Our Nation`s Veterans - ABC News
Severely injured by a roadside bomb in Iraq, Woodruff made wounded veterans and their struggle with recovery and red tape his special focus and served them well with his sensitive, dogged reporting.
CNN Presents: God`s Warriors - CNN
In six hours over three nights, CNN explored how rising fundamentalist disenchantment with the modern, secular world has affected Judaism, Islam and Christianity in sometimes similar but also different ways.
Dexter - Showtime, John Goldwyn Productions, The Colleton Company, Clyde Phillips Productions
With a premise that questions our fondness for avenging heroes – a serial killer who channels his dark urges into police forensics and the killing of other sociopaths – this Showtime series is a masterful psychological thriller and a complex and ambiguous meditation on morality.
Planet Earth - Discovery Channel, BBC
Awesome, spectacular, humbling, exhilarating – pick your effusive adjective – the 11-part series documented the natural wonders of our world, some familiar, others never before seen, in stunning high-definition clarity.
CBS News Sunday Morning: The Way Home - CBS News
Two unflinchingly candid women who lost limbs while serving in the military in Iraq were the centerpiece of this powerful, thought-provoking report by correspondent Kimberly Dozier, a recovering war casualty herself.
To Die in Jerusalem - HBO Documentary Films in association with Priddy Brothers
The anguish of the Israeli-Palestine conflict was embodied in this frank documentary about two mothers who lost their respective teenaged daughters, one a suicide bomber, the other her victim.
Project Runway Bravo - The Weinstein Company, The Magical Elves, Full Picture
A series that redeems the reality-contest genre, this face-off competition among upstart fashion designers demands, displays and ultimately rewards creativity that can`t be bluffed.
Independent Lens: Sisters in Law Vixen Films - Independent Television Service (ITVS)
Directors Kim Longinotto and Florence Ayisi make viewers flies on the wall of a small-town courthouse in Cameroon overseen by two dynamic, wisecracking, larger-than-life sisters – one the court`s president, the other its state prosecutor – who are helping women stand up to abuse.
Virginia Tech Shooting: The First 48 Hours - WSLS-TV
Covering the the worst mass shooting in United States history and its immediate aftermath, the news staff of this station in Roanoke, Virginia, demonstrated knowledge of their community, mastery of their journalistic craft and remarkable, much-needed calm.
Nimrod Nation - Sundance Channel, Public Road Productions, Wieden and Kennedy
The subject of Brett Morgen`s lyrical, unhurried, eight-part exploration of small town life is Watersmeet, Michigan, a folksy hamlet reminiscent of Mayberry and Lake Wobegone, but undeniably, hearteningly real.
CBS News 60 Minutes: The Killings in Haditha - CBS News, 60 Minutes
This thorough, open-minded investigation of the worst single killing of civilians by American troops since Vietnam put not just the incident into better perspective but the entire Iraq War and the terrible choices it presents both solidier and civilian.
The Colbert Report - Hello Doggie Inc., Busboy Productions, and Spartina Productions
Let none dare call it "truthiness." Colbert, in his weeknight Comedy Central send-up of politics and all that is bombastic and self-serving in cable-news bloviasion, has come into his own as one of electronic media`s sharpest satirists."
For the full list of winners, visit the Peobody Awards website by CLICKING HERE
Your Daily Blend of Entertainment News
Thank you for signing up to CinemaBlend. You will receive a verification email shortly.
There was a problem. Please refresh the page and try again.