2008 Winter TV Preview: Law And Order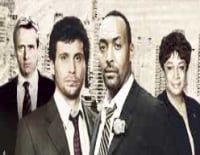 Law & Order - Season 18
Premieres: Wednesday, January 2nd at 9:00 p.m. EST (2-hour premiere)
Network: NBC
Creator(s): Dick Wolf
Starring:: S. Epatha Merkerson, Sam Waterston, Jesse L. Martin, Jeremy Sisto, Linus Roache, Alana De La Garza
Website: NBC.com
If, after 17 years, you don't know the premise of Law & Order, you clearly do not own a television and probably shouldn't be on this site in the first place. However, if you need a refresher, here we go: Law & Order is the procedural from whence all other procedurals came. Each episode is self-contained and follows a specific formula. A crime takes place, two detectives are called to the scene, and they spend the next 25 minutes or so (including commercials) tracking down the bad guy. The last 30 minutes takes place in the courtroom at the trial of said bad guy. Most of the time, justice is served and everybody goes home happy (except for the criminal, who goes to prison).
After years of maintaining high ratings and snagging Best Drama Emmy nominations, Law & Order has lost a bit of its luster. Much of that is due to the unfortunate passing of Jerry Orbach, whose Detective Lenny Briscoe was a big reason many people tuned in. The glut of procedurals on the air, including two L&O spawns, Special Victims Unit and Criminal Intent, not to mention the myriad CSI's have led to Law & Order getting lost in the shuffle. This season, however, there's a good chance that cast shakeups (Jeremy Sisto as Detective Green's new partner and Linus Roache as Executive ADA) may breathe some new life into the series.
If there's one thing I've made clear, it's my love of the Law & Order franchise. However, even I have slowly drifted away in the past few years, turning instead to SVU and CI. For me, the cast never quite worked right after Orbach left the show; I kept on feeling like something was missing in any episode I watched. I do, however, feel that this year will be a major turning point.
As one of the only scripted series left on the air after the middle of January, Law & Order is one of the few shows that is actually going to benefit from the writers strike. NBC is capitalizing on this fact by returning L&O to its traditional Wednesday at 10 pm timeslot (last year, it was stuck in the Friday night TV wasteland and nearly canceled). Fred Thompson's (DA Arthur Branch) presidential run meant that Jack McCoy finally got promoted to District Attorney and for the first time in the show's history, there will be someone else sitting first chair at most of the trials. Jeremy Sisto's addition to the cast as Detective Green's new partner will be another exciting (not to mention hot) addition to the show. Check out the preview below: it's definitely gotten me psyched for the new season.
For the full 2008 Winter TV Premiere Schedule: CLICK HERE
Your Daily Blend of Entertainment News
Your Daily Blend of Entertainment News
Thank you for signing up to CinemaBlend. You will receive a verification email shortly.
There was a problem. Please refresh the page and try again.