2009 Midseason TV Preview: 30 Rock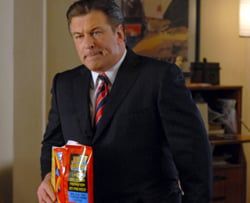 30 Rock - Season 3 returns
Premieres: Thursday, January 8, 2009 at 9:30 PM ET
Network: NBC
Creator(s): Tina Fey, Lorne Michaels, David Miner, Marci Klein
Starring: Tina Fey, Alec Baldwin, Jane Krakowski, Tracy Morgan, Jack McBrayer, Scott Adsit, Judah Friedlander
Website: NBC.com
---
30 Rock is one of the best comedies on television, but for some reason they've decided on a lot of stunt casting this season. Guest stars have started to overshadow the show, and what I thought was going to be a riff on the traditional sitcom stunt casting has gotten a bit tired. The show's return on Thursday night features even more guest appearances (Peter Dinklage, Salma Hayek, and Sherri Shepard), but maybe this will be the right kind.
Liz is attracted by the new guy, played by Peter Dinklage, which causes Jenna to worry that her friend just really wants a child. It's funny because Dinklage is short, not to mention a great actor. See The Station Agent for proof. Jack is helping Tracy and his wife Angie, played by Sherri Shepard, get a post-nup (if there's anyone who would know something like that exists it'd be Jack Donaghy). He also spends some time trying to get Jenna a role in a Janis Joplin biopic. Seriously.
Staff Writer at CinemaBlend.