In New Interview, Tonya Harding Admits Some Prior Knowledge Of Nancy Kerrigan's Attack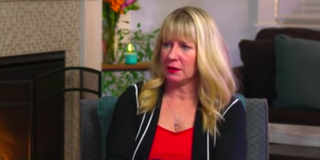 Former figure skating champion Tonya Harding was one of the most accomplished skaters in the United States while in her prime, but her legacy is overshadowed by her association with the 1994 attack on fellow figure skater Nancy Kerrigan that temporarily took her out of competition. Although Harding herself didn't attack Kerrigan, the assault was planned and carried out by her ex-husband Jeff Gillooly and his friend Shawn Eckhardt, and Harding seemed guilty by association to many. For many years, she denied any prior knowledge of the plan for the attack; now, she has made a bombshell confession about what she knew and when she knew it:
Tonya Harding admitted having at least some prior knowledge of an attack on another skater while speaking with ABC News' Amy Robach for the two-hour Truth and Lies: The Tonya Harding Story TV special on ABC. She was careful to also state that she heard Jeff Gillooly and Shawn Eckhardt mentioning taking somebody out of competition a month or two before the attack, but the fact remains that she had an idea ahead of time that something could be done to one of the other skaters ahead of the U.S. National Championships.
Back in 1994, Nancy Kerrigan was a darling of the figure skating world, known for her grace and poise. In contrast, Tonya Harding was known for athleticism as a skater and her attitude that was somewhat less poised than what was then expected of figure skaters. Kerrigan was favored to win the U.S. Championships in 1994, which cast suspicion on Harding after her attack. Harding went on to win the Championships after Kerrigan had to sit out and recover from her injury. Both women did eventually compete at the 1994 Winter Olympics. Kerrigan would take home the silver medal while Harding finished eighth.
After returning from the Olympics, Tonya Harding made a plea deal that enabled her to avoid jail time after she admitted to helping to cover up Jeff Gillooly and Shawn Eckhardt's involvement in the aftermath of the attack, and she was subsequently kicked out of the skating world. Now, more than two decades after the attack on Nancy Kerrigan, Harding admitted to knowing that something could be done to another skater in order to guarantee that she would win the U.S. Championships and make it to the Olympics.
Of course, Tonya Harding's comments about what she overheard indicate that she didn't know that the men would ever carry through with an attack or target Nancy Kerrigan specifically. It's entirely possible that she never even imagined that they would take such a drastic action as assaulting a popular figure skater to try and guarantee Harding's victory. Unfortunately for everybody involved, the men did indeed carry through on the plan Harding overheard, and Nancy Kerrigan was clubbed in the leg.
While neither Tonya Harding nor Nancy Kerrigan will be involved, you'll soon be able to see the best figure skaters in the world competing for the gold medal. The 2018 Winter Olympics will kick off on Friday, February 9 in Pyeongchang, South Korea. You can catch some previews of what's to come in Olympics coverage during NBC's broadcast of the Super Bowl on Sunday, February 4. For your other viewing options, take a look at our midseason TV premiere guide and 2018 Netflix schedule. If you're interested in more on the Tonya Harding/Nancy Kerrigan story, be sure to check out I, Tonya in theaters now.
Resident of One Chicago, Bachelor Nation, and Cleveland. Has opinions about crossovers, Star Wars, and superheroes. Will not time travel.
Your Daily Blend of Entertainment News
Thank you for signing up to CinemaBlend. You will receive a verification email shortly.
There was a problem. Please refresh the page and try again.