Stranger Things' David Harbour Got A Trombone And Joined A Fan For Some Hilarious Senior Photos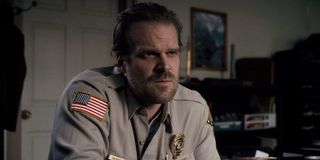 Most of us likely remember picture day at school. You get all dressed up, you sit there, and you give your best smile so you can look good in the yearbook. Reasonably interesting and/or comical senior pictures are common enough these days, but one 17-year-old girl may have managed to produce the best yearbook photos of all time. Specifically, a girl named Damaris Fregoso had relatively recently sent out the call for Stranger Things' fan-friendly star David Harbour to co-star in her yearbook photo, and the actor actually heeded said call with trombone in hand. Check out the photos below.
This whole thing started last fall when high school student Damaris Frogo contacted Jim Hopper portrayer David Harbour on Twitter and asked him how many retweets it would take for him to join her in her impending high school pics. Harbour responded that she would need 25,000 to make it happen, and she easily blew passed that mark, and the tweet has now been shared upwards of 30,000 times. In the end, the future Hellboy/master of the dad bod made good on his promise, and the result is a series of photos that any Stranger Things fan would love to immortalize in his or her yearbook. Oh, and to answer what is undoubtedly your biggest question: yes, the trombone was Harbour's idea, nay, his demand.
Ever the consummate professional in the acting world, David Harbour made sure to give Damaris a series of excellent shots for her to use as her yearbook photo. Among these snaps include one of them playing the trombone, one of them merely smiling into the camera, one of Harbour putting bunny ears behind her head, and even one of Harbour offering an enthusiastic (and decidedly NOT Sheriff Hopper-esque) thumbs up to the camera. In this writer's personal opinion, though, the best one of the bunch is the one of the duo throwing up a set of cheerleader pom poms. Check out a short behind the scene video Damaris shared from that shot.
A few years ago, it wouldn't seem entirely likely that David Harbour would even receive this type of request from a fan. He used to be known as more of a character actor, providing small (albeit still compelling) performances in movies like End of Watch and Suicide Squad. However, the popularity of Stranger Things has turned Harbour into a household name, and the phenomenon of the nostalgia-soaked show has had the added effect of turning its adult star into instant good-natured meme fodder. All things considered, it looks like Harbour doesn't mind the attention one bit.
Let's all take a moment to thank the dance maniac David Harbour for brightening up our days with this delightful high school yearbook photo, but without forgetting that things are likely going to only get darker for his TV counterpart when Netflix's Stranger Things returns for Season 3 -- regardless of how long that takes.
Until we learn more about the upcoming season of the hit Netflix series, make sure to take a look at our midseason premiere guide and listen to the most recent episode of The Cord Cutter Podcast to get more information about everything else in the streaming world.
Originally from Connecticut, Conner grew up in San Diego and graduated from Chapman University in 2014. He now lives in Los Angeles working in and around the entertainment industry and can mostly be found binging horror movies and chugging coffee.
Your Daily Blend of Entertainment News
Thank you for signing up to CinemaBlend. You will receive a verification email shortly.
There was a problem. Please refresh the page and try again.