How The Simpsons' Hank Azaria Responded To The Latest Apu Controversy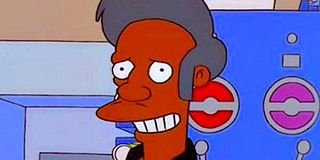 The world may change, but Springfield, USA rarely does. Unfortunately, this has caused a major conundrum for The Simpsons, with the documentary The Problem With Apu shining a spotlight on the offensive-to-many nature of the well-known Kwik-E-Mart owner Apu Nahasapeemapetilon. The show's response to the documentary, which came in the episode "No Good Read Goes Unpunished," was viewed as flippant and dismissive by documentary creator Hari Kondabolu and others. Longtime showrunner Al Jean has since apologized for the show's non-apology, and now star Hank Azaria has weighed in on the ongoing and widely publicized controversy.
In a rare serious moment with The Late Show host Stephen Colbert, Hank Azaria said he had nothing to do with The Simpsons' response to The Problem With Apu, which featured a picture of Apu while Marge and Lisa discussed how the world has changed and become more politically correct. It left things off with a "Don't have a cow" message, with Lisa implying that the show may never address the problem in full. It makes sense that it was a late addition to the episode, since it was far timelier than most Simpsons final scenes, but that doesn't factor into people's reactions to it.
Hank Azaria made it clear that he is not of the opinion that offended viewers should just get over it. And when Stephen Colbert asked how the actor thinks things should change, here's what he said:
While his feelings weren't so concrete after the Apu documentary came out, Hank Azaria has clearly taken the widespread reactions to heart, realizing just how damaging Apu's portrayal has been for South Asians in the U.S. and beyond. So at this point, it sounds like the show could either come up with a drastic way to usher Apu away from stereotypes, potentially with Azaria no longer voicing him, or it could retire the character completely.
Whether The Simpsons decides to hire another actor to play Apu or removes the character from the show completely altogether, Azaria's job isn't in trouble, since he still voices tons of other characters like Moe, Chief Wiggum, Professor Frink and more. Of course, just because Azaria is willing to step aside doesn't mean the news will go over swimmingly with all fans, since some will inevitably want the character back in the Kwik-E-Mart like nothing controversial ever happened.
Hank Azaria's conversation on The Late Show With Stephen Colbert showed that he and The Simpsons team haven't exactly nailed down the right thing to do in this situation just yet, but it should be reassuring to those on both sides of the issue that Azaria and others will likely take more care in addressing Apu going forward. After all, the minds working to figure this out are the same minds who've managed to keep the animated series on the air for nearly three decades, so they should be capable of finding a solution that appeases both sides.
The Simpsons airs on Fox on Sundays at 8:00 p.m. ET, as well as throughout the week on FXX. The Late Show With Stephen Colbert airs weeknights on CBS at 11:35 p.m. ET. For a look at upcoming television coming in 2018, head on over to our midseason and summer premiere guide.
Mick likes good television, but also reality television. He grew up on Star Wars, DC, Marvel, and pro wrestling and loves to discuss and dissect most of it. He's been writing online for over a decade and never dreamed he'd be in the position he is today.
Your Daily Blend of Entertainment News
Thank you for signing up to CinemaBlend. You will receive a verification email shortly.
There was a problem. Please refresh the page and try again.