How The Good Doctor Said Goodbye To A Major Character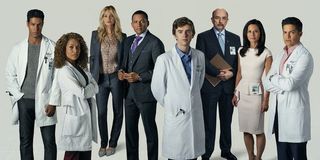 Spoilers ahead for the Season 2 premiere of The Good Doctor on ABC.
The Good Doctor ended its first season on ABC almost six months ago, so fans have been waiting and speculating for a long time about what would happen in the second season. News broke back in April that actor Chuku Modu would be departing the series as a regular ahead of Season 2, but the Season 2 trailer showed a fair amount of him in the mix as Dr. Jared Kalu. A big question going into the premiere was how The Good Doctor would say goodbye to Jared. Now, the premiere has aired and we have our answer.
The beginning of the end for Jared came early in the premiere when he and Shaun visited a homeless camp to treat the people who needed help. It was Jared's final day before heading off to a new job in Colorado, as was foreshadowed at the end of Season 1. Despite his upcoming departure, Jared wasn't ready to leave under a cloud of shame and satisfy Dr. Andrews. When he and Shaun came across a seemingly schizophrenic man named Harry who showed symptoms that Jared believed pointed toward meningitis, he decided that they needed to take Harry back to St. Bonaventure for a spinal tap.
To Jared's credit, he knew taking Harry back to St. Bonaventure for a procedure that could certainly prove unnecessary would provoke Dr. Andrews and potentially get Shaun in trouble as well. When Dr. Andrews discovered what they had done, he vowed that if the results were negative and Harry didn't have meningitis, he would call Jared's new hospital in Colorado and report his rogue decision that resulted in a waste of resources to his new employees. Unfortunately, the results revealed that Harry was not suffering from meningitis, and Jared was poised to potentially lose his Colorado position if Andrews found out and made the call.
All signs pointed toward Jared's future looking darker than ever, and Shaun was potentially going to be in trouble as well until he had one of his breakthroughs and recalled a moment when Harry was unable to directly grab a cup held out in front of him. It was similar to a symptom shown by Dr. Glassman with his brain tumor, and Shaun realized that Harry probably suffered from a brain tumor of his own. So, despite Jared's encouragement for Shaun to spend time with Glassman, Shaun and Jared went back to the homeless camp to try and find Harry to help him.
This is where Jared really got to show off that there's more to him than a doctor who wants to prove himself at all costs. Shaun was desperately calling for Harry, but the sights and sounds of the people in the homeless camp resulted in a sensory overload, and he began to break down. Jared was able to calm Shaun down enough for them to find Harry and bring him back to St. Bonaventure. They ran their imaging tests at the hospital, which only infuriated Andrews more when he learned that they were expending even more resources on a case that he deemed meritless.
This time, however, Jared was in for some good news. Harry was indeed suffering from a brain tumor, and he could be cured by a relatively simple surgery. Andrews didn't make the call to Colorado, the patient was reunited with his wife and child while finally back in his right mind, and Jared took his leave of St. Bonaventure on good terms. He had a touching goodbye with Shaun where they acknowledged each other's skill as a doctor, and their farewell was poignantly heartfelt.
Given that Jared's primary relationship in Season 1 was with Claire rather than Shaun or Andrews or anyone else, the premiere would have been a disappointment if they hadn't gotten at least one final scene. She was avoiding her ex for most of the episode and only checked in for an update with Shaun, but she finally broke down and approached him before the end of the episode. Claire revealed that she thought she'd made a mistake with how she ended her relationship with Jared and wanted him to stay in San Jose rather than leave for Colorado.
Alas for Claire, Chuku Modu is leaving The Good Doctor, so her plea for Jared to stick around didn't work. He kindly but firmly said that it was time to say goodbye, and while it would be hard, it would ultimately be okay. He believed that they would both be very happy someday, and then he left. Jared is gone. The great news is that, by the final moments of the premiere, Lea was back! She reunited with Shaun in the hallway of the apartment building, and although they didn't get past the "hello" stage, we can count on a lot more of her in the future.
Tune in to ABC on Mondays at 10 p.m. ET for new episodes of The Good Doctor in the fall TV lineup. Chuku Modu is only one of two Season 1 regulars who won't be around in Season 2, and some newcomers are on the scene to mix things up.
Resident of One Chicago, Bachelor Nation, and Cleveland. Has opinions about crossovers, Star Wars, and superheroes. Will not time travel.
Your Daily Blend of Entertainment News
Thank you for signing up to CinemaBlend. You will receive a verification email shortly.
There was a problem. Please refresh the page and try again.