Midnight, Texas Is Back For Season 2, With Plenty Of Changes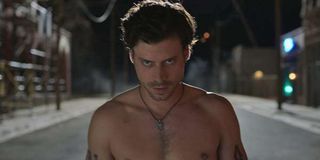 After a long wait, Midnight, Texas is returning to NBC just in time for the Halloween season. While much of the main cast is coming back, there are definitely going to be some major changes heading into Season 2. Fans may have heard the show is losing a couple of big characters (if you haven't, surprise!), but in fact the direction on the series has changed quite a bit as well.
Recently, CinemaBlend was able to talk on set in New Mexico with various cast members, along with new showrunners Eric Charmelo and Nicole Snyder, who shared plenty of details about the changes to expect in Season 2. As it turns out, even the direction of the series will be changing somewhat from the first season.
The NBC show is a take on a series of books from Charlaine Harris, who also wrote the books HBO's True Blood series. Ahead of Season 2, NBC would like Midnight, Texas to be a little closer to the author's other series. Well, at least as much as network TV will allow for, with Eric Charmelo noting the network gave the team very specific orders for its second season:
Eric Charmelo and Nicole Snyder were signed on as the new showrunners on Midnight, Texas after Monica Owusu-Breen left ahead of the second season to head the new version of Buffy: The Vampire Slayer, a transition Midnight, Texas actress Parisa Fitz-Henley called "really seamless." With the new showrunners, there will be other new opportunities, as Snyder also said the writers and the creative team were striving to move away from the more story-of-the-week episodes, as well.
The other changes may be even more noticeable to fans of the first season of Midnight, Texas. It was revealed earlier this year that Yul Vazquez, who played Rev in Season 1, and Sarah Ramos, who played Creek, will no longer be series regulars on the show. Fans of both characters will be able to see each in a limited capacity, and series lead Francois Arnaud, who plays Manfred in the NBC drama, spoke out about what to expect from the change in terms of Manfred and Creek. Per the actor, whose character will be dealing with demon goo oozing from the ears, Creek will be moving on from their relationship in the new episodes, but the story should make a lot of sense:
Still, not everything will be changing in Midnight. The Midnighters will be facing new threats in Season 2, because if we learned anything from Season 1, it's that the town of Midnight, Texas is prone to supernatural threats and other weird shenanigans. Despite the changes, showrunner Nicole Snyder wants fans to know that there will be continuity between Season 1 and Season 2. She told CinemaBlend and other reporters that losing main cast members will actually be a boon to the series.
If you remember at the end of Season 1 of Midnight, Texas, Manfred was able to defeat Colconnar, a demon who wreaked havoc on Midnight and several of the characters, including Fiji, who Colconnar had kept an eye on. Fiji and Bobo ended up getting together in one of the steamiest scenes in Season 1, and Olivia and Lemuel ultimately decided to get married at the very end of the season. It would have been an idyllic ending, had there not been more to come.
In fact, things were not copacetic for long. Manfred started bleeding out of his ear, in a move that Francois Arnaud affectionately has been calling"demon cancer," as noted above. As it turns out, that wasn't the end of stuff the show wanted to tease ahead of Season 2. A new hotel is coming to Midnight, and even though the show has changed hands, fans will get to see both of those storylines play out during Season 2. New characters played by Nester Carbonell and Jaime Ray Newman are also joining as the proprietors of Midnight's hotel. Carbonell told me that he came to Midnight to "heal," which should take the series in a different direction than Charlaine Harris' novels and we'll learn more once the new series premieres.
Which, coincidentally, happens soon. After more than a year in hiatus, Midnight, Texas returns on Friday, October 26 at 9 p.m. ET. NBC has had good luck with genre programming during its Friday night schedule with Grimm being an the most notable of those Friday programs. Coincidentally, there's a reboot of that show reportedly in the works at NBC, as well. If you'd like to see some of the network's other offerings this fall, take a look at our full premiere schedule.
Your Daily Blend of Entertainment News
Reality TV fan with a pinch of Disney fairy dust thrown in. Theme park junkie. If you've created a rom-com I've probably watched it.