The Conners Premiere: How The Show Handled Roseanne's Absence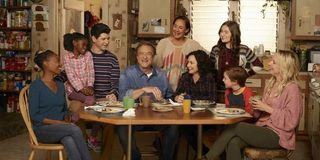 Warning: Spoilers ahead for the series premiere of The Conners. Look away until you've had a chance to catch up!
When it was announced a few months ago that Roseanne would be canceled after having a blockbuster return, people were shocked that star Roseanne Barr's supposedly Ambien-fueled Twitter rant was able to cause so much trouble. Then, of course, ABC decided not to throw the sitcom baby out with the comedian's bathwater (ick...sorry) and settled on Roseanne-less spinoff The Conners to, hopefully, keep the funny money train going. Well, now we know how the show dealt with her absence, and it was a lot deeper than we thought it would be.
When The Conners opens, it's been three weeks since Roseanne's funeral. We had heard that the comedy was planning to kill her character off, but it wasn't confirmed exactly how she would die. Well, as the family is gathered in that iconic kitchen and trying to finally finish up all the casseroles that people left after Roseanne's death, we hear that she died in her sleep of a heart attack.
As they disperse, with Harris still visibly upset over Roseanne's death, Dan heads into the living room, which clearly shows that someone's been sleeping on the couch. Darlene soon confirms that that someone is Dan, and it wasn't for a nap. He's spent a little over three weeks sleeping on the couch every night because Roseanne died in their bed, and he hasn't been able to deal with sleeping there.
Having Roseanne die in their bed, probably as he was there sleeping next to her, is about to be the least of Dan's worries. Jackie's outside on a phone call, and when she gets done she calls Dan out to the porch, with Darlene and Becky following quickly behind, to let him know that she just talked to the coroner, who had done an autopsy on Roseanne. They had all assumed that she died of a heart attack, but the coroner told Jackie that it's clear that she actually died from an overdose of opioids.
As you can imagine, after almost a month of getting used to the idea of Roseanne having a heart attack, Dan is none too happy about this development. He tells them that that's not possible, because (as we saw last season) he realized what Roseanne was up to with hoarding pills and feeding her addiction to pain killers, and flushed all her pills down the toilet. Becky then shows everyone the bottle of pills that she just found while going through Roseanne's closet, proving that she was much better at hiding the depth of her habit than Dan had thought.
That pill bottle, though, revealed a detail that Dan, in his sadness and anger, was able to latch on to. One of their neighbors, Marcy Bellinger (guest star Mary Steenburgen), seems to have been the one to give Roseanne the pills, giving Dan someone to take his anger out on.
When we next see Dan, he and his friend Chuck are at a bar and Dan is enjoying free drinks courtesy of the bartender, who knows about Roseanne's death. But, Becky and Darlene soon walk in, with the latter holding a sign that reads, "Thank you, Marcy Bellinger, for the pills that killed my loving wife Roseanne." Apparently, Dan actually had this taped to his truck and was driving around with it, so that everyone in Lanford could see it. When Darlene says he has to keep the sign off of his truck because it's a lawsuit waiting to happen, he tells them that it's either this or he drives his truck through Marcy's house, then gets up, takes his sign and leaves.
Once everyone's back at home, Marcy shows up to talk to Dan. He goes out and tells her she's got some nerve showing up there after killing his wife, but Marcy begs him to take the sign off his truck. She says that everyone has seen it now and hates her, and she already felt guilty, anyway. She tells Dan that she hasn't been able to eat and that she's been drinking herself to sleep. Marcy also fills Dan in on what happened with Roseanne, noting that no one can afford their medications, so they all help one another by giving supposedly necessary meds to each other when they can.
Roseanne had called Marcy, told her that her knee wasn't healing properly from the surgery and said she needed to get back to work because she and Dan were running out of money. She also told Marcy that she was the only one she could trust, so Marcy thought she was really helping and had no idea that Roseanne was addicted and likely saying the same things to several other people in town to get their pills. Darlene comes out and tells Dan that Jackie had just found even more pills hidden in an ice pack in the freezer while cleaning the kitchen, and that other people had given her mom pills too, meaning that it wasn't all Marcy's fault. When Marcy notes that she knows what it's like to have an addiction and walks off, Dan feels a bit bad and tells Darlene to drive her home.
Darlene gets home, finds Dan futzing with his motorcycle in the garage and asks if he's alright. Dan says he doesn't know, because he has no idea who to be mad at now, meaning that being mad at Roseanne is out of the question at this point. Darlene tells her dad that she wishes she had known about Roseanne's problem, and the she still needs her because she has no idea how to take care of the family without her. Then she declares, "The hell with it, I'm still gonna blame Marcy."
The final moments of the episode showed the family gathered again the next morning, talking and arguing over breakfast as the familiar credits roll. Another scene at the very end shows Dan in his bedroom, finally getting back into bed to sleep for the night, and putting his arm around Roseanne's pillow like she's still sleeping beside him.
It's clear that the family will be dealing with Roseanne's death for quite a while to come as The Conners goes on. You can keep up with their progress when the show airs every Tuesday night on ABC at 8 p.m. EST.
Your Daily Blend of Entertainment News
Yennefer's apprentice, Gilmore Girl; will Vulcan nerve pinch pretty much anyone if prompted with cheese...Yes, even Jamie Fraser.