Why Chicago Fire Fans Don't Need To Worry About Casey And Naomi's Kiss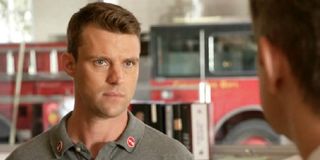 Anyone who's seen the preview for the fall finale of Chicago Fire knows that Matt Casey and Naomi, his new friend the investigative reporter, will take a step toward getting closer by locking lips. But, according to the showrunner, Derek Haas, fans don't need to worry that Casey has already moved on from Dawson. Apparently, this might just be a case of them getting wrapped up in the moment.
Now, we've already seen that Naomi is, indeed, interested in Casey, but he has wisely not done anything to encourage her during the time they've spent looking into suspicious fires together. After all, his breakup with Dawson, who was the love of his life for much of the past few years, is still very fresh. The two just finalized their divorce after Dawson decided she needed to follow her bliss by helping those in storm ravaged Puerto Rico with a new full-time, permanent position. So, the idea that Casey would fully be moving on after so much hurt and anger over the breakup has been a bit much for Dawsey fans to bear.
Casey and Dawson have had quite the love story on Chicago Fire. At the start of the series, Casey is actually engaged to someone else, while Dawson harbors a crush on him. While Casey's relationship goes through several ups and downs, Dawson begins dating another firefighter in their house, Peter Mills, and she and Casey maintain a friendship.
Things start to change in Season 2, though. Matt's fiancée died in a tragic fire near the end of the first season, and by the time the next season rolls around, Dawson and Mills have broken up. Of course, she always wanted Casey to begin with, so it's no surprise that when they are both unattached, they begin to be drawn to each other, and they finally start dating later in the season. And, things go so well that Casey is prompted to propose to Dawson at the end of the season.
They then marry immediately, right? So, very, very wrong. A call comes into the firehouse, which stops Dawson from answering Casey's proposal right away. That call leads to the death of Dawson's ambulance partner and best friend, Leslie Shay. After Dawson returns from taking time off to grieve, she tells Casey she can't accept because she doesn't want the day he proposed to be the same day her friend died. Luckily, her mind is changed when she finds out that Shay actually helped Casey pick out her ring, and the two get engaged.
Unfortunately, this does not signal a period of smooth sailing for Dawsey. By this point, Dawson had gone to the academy and become a candidate firefighter, but since it would have been against the rules for her to work with her fiancé as her boss, they try to keep their relationship a secret so they can continue to work out of the same house. This situation leads to tension when Casey has to call her out for not following his orders, and he also thinks that Dawson still has feelings for Mills. When Dawson tries to talk to Casey about it, and he won't give her a chance, she decides to break things off and move out of the apartment they were sharing. Man; these two, amirite?
The Season 3 finale, however, reveals that Dawson is pregnant, but the following season isn't any kinder to the couple, as she loses the baby soon after. But, by midseason, the loss has brought them back together, and they are engaged again, only to go through another series of trials when Dawson decides to foster a young boy who lost his mother in a fire they worked on. Eventually, finally, Dawson and Casey get hitched during Season 5. If you've been keeping track, this means that the Chicago Fire couple to end all Chicago Fire couples only had about a season and a half of wedded bliss until Dawson decided to decamp for work in Puerto Rico, spurred on by actress Monica Raymund's choice to leave the series.
As Derek Haas tells it, the worry that Casey has completely gotten over all that history with Dawson (not to mention the sudden and difficult breakup) is totally unfounded right now. While it does seem to be true that Casey and Naomi are getting closer, that doesn't mean he's ready to jump back into another full blown relationship. Even though Casey admitted to Severide recently that he's been thinking about Naomi, even he realizes that it's just too soon after the Dawseypocalypse for him to actually consider another major romantic commitment.
Haas also came right out and noted that he doesn't consider Casey's growing thing with Naomi to be "his next big relationship," so, honestly, everyone can just calm down about the lip lock, already.
Fans will know that Casey has decided to help Naomi by going with her on a trip to Indianapolis to try and bring down the trailer company that Haas mentioned in his comments to TV Guide. It makes sense that, especially if they get a big win while investigating, those joyful feelings could bubble over into physical feelings that lead to the kiss in question. I mean, who doesn't get excited about work and then, like, lay a hot smooch on the person closest to them, right? Happens. All. The. Time.
You can see how things work out with Casey and Naomi when Chicago Fire airs Wednesdays on NBC at 9 p.m. EST. You can catch a lot of new and returning shows in the coming months, so be sure to keep your viewing schedule up to date by checking out our 2018 fall premiere guide and 2019 midseason premiere guide.
Your Daily Blend of Entertainment News
Yennefer's apprentice, Gilmore Girl; will Vulcan nerve pinch pretty much anyone if prompted with cheese...Yes, even Jamie Fraser.