The Arrow-verse's Monitor: What We Learned From The Elseworlds Crossover Star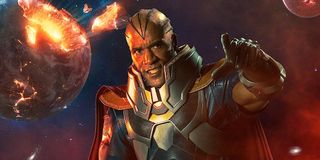 There's a lot being packed in the Arrow-verse's upcoming "Elseworlds" crossover, from the debut of Ruby Rose's Batwoman to the return of John Wesley Shipp's Flash from the 1990 TV series. But for longtime DC Comics readers, perhaps the biggest element of this story across The Flash, Arrow and Supergirl is how The Monitor, a longtime cosmic player in the DC universe, is also being introduced, marking the first time the character has appeared outside of the comics.
Designated Survivor's LaMonica Garrett is bringing The Monitor, a.k.a. Mar Novu, to life in the "Elseworlds crossover, and as we seen from a recent trailer, it looks like he's the one responsible for Doctor John Deegan's ability to radically alter Earth-1's reality, which includes Oliver Queen and Barry Allen switching bodies. I recently had the opportunity to speak with Garrett about his time working on "Elseworlds," and he provided some extra insight on what we can expect from his version of The Monitor in a few weeks.
How This Monitor Compares To The Comic Book Versions
The first Monitor was introduced to the comics in 1982's The New Teen Titans #21, although he wasn't fully seen until three years later in G.I. Combat #24. He subsequently became an important character in the Crisis on Infinity Earths storyline, which saw The Monitor's polar opposite, the Anti-Monitor, attacking the DC multiverse. While this Monitor died during that event, the Monitor concept was brought back when the multiverse was reborn and new Monitors were tasked with each looking after a different Earth. When asked how the "Elseworlds" Monitor compares to his comic book predecessors, LaMonica Garrett told CinemaBlend:
The Monitor is definitely significant when it comes to the goings-on in the cosmic side of the DC universe, and it seems that the Elseworlds crossover did a good job getting the basics of his backstory right (there's no way all of those details could be explored in these episodes), as well as handled his physical appearance properly. LaMonica Garrett also mentioned that his Monitor paves the way for other Monitors to be brought in. He said:
It remains to be seen if more Monitors will eventually be introduced to the Arrow-verse, although since this TV franchise has introduced many Earths over the years, presumably the chances are good that Mar Novu isn't the only one of his kind.
What The Monitor's Role Will Be
Although the original Monitor brought various superheroes and super villains together to fight the Anti-Monitor in Crisis on Infinite Earths, as LaMonica Garrett previously pointed out, he was also dealing weapons to some bad people. There was a fair amount of complexity to the alien. There's still a lot we don't know about Garrett's Monitor, although the fact that he's offering Dr. John Deegan "godhood," which has subsequently caused a lot of problems, does raise an eyebrow. When I asked whether this Monitor is a good guy, bad guy or dabbles in shades of grey, Garrett responded:
The Arrow-verse shows do their best to keep a lid on spoilers, particularly when it comes to the crossovers. So while more "Elseworlds" promos are surely coming, we'll just have to wait and see what The Monitor's deal is in these episodes. Maybe this version of him does simply have sinister intentions, or perhaps he's playing the long game and his current actions are ultimately leading to a benevolent goal.
The Monitor's Costume
As far as The Monitor's physical look goes, "Elseworlds" did a good job making the character's costume look faithful to what he wore in the comics. And fortunately for LaMonica Garrett, he doesn't have any major action scenes in the "Elseworlds" crossover, as The Monitor's power levels means he doesn't need to exert himself that much. As Garrett put it:
There are plenty of powerful individuals within the Arrow-verse, but if The Monitor is like his comic book counterparts, he's on another level entirely, whether it's through his natural abilities or that mysterious book he's lugging around. In any case, LaMonica Garrett noted that it would have been incredibly challenging to do anything action-oriented in that outfit, saying:
It sounds like LaMonica Garrett got quite the workout simply wearing his Monitor costume and carrying that book. But, as he mentioned, the actors who play superheroes are rarely comfortable in their crime-fighting get-ups.
The Arrow-verse's "Elseworlds" crossover kicks off on The CW Sunday, December 9 with The Flash at 8 p.m. ET, followed by Arrow in its normal Monday timeslot and Supergirl concluding the event on Tuesday, December 11 at 8 p.m. ET. Don't forget to see what's coming in the near future by checking out our midseason premiere guide.
Your Daily Blend of Entertainment News
Connoisseur of Marvel, DC, Star Wars, John Wick, MonsterVerse and Doctor Who lore. He's aware he looks like Harry Potter and Clark Kent.