Is The Flash Actually Bringing Crisis On Infinite Earths To TV?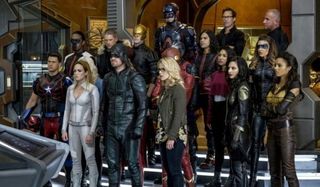 Ever since The Flash teased it in its series premiere back in 2014, Arrow-verse viewers have been begging for a "Crisis On Infinite Earths" adaptation. Those cries only got louder when the multiverse was introduced. Is The Flash actually bringing "Crisis On Infinite Earths" to TV though? Here's some evidence that has us thinking the answer may be yes:
The Crossover Title "Elseworlds"
The upcoming "Elseworlds" crossover title sent fans deep into speculation, as the term already had meaning in DC Comics. Elseworld comics were typically used to tell stories that don't fit within the continuity or traditional stories of the heroes they portray. The upcoming Batwoman introduction and planned series would appear to indicate this crossover is intended to be canon, which could mean "Elseworlds" might mean something else.
This led folks to assume it's more a reference to the other worlds in the multiverse, which of course play a factor in "Crisis On Infinite Earths." This would mean the title is just a clever reference and meant to be taken in the literal sense and not the way DC has labeled it in the comics. It's also far more catchy than "Pre-Crisis On Infinite Earths," which could've been a suggestion that forced the bigwigs to come up with a better name.
The Monitor
Another big sign the "Elseworlds" crossover is heading into Crisis territory is its casting of LaMonica Garrett as The Monitor. The Monitor plays a key role in the comic storyline, ultimately rallying the worlds greatest heroes against the destroyer of worlds Anti-Monitor. The heroes initially saw The Monitor as villainous, but later learned his actions were more of a test to see if they were up to the task of defeating Anti-Monitor.
An adaptation of "Crisis On Infinite Earths" would be very hard to pull off without this character. Without Monitor, there's no Anti-Monitor, and thus, no threat to the Multiverse. Of course, the Arrow-verse idea makers could find another way to put the worlds in jeopardy, although changing the story so drastically might upset the most loyal DC Comics fans who tune in. That said, we have yet to learn if "Elseworlds" or any future event will introduce Anti-Monitor, so it's possible other plans could be in the works if "Crisis" is happening.
Multiple Heroes Referenced In New Newspaper
A Season 5 premiere of The Flash featured Nora's revealing a future newspaper, which contained all sorts of new information about Barry's disappearance. Green Arrow, Supergirl, Atom, Batwoman, and even Ralph were mentioned, which means Barry's disappearance is very much a crossover event. Also, some of these heroes are from different Earths, which might mean they're all fighting against something that affects all of them. If nothing else, this could be a crisis on a handful of Earths!
Ray Palmer isn't the only Legend mentioned as the other Legends of Tomorrow are seemingly referenced as "heroes thought lost in time." Their appearance in this battle, as well as other heroes, is important specifically because it shows Barry's disappearance is an event big enough to justify a mega-show crossover. That apparently wasn't the case for "Elseworlds," which left Legends of Tomorrow off its list for the event that will introduce Gotham City. Unfortunately, no mention was made of Black Lightning, and it doesn't seem like that crew will ever get involved with the Arrow-verse.
The Newspaper's Mention Of Psycho Pirate
The newspaper article didn't just make mention of heroes, as villains like Reverse Flash and Psycho Pirate were also name-checked. Psycho Pirate is a key villain in the "Crisis On Infinite Earths" comic storyline and became an ally of Anti-Monitor. Anti-Monitor bestowed some of his power to the villain, which he then used to enhance his powers of emotion to manipulate the heroes of various Earths.
The article on The Flash was Psycho Pirate's Arrow-verse debut, and perhaps the greatest evidence that the event that results in Barry's disappearance is a result of the Crisis storyline. Pirate is even quoted in the article with the exact line he uttered in the comics, "Worlds lived, worlds died. Nothing will ever be the same." That's rather bleak, but encouraging nonetheless that "Crisis On Infinite Earths" could be coming to television!
The Newspaper's Mention Of Shadow Demons
As mentioned, the newspaper article referenced Reverse Flash, although it was what he was leading that has our attention. Reverse Flash is said to be leading an army of Shadow Demons, who are the minions of Anti-Monitor in "Crisis On Infinite Earths." Shadow Demons helped protect the Anti-Monitor's cosmic tuning forks, and were the footsoldiers taking on the heroes looking to thwart Anti-Monitor's efforts.
Once again the newspaper came through with a key detail from the "Crisis On Infinite Earths" plotline. If the Arrow-verse is setting up a completely different crossover event with these characters, they'd almost have to be trolling fans at this point with the references. That, or they have that weird rule similar to the one Gotham had imposed on it where it couldn't mention the Joker by name. Maybe the Arrow-verse will do "Crisis On Infinite Earths" but have to refer to it as something else?
Grant Gustin Confirmed It's Been Discussed
Perhaps the biggest evidence that the Arrow-verse could bring "Crisis On Infinite Earths" to television comes from The Flash's leading man. Grant Gustin spoke to Comicbook.com in 2017 and confirmed that the show's long-term goal was always to bring an adaptation of the storyline to television. If only he stopped talking after that, we'd have been able to wrap this whole speculation up much sooner!
Unfortunately, Grant Gustin kept talking and indicated The Flash would have to be on ten years for the big event to happen. That means if the Arrow-verse is building to that point, we're only at the half-way point until it finally happens. Things may have certainly changed since he gave that statement, but it seems like a tall order for The CW to keep all its current Arrow-verse shows running for another five years.
Granted, plans may have changed since Gustin last spoke to the media, meaning a potential Crisis storyline could be coming much sooner. The Flash is airing new episodes on The CW Tuesdays at 8:00 p.m. ET. For a look at other shows premiering on television now or in the near future, visit our fall premiere guide.
Your Daily Blend of Entertainment News
Mick likes good television, but also reality television. He grew up on Star Wars, DC, Marvel, and pro wrestling and loves to discuss and dissect most of it. He's been writing online for over a decade and never dreamed he'd be in the position he is today.