The Arrow-verse Cast A Terrifying New Crossover Villain From Gotham City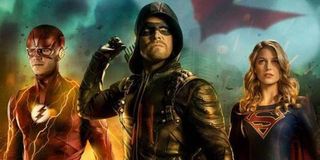 The annual crossover event that combines the heroes of the Arrow-verse is still months away, but it's already shaping off to become one of the most ambitious and incredible crossovers to date. The Arrow-verse is getting Batty with the introduction of Batwoman, and the crossover will take viewers to Gotham City for the first time. A big question has been what exactly will draw Green Arrow, The Flash, Supergirl, and Co. to Gotham, and now the casting of a new villain has delivered the answer. Jeremy Davies of Lost and Constantine fame will tackle the role of a devious doctor at Arkham Asylum For the Criminally Insane in Gotham City.
Jeremy Davies will play a character by the name of Dr. John Deegan, who works at Arkham Asylum. Given that this is Arkham Asylum we're talking about and Arkham is inevitably going to be a twisted place in any DC Comics adaptation, Dr. Deegan "might just be crazier than the inmates" under his care -- or perhaps "care" -- at Arkham. His activities at Arkham will attract the attention of the biggest heroes of the Arrow-verse, bringing them to Gotham and presumably meeting Batwoman. But where will Superman and Lois Lane fit into the equation?
Although Dr. Deegan will put up a front as an unassuming doctor who just so happens to work at Arkham, he'll have a dark side hidden under the surface. His status as a man of power in an establishment that is filled with psychopaths means that he could potentially convince some very big baddies to join his cause. If the Arrow-verse Arkham is somewhat more secure than the Arkhams of other DC adaptations, perhaps the villains won't be able to escape with the assistance of an inside man!
Given that another recent casting proved that none other than Mr. Freeze exists in the Arrow-verse, it's entirely possible that he'll be one of the villains being treated by Dr. Deegan at Arkham. Only Mr. Freeze's wife has been cast at this point, but who says Mr. Freeze himself has to be showcased on screen to still function as a crony of Dr. Deegan? If Arrow could kinda sorta include Harley Quinn back in Season 2, surely the Arrow-verse crossover can include Mr. Freeze without putting him in the spotlight.
We'll have to wait and see. The 2018 Arrow-verse crossover will be a three-hour event rather than the four-hour event of 2017, as Legends of Tomorrow will not have an episode. Interestingly, the Arrow-verse crossover will be the third DC Comics-based project Jeremy Davies has worked on over the years, having already appeared in Constantine during its brief run on NBC and contributed to the Justice League Dark animated movie.
The 2018 Arrow-verse crossover will kick off on Sunday, December 9 with an episode of The Flash. Arrow will keep things rolling on December 10, and Supergirl will finish the action on December 11. There's a while to go before these episodes hit the airwaves, but the Arrow-verse series will be back much sooner, and there are plenty of other fall TV options.
Resident of One Chicago, Bachelor Nation, and Cleveland. Has opinions about crossovers, Star Wars, and superheroes. Will not time travel.
Your Daily Blend of Entertainment News
Thank you for signing up to CinemaBlend. You will receive a verification email shortly.
There was a problem. Please refresh the page and try again.