Daredevil Doesn't Need A Reboot, Just A Place To Continue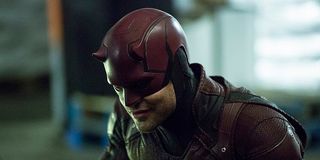 Netflix's bombshell that Daredevil had been canceled after three seasons was quite the shock to the system. Granted, it was consistent with the streaming service's trend to drop previous Marvel shows, but the drama's overall acclaim and strong Season 3 had some hoping it would push on to Season 4. Now, as Marvel executives may be sitting and plotting the next move for the character and its future, I'd just like to say rebooting this franchise would be a mistake.
Daredevil delivered three seasons of some of the best superhero television audiences have seen in several years. What's more impressive is it accomplished it at a time when superhero shows are a dime a dozen and there are so many more projects to compete with when compared to where the genre was a decade ago. With that said, it's a travesty that this show has seemingly ended after Season 3, and won't get a chance to continue its exciting tale.
It's a tale that, according to producer Sam Ernst, is already plotted out for its next season. Season 4 could've held the answers behind Elektra's missing body or shown more of Wilson Bethel's incredible performance as Bullseye. Potentially all that and more was in store for fans, but apparently, it wasn't meant to be.
For now anyway, as Marvel would still seemingly have an opportunity to continue the Daredevil television series elsewhere if it decided it wanted to do so. Hulu carries Marvel shows, and with Disney+ headed to consumers in 2019 with the promise of other Marvel projects in development, the Devil of Hell's Kitchen could see another season (or some other type of continuation) over there.
The key word, of course, is "could," as bringing Daredevil to another platform may not be as simple as packing up and dumping everything off elsewhere. Seasons 1-3 may still remain the property of Netflix, which could dissuade any interested streaming service in airing a new season of a series where a majority of it lies elsewhere. Additionally, third-party studies showed consumer interest was waning on Netflix's Marvel offerings, which is another dash against the series getting picked up elsewhere.
If Daredevil Season 4 is not an option, and there's no guarantee it isn't, is that it? Is this franchise better off being laid to rest and Marvel recast the hero for an introduction into the MCU? After all, the series proved the hero could be a success when done right, so perhaps now is the time to take another crack at a Daredevil film?
I would answer with a resounding 'No!', and think Marvel would be better off keeping the Daredevil universe alive in whatever way possible. Charlie Cox is arguably one of the best casting Marvel has done for a hero yet, and it will be hard to erase the memory of his performance anytime soon. Additionally, Cox isn't a television actor completely devoid of film roles, and could certainly hold his own in at least a cameo role in a Marvel feature.
It's isn't just about Charlie Cox either, as keeping Daredevil alive means there's a chance that there's a chance that Vincent D'onofrio's Kingpin may appear in the MCU. What a dream it would be to see either of these guys in a Spider-Man film, even if for a fleeting moment. Obviously, a team-up crossover film would be ideal, but let's measure our expectations with reality.
The fact is it would be very hard to establish Vincent D'onofrio's Kingpin into the current Spider-Man universe. Wilson Fisk is a little too dark for Tom Holland's Spider-Man, and trying to mesh the two would be a challenge. Either Marvel notches up the MPAA rating on its Spider-Man films to accommodate the known brutality of Daredevil's Fisk, or it tones it down and run the risk of ruining the fond memory of the character.
This is the fear that entered my mind when the cancellation statement read it intended to "continue the character's story in other Marvel projects." It's a strategy that, if it could work, the Netflix Marvel universe wouldn't have existed almost entirely within itself. Daredevil could certainly appear on Marvel's Agents of S.H.I.E.L.D. or perhaps even Marvel's Runaways, but it would probably be a significantly watered down version of the character we've grown to expect.
The same would, unfortunately, probably be true for any MCU cameos. As cool as it would be to see Daredevil busting heads and breaking limbs, the reality is fans getting a random Matt Murdock lawyer scene within the next five years. Sure, it's appropriate and tonally in tune with the MCU, but fans would need to ask themselves if that's the Matt Murdock they'd be excited to see.
It's a grim reality that almost has me thinking Marvel should just let the character's legacy fade as opposed to a slow death that compromises the vision and tone of the original series. Better that than having the show's characters undergo a family-friendly facelift just to keep them alive enough to remind audiences of the great series that was lost.
Provided the series and show universe is truly in limbo, as Daredevil's biggest advantage may be the other Marvel shows that have dropped along with it. Provided Netflix follows suit and drops the remaining catalog of the Netflix Marvel universe, there's a chance Marvel could find ways to keep its unique grounded version of New York hero tales alive.
It's a far less ideal option having Daredevil share the spotlight with Luke Cage, Iron Fist, and presumably the rest of the gang, but a compromise worth making provided a limited series could be created as a jump-off point for a soft reboot. It also wouldn't necessarily mean each and every canceled Marvel series needs to come back, but there are enough loose ends in each story for Marvel to grant fans one final adventure to finish some stories.
Any of these options, even the less than ideal scenarios, are seemingly better than a reboot of Daredevil. The last thing we need is yet another hero and villain in that endless cycle of different actors and interpretations being thrown at a dartboard hoping to recreate the version people like. Figure out a way to incorporate him or just leave him be, but don't try and change him.
Daredevil is done at Netflix, but Seasons 1-3 are currently available to stream. For a look at what else is happening on television in the meantime, be sure to visit our fall and midseason premiere guide.
Your Daily Blend of Entertainment News
Mick likes good television, but also reality television. He grew up on Star Wars, DC, Marvel, and pro wrestling and loves to discuss and dissect most of it. He's been writing online for over a decade and never dreamed he'd be in the position he is today.