Why Netflix Probably Isn't Giving Luke Cage And Iron Fist A Heroes For Hire Series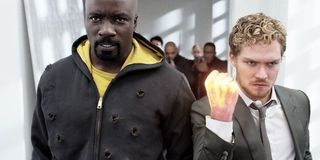 Netflix recently canceled both Iron Fist and Luke Cage, and while many have wondered if this marked the beginning of the end of Netflix's Marvel universe, some have other hopes. Comic fans have been begging for a Heroes For Hire adventure for the duo, and some thought just such a spinoff was being developed behind the scenes. However, a new report has revealed that's probably not Netflix's plan, and it's probable that Luke Cage and Iron Fist were cancelled because their buzz had fizzled out.
This newly unveiled data comes from the company Crimson Hexagon, which analyzed social media buzz for the four main Marvel Netflix superhero adventures over time. The focus was on the amount of Twitter and Instagram interactions for each of the four shows' multiple seasons. The data showed marked decreases in fans' social media posts between the seasons for all of them, but Luke Cage and Iron Fist both had a unexpectedly big drop-offs from one respective season premiere to the next.
If the social media data provided for Luke Cage by Business Insider is reflective of its average viewership, it isn't exactly hard to see why Netflix decided to cancel. Season 1's release date drew over 300,000 social media posts, which is actually the largest number of reactions from any of the four Marvel shows. Unfortunately, that same energy was not shared going into Season 2, which inspired fewer than 20,000 posts on Twitter and Instagram.
Decreased viewership isn't uncommon for any program, even on streaming services, but that sharp of a drop-off with only a year between seasons is wild. Again, it's impossible to make concrete correlations between social media interactions and Netflix's viewership numbers. Clearly, though, far fewer people were jazzed to tune in to see how Harlem fared in Season 2. Even if these numbers aren't wholly reflective, it doesn't instill confidence that more Luke Cage adventures are of interest to mass audiences.
Iron Fist's Season 1 social media numbers came in lower than all the others, with around 120,000 posts on Twitter and Instagram. That's not too surprising given some of the controversy surrounding the kung-fu series prior to its start. Such mixed feelings could've caused fewer folks to publicly proclaim they were tuning in, even if they were. Of course the show's uneven reception probably also played a factor, as critics were rather harsh upon its release.
Iron Fist also had a sharp dip like Luke Cage going into the sophomore season, and its Season 2 release date only inspired less than 20,000 posts online. While still pretty bad, it's almost impressive Iron Fist managed to garner the same amount of interest as Luke Cage's follow-up, especially given the difference in critic and audience reception. Despite that, or because of it, it's again very clear why Netflix would consider these series ripe for cancellation, especially if less buzz indeed indicated and resulted in decreased viewership.
Put simply, audiences appeared as equally disinterested in Luke Cage Season 2 as they were in Iron Fist Season 2. While there are no guarantees that online interest wouldn't spike Heroes for Hire became a thing, the data would imply there just isn't enough interest to justify such a gamble. As we mentioned, social media posts may not actually correlate to Netflix viewership statistics, but it's hard to deny the knowledge and influence social media can provide.
As previously stated, the study revealed social media interaction was down for all four Marvel shows examined. Luckily, the reduced totals weren't as drastic for Jessica Jones or Daredevil. Jessica Jones dropped from just under 300,000 posts in Season 1 to 150,000 in Season 2, while Daredevil went from a little over 250,000 in Season 1 to around 200,000 in Season 2. Jessica Jones' drop-off is more substantial, but not too bad considering its two-year gap between seasons.
Unfortunately, the data did not allude to how Daredevil performed upon the premiere of Season 3. Data tallying stopped on October 1, with close to 75,000 Daredevil posts, however, which would imply the Man Without Fear still has more buzz surrounding his latest season than Iron Fist and Luke Cage combined in Season 2. That doesn't guarantee Netflix won't cancel it, but its chances obviously look better for renewal if more people were posting about it than the cancelled shows, and it hadn't even aired yet.
All the seasons of Luke Cage, Iron Fist, Jessica Jones and Daredevil are on currently streaming on Netflix. For a look at what's on television outside the world of Marvel superheroes, be sure to check out our fall premiere guide and our 2018 Netflix premiere rundown.
This poll is no longer available.
Mick likes good television, but also reality television. He grew up on Star Wars, DC, Marvel, and pro wrestling and loves to discuss and dissect most of it. He's been writing online for over a decade and never dreamed he'd be in the position he is today.
Your Daily Blend of Entertainment News
Thank you for signing up to CinemaBlend. You will receive a verification email shortly.
There was a problem. Please refresh the page and try again.