How Outlander's Creative Team Handles All Of Those Rape Scenes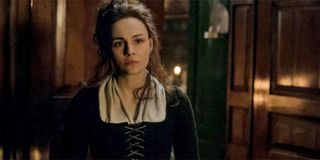 Some spoilers for Starz's Outlander can be found throughout this story. If you are behind on the series, you may want to check out one of our other lovely articles.
Last night's Outlander episode had a lot of highs and lows. The highs including Brianna and Roger reuniting some 200 years in the past. The lows involved Brianna and Roger arguing, after which a series of events led to Stephen Bonnet raping Brianna.
It's not the first time Outlander has featured a rape and Executive Producer Maril Davis recently revealed how the show handles all of the rape and why the one in Sunday's episode was withheld from the viewers' eyes. Per Davis:
Outlander has featured brutal rapes before and each time there's a question of how the show will handle the scene. Last night, Brianna rape by Stephen Bonnet was in some ways more harrowing because we didn't see exactly how it played out on the small screen. Instead, he pulled her into a back room after she asked about her mother's ring (which Bonnet previously took). We heard Brianna scream rather than see the whole scene.
According to what Maril Davis told EW, those involved with the show knew the rape scene, even though it wasn't shown during the episode, was "still horrible." Davis also explained:
Despite not being shown in full, the scene was devastating enough that Starz issued a warning about the scene ahead of time, taking to social media to note:
The most horrible thing about Brianna's rape was that other people in the tavern seemed unbothered by what happened. In fact, Brianna's shoes were neatly placed outside of the door by one woman while Brianna was being raped. The scene was quite a bit different than what happened to Brianna in Diana Gabaldon's book. (The series often makes changes to the novels.) Yes, Bonnet raped Brianna shortly after she was handfast with Roger in the book as well, but the rape happened in the privacy of Bonnet's ship.
Overall, having it happen essentially in a public place was in many ways more horrifying than the rapes the show has played out on the small screen before. While there have been a lot of rapes in the show so far, this one should have ramifications on the show for a long time to come.
Also, seriously, can we just agree Stephen Bonnet is the worst?
Outlander currently airs on Starz. See what else is heading to TV at midseason with our full schedule.
Your Daily Blend of Entertainment News
Reality TV fan with a pinch of Disney fairy dust thrown in. Theme park junkie. If you've created a rom-com I've probably watched it.