Spectrum Dealt With Unhappy Customers As Cable Went Out During Super Bowl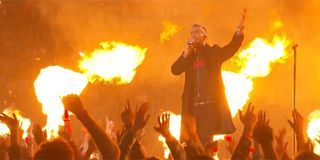 Cable outages suck, just like Internet outages and power outages in general. They are an inconvenience. (The latter can also be a serious issue in cold weather.) However, most of the time if your cable is out for a few hours it's easy enough to work on another task or engage in a different leisure activity. Except when it happens right before the biggest football game of the year, as plenty of irritated Spectrum customers learned.
Just before Super Bowl LIII on Sunday, some Spectrum users in different parts of the country were reporting outages, with comments that generally read pretty similar to the one below.
Tweets ranged from San Diego to Austin, Texas and many places in between. The other side of the country was not immune, either, as another unhappy Spectrum customer revealed an outage in Asheville, North Carolina.
Per TV Line, there has been no official response from Spectrum detailing what happened leading to the outages in various parts of the country. (Previously in January a damaged fiber issue caused outages in various places, so this isn't the first time this has happened in recent memory.) In addition, it's unclear if and when users were able to get the big game. Spectrum did reveal outages were "being looked into" on Sunday night.
Replying to one customer on Twitter, a Spectrum representative got contact info for a person, so it seems the company was avidly looking into and dealing with issues as they arose on the social media site:
So, I guess the moral of this story is that complaining on Twitter does work?
Regardless, the blackout could have been weirder or worse, depending on how you look at it. About a decade ago, some cable subscribers in Tucson when the Super Bowl was interrupted on network TV by a dude flapping his penis. Last year notoriously had a bunch of ill-timed gaps in coverage which left temporary blackouts on NBC, Hulu and Playstation Vue. So, it's not like every single Super Bowl has gone off on TV without a hitch.
Plus, given a slowdown in commercials that had people amped up, some lackluster reviews of the halftime show featuring Maroon 5, Travis Scott and Big Boi, and a low-scoring game, it's unclear of the Spectrum subscribers really missed a whole lot. Still, what a time for your cable to go down and for Spectrum to have to deal with it.
If you also missed the big game due to your cable being down, be sure to check out the highlights with our guide to the best ads. Or just skip straight to the Game of Thrones "dilly dilly" crossover. You know you want to.
Reality TV fan with a pinch of Disney fairy dust thrown in. Theme park junkie. If you've created a rom-com I've probably watched it.
Your Daily Blend of Entertainment News
Thank you for signing up to CinemaBlend. You will receive a verification email shortly.
There was a problem. Please refresh the page and try again.