Empire Is Definitely Killing Off A Lyon, But Which One?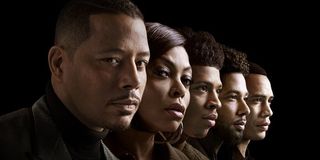 Spoilers ahead for Episode 11 of Empire Season 5, called "In Loving Virtue."
The whole fifth season of Empire has been building to what promises to be a game-changing event. Way back in the season premiere, a flash-forward revealed that somebody important to Lucious Lyon is going to wind up in a coffin within six months. Additional flash-forwards in the first half of Season 5 filled in some blanks and revealed another character who 100% isn't going to die, but the show has yet to provide any solid answers, and the flash-forwards are now done.
Yes, showrunner Brett Mahoney stated that the second half of the season will catch up to the flash-forwards rather than continue them. Now, a new promo has confirmed that a Lyon "will end up six feet under" while flashing the images of the five members of Lucious' family. Let's jump into the candidates for the big death and why they are or are not likely to be dead by the end of the Season 5 finale.
Andre
Why He Might Die: If there's one character that Empire has really gone all-out in setting up as the most likely Lyon headed to the grave, it's Andre. The winter finale ended on a flash-forward of Andre in very rough shape, being rushed into the emergency room with his frantic parents following after him. The scene concluded with Andre flatlining, which seemed like a pretty big clue that Empire was killing him off.
Throw in the medical emergency he suffered in the spring premiere that sent him to the hospital, the mysterious test results that seemingly alarmed his doctor, and the fact that he's the only one of the family not in the music biz, and he could easily be headed for the grave. There would even be some added tragedy in that he believed he was the eldest of Lucious' kids until very recently. He's an obvious frontrunner for the grave.
Why He Might Not: Andre really may be too obvious of a frontrunner for the grave. The mystery of the character that was killed has been the biggest arc of the whole season; would Empire really give away the game so early by giving Andre health crises a full half season or so before the big reveal? Andre dying wouldn't be a huge twist. All things considered, Andre may live just because he's too obvious a character to die.
Jamal
Why He Might Die: Why Jamal could be the big death is a reason that pretty much anybody who has kept up with Empire news can probably guess. Actor Jussie Smollett made headlines during Empire's midseason hiatus due to his report that he was attacked while on the streets of Chicago, which quickly snowballed into an investigation into whether or not the attack was staged and an arrest for filing a false police report. Smollett has since been cut from the final two episodes of Season 5.
Many are expecting Empire to get rid of Jussie Smollett in the event of a renewal for Season 6, and a straightforward way to do so would be to kill off Jamal. Revealing Jamal as the Lyon in the coffin could allow the show to write out Smollett without throwing a huge curveball. Somebody is already established as dying, after all! Besides, Jamal fell in love with a good man in Season 5. The chance at a happily-ever-after puts a target on his back, right?
Why He Might Not: As much as it would be simple to kill two birds with one stone and reveal Jamal as the Lyon in the coffin, Jussie Smollett's arrest may have come too late for such a twist. Only two episodes weren't completed by the time Fox and Empire made the decision to finish the season without him. If Jamal hadn't been meant as the character dying from the beginning, there might not have been time to change the whole storyline and kill off Jamal rather than another Lyon.
Hakeem
Why He Might Die: The youngest Lyon son almost feels like the safest member of the family. Unlike his brothers, Hakeem isn't a character who seems set up to fit as the one in the coffin. Although he has suffered from the effects of his wound at the end of Season 4, he hasn't had the ongoing and potentially deadly health issues that have been plaguing Andre, and actor Bryshere Y. Gray hasn't caused a scandal like Jussie Smollett did.
As much as those sound like reasons why Hakeem isn't destined for the grave, I have to wonder if the relative lack of danger surrounding Hakeem is meant to mislead viewers into thinking him safe. While we're worried about Andre's health and doing the math to figure out if Empire had enough time to kill off Jamal, is Empire slowly building to the reveal that Hakeem is the one in the coffin?
Why He Might Not: If Empire kills off Hakeem after all the fuss around Andre's health and the out-of-show reasons why Jamal could be the perfect pick, then it honestly might be a letdown. Empire Season 5 hasn't built him up to the point that his death would be utterly gutting. Hakeem also connects Tiana to the Lyon family and has kids, and he's arguably had the least important arc of the three Lyon boys in Season 5 so far. A different Lyon death at this point would be much more impactful.
Jeffrey Kingsley
Why He Might Die: Would anybody really be upset if Jeffrey Kingsley is the one to bite the dust? Honestly, until I saw the promo that showed him as one of the Lyon candidates in the running for the death, I might not have counted him. Call it a technicality, but Jeffrey's last name is "Kingsley," not Lyon. Since Empire apparently does count him as a Lyon enough for him to be a candidate for the big death in the family, he would make sense as the one to die.
Killing off Kingsley would allow Empire to follow through on its promise to kill a Lyon without actually knocking off one of the members of the family that viewers have come to care about for the past five seasons. No promises would be broken, no original Lyon boys would be murdered, and no Lyon parents would have to be deeply mourning in the event of a Season 6. It would be clean, game-changing, and potentially awesome without driving away fans who have a favorite member of the original Lyon family.
Why He Might Not: Killing Kingsley off in Season 5 might mean a premature end to the arc of Lucious' past and Cookie's reaction to news of his illegitimate son. There's also the point that his status as Lucious' eldest son could be a source for compelling drama, assuming Andre doesn't die. Kingsley could try and claim himself as Lucious' heir, even without the last name. Otherwise? I could see Kingsley dead and buried by the time the finale credits roll.
Cookie
Why She Might Die: Well... her last name is Lyon, and hers was among the images in the promo teasing the potential deaths. I suppose those are somewhat valid reasons for fans to worry about her. Hey, this is a world in which Jussie Smollett may have staged an attack on himself in an effort to score a higher salary. Anything is possible, right?
Why She Might Not: Come on, there's no way Empire is killing off Cookie! The show kinda sorta almost already confirmed that she's alive, and she's clearly still alive in the flash-forward that showed Andre flatlining. Empire wouldn't be Empire without Taraji P. Henson as Cookie Lyon. She's not going anywhere. Check out the promo that sparked all of this speculation:
It'll probably be a while still before we find out who dies on Empire this season, but you can catch new episodes on Wednesdays at 8 p.m. ET on Fox. More news may emerge on the Jussie Smollett front before the big death is revealed, as Empire co-creator Lee Daniels recently shared his thoughts on the scandal.
Laura turned a lifelong love of television into a valid reason to write and think about TV on a daily basis. She's not a doctor, lawyer, or detective, but watches a lot of them in primetime. Resident of One Chicago, the galaxy far, far away, and Northeast Ohio. Will not time travel, but will sneak references to The X-Files into daily conversation.
Your Daily Blend of Entertainment News
Thank you for signing up to CinemaBlend. You will receive a verification email shortly.
There was a problem. Please refresh the page and try again.