Did Empire Just Confirm Which Major Character Is Going To Die?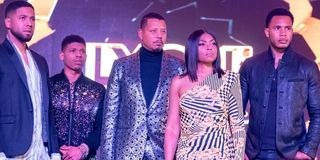 Spoilers ahead for the Season 5 midseason finale of Empire on Fox, called "Had It From My Father."
Empire kicked off its fifth season with a bombshell reveal that somebody important to Lucious Lyon is going to die. The episodes following the season premiere filled in some blanks and dropped some clues, but there were still a lot of characters who hadn't been ruled out. Now, the midseason finale may have confirmed which major character will be the one to bite the dust, and that character is none other than Andre Lyon. Here's what happened.
The episode ended on a flash-forward to a hospital, when doctors and paramedics were rushing Andre into the emergency room while Lucious and Cookie raced after them. They begged the doctors to save him, and Cookie threw Lucious off when he tried to pull her away. Despite the attempts to save Andre's life, he flatlined. Nobody declared a time of death or pulled the sheet over his body, which are the ways that deaths are generally confirmed on TV, but things aren't looking great for him.
Interestingly, Lucious could be heard telling Cookie that "we gotta go," which makes me wonder if Lucious and/or Cookie will be running when something goes wrong with Andre. Although it's too soon to say what that "something" is, Kingsley may have a part to play in it. Their conflict has its roots in Lucious, as so many Empire conflicts do.
The midseason finale saw Lucious learn that he's Kingsley's father at a most inopportune time. He arrived at Empire and began beating Kingsley, punching him in the face over and over again in retaliation for Kingsley betraying Becky. Giselle confessed the truth to Lucious to stop him, convinced that he was going to beat Kingsley to death. At first, Lucious didn't believe her, but a visit to Kingsley's mother convinced him.
Unfortunately, Lucious wasn't able to drop the news on Cookie, as they were in the process of presenting their showcase to sponsors. Since this is Empire, of course Kingsley showed up to ruin everything. While the whole Lyon family was on stage, Kingsley began a long speech that had him revealing his paternity and Lucious' treatment of his mom in front of everybody.
Naturally, the whole Lyon family was upset by what happened, but Andre is the only one who took action. He stormed off stage and confronted Kingsley on the floor, although he refrained from decking him in the face. Instead, Andre declared that he was going to "end" Kingsley, which prompted Kingsley to respond that he would end Andre first. Uh-oh!
Until the final reveal, Andre was actually having a pretty great episode. His bond with Teri only deepened after her son returned home from prison, and he finally confessed his feelings for her during a trip to the beach that was very sweet despite taking place on a cold December day. The conversation came after Lucious encouraged his son to reach for everything he wanted with Teri, and everything seemed to be looking up for good old Andre. Perhaps that was the first sign that something awful is in store for the poor guy.
Of course, details about that something awful are still scarce. The episode clearly hinted that Kingsley will have something to do with what happens to him, but there were no obvious wounds that point toward a gunshot or stabbing or some other bloody act of violence. It's possible that Kingsley won't even have a direct hand in Andre's fate. He does tend to prefer letting others get their hands dirty, and that can potentially result in plans going wrong.
There's also the point that this was only the midseason finale of Empire's fifth season, and showrunner Brett Mahoney stated all the way back in September that the mystery of the person in the coffin "will play out the entire season" and the official identity of the character who died would be revealed by the finale. Would Empire really give away the big death when there's a whole half of the season left?
Personally, I'm still somewhat convinced that Kai is going to be the one to die, and that this was a misdirect intended to keep viewers talking and worrying about Andre during hiatus. This might be the fact that Kai has already won be over as a great addition to the Lyon family drama that has me fearing for his life, but I still think Empire is setting him up for a fall.
In the midseason finale, Kai broadcast the news that Kingsley was selling Empire users' information on national television, and that could make him some powerful enemies. Although Kingsley seems to have avoided taking responsibility by pushing the blame onto Becky, he might want revenge on the Lyons for the report, and that would put Kai in his crosshairs. It's worth noting that Kingsley isn't the only one who could lose a lot of money if Empire goes belly-up.
The Lyons were obviously thrilled at the fallout against Kingsley in the midseason finale (until they found out that he'd framed Becky, anyway), but the potential downfall of Kingsley doesn't mean the end of the story. Like the good journalist he is, Kai kept digging when a source reached out with some new information. This time, however, the damning information was bad for Lucious.
Kai learned that Lucious kept dossiers on his artists back when he was in charge at Empire, and he used his sway in the biz to bury various crimes and misdeeds committed by his big-name clients. When Kai dropped the news on Jamal, Jamal tried to dismiss it as his dad simply doing whatever it takes for his clients. Kai wanted Jamal to think of the victims, and it's clear that the happy couple isn't necessarily going to stay happy.
As it turns out, Kai was offered a solid position in London, and he's not thrilled with the ruthless side of Jamal he's been seeing. Jamal asked for the dossier and for Kai to trust that he would do the right thing. Something tells me that Jamal isn't going to do the right thing. If Kai does something that Lucious might see as a betrayal, perhaps Lucious could put a plan in motion that results in Kai's death. Wilder things have happened!
We'll have to wait and see. For now, we should probably worry about Andre more than anybody else. Empire will return for the second half of Season 5 in 2019. For more of what you can watch after ringing in the new year, check out our midseason TV premiere guide.
Resident of One Chicago, Bachelor Nation, and Cleveland. Has opinions about crossovers, Star Wars, and superheroes. Will not time travel.
Your Daily Blend of Entertainment News
Thank you for signing up to CinemaBlend. You will receive a verification email shortly.
There was a problem. Please refresh the page and try again.