Cameron Monaghan And More Gotham Stars Reveal If They'd Return To Their Roles In The Future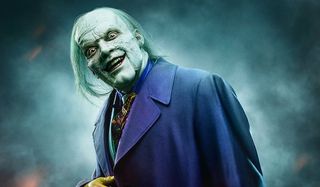 (Image credit: fox press)
Mild spoilers below for Gotham's series finale, among other things, so be sure you're all caught up.
In closing out its final season, Gotham launched viewers to the point in Gotham City's future when Bruce Wayne finally returned to his crime-ridden home turf in full Dark Knight glory. Of course, the episode held its focus on all the other colorful and iconic characters that have populated Gotham throughout its five seasons, granting Jim Gordon, Barbara Kean, Oswald Cobblepot, Ed Nygma and others a fond comic-book-infused farewell. But could these characters return in our future one day?
The #1 hope, of course, is for another network or studio to hurry up and pick up where Gotham left off, but even if it takes time, there are feasible ways to jump back into Gotham's story. It's not likely that every single cast member would be able to pick back up where their characters left off, but CinemaBlend asked a handful of stars, including Cameron Monaghan, if they would be down to return. Let's run through their answers.
Cameron Monaghan - Jeremiah / J / The Joker
Of all the elements that made Gotham such a blazing romp, its greatest weapon was the sporadically utilized Cameron Monaghan, who inspired increasingly Joker-esque pandemonium as both Jerome and Jeremiah Valeska, as well as the finale's Mr. J. Oker. (Not the actual character name, but wouldn't that be a hoot.) Thinking about Gotham returning in the future without Monaghan's sadistic villain – or even just his laugh – is a bummer, so it's a good thing we don't need to do that.
CinemaBlend spoke with Cameron Monaghan for this year's Television Critics Association winter press tour, which took place ahead of the finale's airing, but after the principal photography was shot. The actor was very pumped for fans to get a load of Jeremiah's final turn, and I had to ask if he would be interested in reprising Gotham's version of The Joker in the future. His response:
The last time we got to see Cameron Monaghan's Joker was in his first face-off against Bruce Wayne's Batman, although it was a severely short-lived one. The scarred-up J took a Batarang through the hand, and then one to the top of the dome, which knocked him clean out, though it definitely didn't kill him.
Considering the finale was viewers's big introduction to the post-Arkham Jeremiah, it would make total sense for his next appearance to head down a different creative route. Assuming the next Gotham project would get to feature more of Batman, that would automatically change the writers' approach to weaving a Joker storyline into it. And I'd love to see it, if someone can just make it happen. Someone?
Ben McKenzie - Commissioner Jim Gordon
If there was a load-bearing character on Gotham, it would definitely be Ben McKenzie's Jim Gordon, as close to a working-class superhero as there is. The fact that the finale even hinted at him trying to quit the GCPD was surprising, given the character's legacy, but the story obviously worked itself out in Gotham City's favor. Even if he had to shave to make it happen.
I also got to talk to Ben McKenzie during TCA, where we talked about him facing fellow former teen hunk Shane West as Bane. McKenzie is a pragmatic actor who loved his time on Gotham, even if he didn't flip out with excitement over Batman's arrival. But would he return to play Jim Gordon again someday? His answer:
Three different shows that might seemingly have three very different fan demographics, too. Ben McKenzie starred in both the teen drama The O.C. and the non-comic cop drama Southland before hanging his hat in Gotham City, and I've no doubt that fans of both of those shows would love to see them get revived in some form or fashion.
Regardless of any of that, though, Ben McKenzie sounds like he'd be willing to slick his hair back anew to lead the GCPD against whatever dangerous threats lie over the horizon. Just imagine if the newest recruit on the squad was his Southland character Ben Sherman, and if Joker's newest henchman was The O.C.'s Ryan Atwell.
Robin Lord Taylor - Oswald Cobblepot / The Penguin
After five seasons of watching Robin Lord Taylor committing some Penguin-lite acts as Oswald Cobblepot, Gotham fans were introduced to the most genuine iteration of The Penguin that TV has seen since Burgess Meredith waddled around for the 60's Batman series. The penultimate episode injured his eye to set up the monocle, and a rough decade in Arkham Asylum led to his weight gain and heightened levels of frustrated anger.
I got to talk to Robin Lord Taylor on the phone just ahead of the finale's airing, and he seemed to still be riding that one-of-a-kind Gotham high, championing the work he got to do alongside Cory Michael Smith as Ed Nygma. When I asked Taylor if he would ever want to get uncomfortable in The Penguin's signature garb again in the future, he was down, but only if his co-stars were making the return with him.
As great as Oswald and Ed were in Gotham's first 99 episodes, seeing them in pure Penguin 'n' Riddler glory was a gloriously batty punctuation mark on the series' run. (A question mark, of course.) Any follow-up version of Gotham would be severely lacking if Taylor's Oswald and Smith's Ed were absent. However, Robin Lord Taylor wouldn't begrudge another team picking up where the Fox drama left off. In his words:
Again, it should be stated that any future Gotham-y project that doesn't have Robin Lord Taylor's Penguin and Cory Michael Smith's Riddler is not the ideal iteration of that project. So other decisions should probably be made. Soon.
David Mazouz - Bruce Wayne / The Dark Knight
David Mazouz's potential to return to Gotham's universe would a little trickier than what would happen for the others. As viewers witnessed – or didn't witness, as it were – Mazouz's Bruce Wayne was completely absent from the series finale, which wasn't announced ahead of time like Camren Bicondova's absence was. (She was replaced as Selina by Lily Simmons.) That was, of course, due to the actor's young age not exactly matching up with Bruce's for the finale's flash-forward.
As such, I didn't directly ask him about reprising Bruce Wayne for a future Gotham project, I did ask if he'd be down to play Batman on the big screen. His answer did not take long to formulate.
While that probably won't happen either, assuming that new Batman movie doesn't get postponed for more years on end, David Mazouz did have some pretty sweet advice for whatever actor does take on the role of Bruce Wayne in the future.
All that said, David Mazouz spoke so highly of his experience on Gotham, especially in the final season, that he would very likely return for more small screen vigilantism should anyone come calling. Now, someone, start calling!
Gotham is over on Fox now, but there's always the hope for more in the future. While waiting for Season 5 to hit streaming, you can watch the first four seasons on Netflix (opens in new tab), while Hulu is still hosting (opens in new tab) the final five episodes of the series.
Nick is a Cajun Country native, and is often asked why he doesn't sound like that's the case. His love for his wife and daughters is almost equaled by his love of gasp-for-breath laughter and gasp-for-breath horror. A lifetime spent in the vicinity of a television screen led to his current dream job, as well as his knowledge of too many TV themes and ad jingles.
Your Daily Blend of Entertainment News
Thank you for signing up to CinemaBlend. You will receive a verification email shortly.
There was a problem. Please refresh the page and try again.