The O.C.: The Cast Then And Now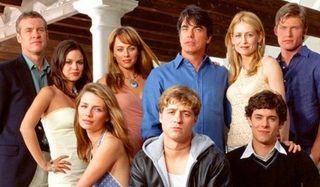 Teen series have been a staple of TV programming for decades, ranging from the scandalous Beverly Hills 90210 to the somewhat more family-friendly Dawson's Creek and the last five years or so have seen shows Gossip Girl and Pretty Little Liars attract surprisingly sizable audiences. One of the most addictively entertaining teen dramas since the advent of the teen drama, though, was definitely The O.C. on Fox.
The O.C. followed troubled young Ryan Atwood as he's taken in from the wrong side of the tracks by the wealthy Cohen family to live in the posh Orange County of California. Although the Cohens were good to Ryan, some of the other rich folks in the area didn't take so kindly to the rough and tough teen joining their community. It was a show with a great young cast, surprisingly compelling storylines, and a killer soundtrack, and though it ended after four seasons, the legacy will live on so nobody forgets the show that spawned the epic "Mmm, whatcha say" spoofs. For a blast from the O.C. past, take a look at the cast then and what they're up to now!
Ben McKenzie
Ben McKenzie played troubled youth/heartthrob Ryan Atwood, who made the move from the poor side of Chino to Orange County. After Ryan was arrested for theft, his appointed attorney Sandy Cohen took him home to meet his future BFF Seth and eventual adoptive mom Kirsten. Despite getting into some rumbles early on, he found friends in the crowd of rich kids. McKenzie moved to film for a few years after the end of The O.C. in 2007, then returned to the small screen to spend five seasons from 2009 - 2013 as police officer Ben Sherman on TNT's Southland. His next big role came when he was cast as Jim Gordon in 2014 for Fox's Gotham, which has been renewed for a third season. Interestingly, Gotham is McKenzie's second DC Comics role. He voiced Batman in the direct-to-video movie Batman: Year One.
Peter Gallagher
Peter Gallagher played public defender Sandy Cohen, who changed the lives of his wife and son when he brought Ryan home to live with them. Sandy often functioned as the moral center of the show who tended to be more liberal than his wife, but the Cohens nevertheless were usually a united front. After the end of his time as Sandy on Fox, Gallagher made the jump from network TV to cable for roles on Californication and Rescue Me in 2009 and 2010. His next regular TV gig came when he tackled the role of CIA bigwig Arthur Campbell on USA's Covert Affairs from 2010 - 2014. He joined Law & Order: SVU for a recurring role as Deputy Chief Dodds in Seasons 16 and 17, then appeared in several 2016 episodes of the now-cancelled dramedy Togetherness.
Kelly Rowan
Kelly Rowan played Kirsten Cohen, the wife of Sandy and mother of Seth who was initially not particularly welcoming to Ryan. She grew to accept and love him as she got to know him. Unlike Sandy, Kirsten came from a wealthy family. She developed an escalating drinking problem as the series progressed, but would recover and later give birth to another child. Following the conclusion of The O.C., Rowan had a supporting role in the film Jack and Kill vs. the World, later returning to TV for a series of guest roles and TV movies. Rowan had a key role in the TNT crime drama Perception for all three seasons from 2012 - 2015. She can next be seen in the Hallmark original movie Tulips in Spring, which debuts on Hallmark in September.
Adam Brody
Adam Brody played Seth Cohen, the outcast son of Sandy and Kirsten. His social awkwardness led to bullying until Ryan came on the scene as both protector and friend. Seth was a lovable geek who managed to win the heart of popular girl Summer Roberts, whom he eventually married. Brody tackled parts in a handful of films after the conclusion of The O.C., including the critically-acclaimed Smiley Face, the star-studded Cop Out, and the play adaptation Some Girl(s). He then landed recurring roles on TV in 2013 with House of Lies and The League. He was a key player in Season 2 of Burning Love, and he starred as the male lead in Audience's Billy and Billie that told the story of a pair of step-siblings in love. Brody will make his Crackle debut this fall with new series StartUp.
Mischa Barton
Mischa Barton played ill-fated rich girl Marissa Cooper, who struggled with drugs and alcohol over her three seasons as a key player on The O.C. Marissa had a number of notable romances on the show, but is perhaps best known as Ryan's first and biggest love interest. Her death in Season 3 permanently changed the series. Barton moved to film after her grand O.C. exit, and she did a number of projects overseas, including Closing the Ring and St Trinian's in the U.K. and Virgin Territory in France. She starred in the 2009 horror thriller Walled In, then returned to TV in 2009 to star in the short-lived CW series The Beautiful Life. Barton turned up on Law & Order: SVU, later joining the reality TV circuit as a Season 22 contestant on Dancing with the Stars.
Rachel Bilson
Rachel Bilson played snob-turned-sort-of-sweetheart Summer Roberts on The O.C. Despite giving the impression of an airhead, Summer was very smart and earned admission to Brown. She was the object of Seth's affections for years before she gave him the time of day, and their wedding was one of the final scenes of the series. Bilson has had memorable roles on TV since leaving Summer behind. She played Chuck's quirky (although very temporary) love interest on Chuck in 2007, then emerged as one of the candidates for the Mother of How I Met Your Mother in 2010. She found a home on The CW from 2011 - 2015 as the leading lady of the dramedy Hart of Dixie.
Autumn Reeser
Autumn Reeser joined The O.C. as genius rich girl Taylor Townsend in Season 3, first as a recurring classmate to Ryan and Co. who gained a more prominent role in the series (and in Ryan's life) after Marissa's death. When The O.C. came to a close, Reeser moved to The CW to star in the first and only season of the romantic dramedy Valentine, then scored a memorable role on Entourage in 2010. She had a key role in the short-lived ABC series No Ordinary Family from 2010 - 2011 before moving to Hawaii Five-0 and Last Resort. Reeser joined Rachel Bilson for an episode of Hart of Dixie in 2015, then proceeded to be adorable in the Hallmark original movie Valentine Ever After. She can next be seen in the upcoming E! series The Arrangement.
Melinda Clarke
Melinda Clarke played Julie Cooper, who later became known as Julie Cooper-Nichol after she gold-dug her way into a new marriage. Julie was a combination of superficiality and manipulation in her continued efforts to keep herself and her daughters on top. She memorably had an affair with Marissa's ex-boyfriend Luke, then married Kirsten's father Caleb. Clarke's first major stop after The O.C. was The CW's Nikita, where she played unforgettable antagonist Amanda from 2010 - 2013. She stayed on The CW for a stint on The Vampire Diaries before moving to the CBS drama Vegas in 2013. Clarke joined Ben McKenzie for two episodes of Gotham in early 2016 as the conniving Grace Van Dahl.
Tate Donovan
Tate Donovan played Jimmy Cooper, who was Julie's first husband and Marissa's father. He got his family into trouble in Season 1 when he stole money from clients as a financial planner, then went on the borrow money from very dangerous people. He was a loving father to Marissa, however, and his past relationship with Kirsten meant that he and Sandy had some problems. Donovan has done well for himself on the small screen in the years since The O.C. He landed a key role on the FX legal thriller Damages that kept him busy from 2007 - 2010, starred in the short-lived primetime soap Deception, and appeared in all fifteen episodes of the CBS drama Hostages. 2014 saw him take a lead role in the Fox limited series 24: Live Another Day. His biggest film role to date was as a member of the ensemble on Argo.
Willa Holland
Willa Holland was the second actress to tackle the role of Kaitlin Cooper, replacing Shailene Woodley for Seasons 3 and 4. Kaitlin was a troublemaker who spent most of the first two seasons off-screen in boarding school. She returned to her family in Season 3, then rose to greater prominence as the complicated Cooper teen after Marissa's death. Holland moved to The CW for Gossip Girl after the end of The O.C., and she's stayed on The CW ever since as a key member the Arrow-verse. She currently plays Thea Queen on Arrow, which led to a crossover with Arrow's sister series The Flash. Arrow returns for Season 5 this fall.
Alan Dale
Alan Dale played Caleb Nichol, who was first introduced as Kirsten's real estate mogul father. Caleb later married Julie Cooper, but he died from a heart attack in the final episode of the season. Following Caleb's death on The O.C., Dale moved to ABC for more than thirty episodes of Ugly Betty from 2006 - 2007, then strayed to the big screen to play a general in Indiana Jones and the Kingdom of the Crystal Skull. Fans of Lost know Dale as the nefarious Charles Widmore who pulled many mysterious strings off and on from the second season all the way to the end in 2010. Dale played King George on Once Upon a Time for a few seasons, and was a figure on Syfy when he tackled a key role on Dominion from 2014 - 2015, also turning up on NCIS and Australian drama Secret City.
Chris Carmack
Chris Carmack played rich jock Luke Ward, who debuted as Marissa's long-term boyfriend. He was later revealed to be unfaithful to Marissa, then wronged her even further by hooking up with her mom later. His actions directed the course of some key Season 1 plots, but he became much more minor in Season 2. Carmack ended his run on The O.C. in 2004, but he stayed around the beach for the mini-series Beach Girls in 2005. He appeared on the WB dramedy Related before becoming a regular on the guest star and TV movie circuit. Carmack finally landed another ongoing small screen role with Nashville, where he's appeared in 71 of the 86 episodes of the four seasons so far. Nashville will return for Season 5 on CMT.
Olivia Wilde
Olivia Wilde played bad girl Alex Kelly, who was introduced as the runner of the Bait Shop club. Alex was bisexual and earned the very unique bragging right of having dated both Marissa and Seth during her run of episodes in Season 2. Wilde played Jenny Reilly in the NBC drama Black Donnellys for all thirteen episodes in 2007, then hopped back to Fox for four seasons of House. She moved to the big screen for Tron: Legacy and Cowboys & Aliens before starring in the drama/comedy Drinking Buddies in 2013. Wilde was a key cast member of HBO's 2016 period drama Vinyl, which has unfortunately been cancelled and will not return in 2017.
You can catch old episodes of The O.C. on Hulu, Amazon Prime, and CW Seed. Check out our fall TV premiere schedule to see what you'll be able to watch live in the near future.
Laura turned a lifelong love of television into a valid reason to write and think about TV on a daily basis. She's not a doctor, lawyer, or detective, but watches a lot of them in primetime. Resident of One Chicago, the galaxy far, far away, and Northeast Ohio. Will not time travel, but will sneak references to The X-Files into daily conversation.