Kit Harington Worried Game Of Thrones' Final Episodes Would Be Seen As Sexist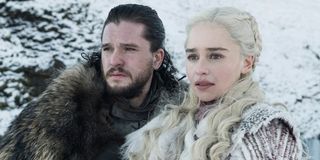 Spoilers for "The Iron Throne" can be found throughout this article. Don't say we didn't warn ya.
Like most of the rest of us, Kit Harington has thoughts about the Game of Thrones finale. In a recent interview he revealed he worried about the finale, not because of his character particularly, but because he was concerned the show ultimately opted to take out both of its female power players in favor of a male leader. He said:
It's true that Jon Snow has always sort of served as the moral compass on Game of Thrones, at least ever since Ned Stark lost his head back in Season 1. Daenerys Targaryen and Cersei Lannister were always motivated by power and their endgames were different than Jon Snow, who never sought to lead people into his vision of the future.
In that way, Jon Snow's decision to take on Dany after a very telling conversation with Tyrion Lannister made sense. But Kit Harington still worried people might find the Game of Thrones creators' decision to be a little suspect and sexist. Still, Harington is clear in his opinion that Dany has never been a "good person" on Game of Thrones.
Related: Game Of Thrones Finale: What The CinemaBlend Staff Thought Of The Ending
Not everyone is going to love or agree with D.B. Weiss and David Benioff's ultimate trajectory, however, and in his interview with EW that happened before the premiere aired, Kit Harington seemed to recognize people's opinions were going to be all over the board.
Ultimately, Jon Snow made yet another sacrifice while deciding to kill Daenerys Targaryen—the second love he'd cradled in his arms as he watched her die on the show. He wasn't sure he was right afterward the end, even as he headed back to The Wall and away from his family once more. Had he made the right decision?
At the end of the day, Game of Thrones did have a female character that could have handled power and still put the people first: Sansa Stark. Although the fact the North split off again at the end of the HBO drama did seemingly track, so I really have no complaints with how Sansa's storyline was handled.
I was also fine with Bran taking over, although this season spent a lot of time explaining he really doesn't focus on the present or any practical human concerns, so there are still some questions about his leadership skills. Ultimately, however, given where the other major players ended up, I'm not sure what other direction the show could have gone in. No one's looking to Edmure Tully or Robin Aryyn (yes, that was him) to lead.
Ultimately, we get what we get and we don't get upset. Or at least we shouldn't get upset. This was the showrunners' creative vision after all, and one million people signing a petition is not going to change the months of work they put into the final season some time ago.
That's kind of the nice thing about television watching and moviegoing, as well. Shows and movies work in advance and aren't swayed by random people on the internet's feelings. Once it's out there, it's out there, for better or worse. There's a lot we can say about this finale of Game of Thrones, and no matter how you feel about the ending, this peak TV series did not go gentle into that good night.
Amazing Race & Top Chef superfan with a pinch of Disney fairy dust thrown in. Theme park junkie. If you've created a rom-com I've probably watched it.
Your Daily Blend of Entertainment News
Thank you for signing up to CinemaBlend. You will receive a verification email shortly.
There was a problem. Please refresh the page and try again.