Should James Holzhauer And Ken Jennings Face Off On Jeopardy?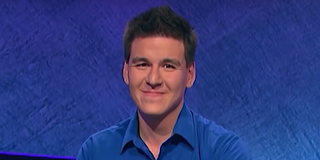 James Holzhauer's phenomenal Jeopardy! run is over, and the game show's latest trivia phenom finished his run just short of conquering a major record held by the legendary contestant Ken Jennings. For now, Jennings' dominant earnings and win-streak record puts him over Holzhauer in the eyes of many, but does that mean Jennings could defeat Holzhauer in a trivia showdown? It's a question America is asking, and one Jeopardy! has yet to entertain.
It's the television event that Alex Trebek and other Jeopardy! decision makers should be working on, because there's a lot of evidence that this could be a showdown worthy of primetime. Will it ever happen though, and if it did, who has the better chance at winning? While it's impossible to know for sure, here's what we know about each contestant, why a match up should happen, and why a battle between the two is more fair than some may assume.
For all they share in terms of being good at Jeopardy!, James Holzhauer and Ken Jennings are two very different people. In this "Tale of the Tape," so to speak, we break down some of the key differences between the two and the edge they'd have over each other.
James Holzhauer
Bio: James Holzhauer is a professional gambler who took the world of Jeopardy! by storm with his aggressive playstyle. This allowed him to reach massive winnings in a very short amount of time, and created a style of play that made it very hard for competitors to catch him once he pulled ahead. Holzhauer's Jeopardy! streak ended at 32 games in which he amassed $2,464,216.
His Impressive Stats: Through his capitalizing on Double Jeopardy, James Holzhauer racked up some monumental one-day totals, and may have fundamentally changed the game of Jeopardy! as audiences know it. At the time of writing, he currently holds the record for the top 10 one-day total earnings in the show's Hall of Fame. Of course, he also holds second place in consecutive games won and total earnings, but that may not mean much to Ken Jennings.
His X-Factor: One of the things that makes James Holzhauer so fearsome as a competitor is his experience as a professional gambler. He's relatively conditioned to betting big in high pressure situations, and is able to make quick decisions on his best course of action for wagers despite being in the middle of a game. Staying cool under pressure is a big advantage in most situations, and I'd assume Jeopardy! is no exception.
Ken Jennings
Bio: At 45-years-old, Ken Jennings remains the man in possession of two of the biggest Jeopardy! records. The former software engineer amassed $2,520,700 in winnings and went on a 74-game win streak that has is nothing short of incredible. He's since released books following his time on the show, maintains a blog, appeared on other game shows, and has a strong following on Twitter.
His Impressive Stats: As mentioned, Ken Jennings holds the record for the most money won in a regular season Jeopardy! run, and holds the record for most consecutive games won by a wide margin. At the moment, it looks like a record that may never be broken, especially in lieu of James Holzhauer's defeat.
His X-Factor: Ken Jennings is the Michael Jordan of Jeopardy! and has more or less used that title to shape his career into one that allows him to continue to study trivia and keep his mind sharp. He's also appeared in various Jeopardy! tournaments since his initial run, so he's got an edge over Holzhauer in that respect as well.
Why A Jeopardy! Showdown Is Completely Fair
Some may argue that with James Holzhauer potentially a game away from Ken Jennings' earnings record, Jennings has everything to lose by participating in a showdown between the two. This actually isn't true, as Jeopardy! leaderboards dictate a distinction between what champions earn in their regular season run versus their tournament play. Long story short, unless it's explicitly stated otherwise, James Holzhauer's winnings would not be eligible towards Jennings' record for regular season winnings.
Furthermore, if James Holzhauer and Ken Jennings faced off, Holzhauer likely wouldn't even dethrone Ken Jennings' total earnings record. Jennings' winnings including tournament play stand at $3,370,700, so his record is pretty safe from Holzhauer's $2,464,216. Maybe if there was a champions' tournament it would be a different story, but in standard play competition, he has no shot. On an unrelated note, Jennings is actually second in total earnings to Brad Rutter, who defeated him in the show's Ultimate Tournament.
Age vs. Playstyle
One thing that Ken Jennings has frequently brought up when people ask him about a match up against James Holzhauer is that he's at a disadvantage now 15 years removed from his Jeopardy! run. Though he's said his mind may not be as sharp as it once was, Jennings did add in an interview with Good Morning America that he believed he can hold his own against Holzhauer.
The question is then, could James Holzhauer hang with Ken Jennings? Holzhauer has a solid grasp of trivia, which was cushioned by his aggressive betting which often put him far ahead of competitors and gave him room for error. That strategy doesn't work so well if he misses a Double Jeopardy opportunity, or is against someone just as fast as the buzzer as he is. If Jennings can truly keep up, then neither man is really at an advantage in this hypothetical match.
Why Jeopardy! Needs To Make This Happen
If no one at Jeopardy! is currently working on getting these two together for a special episode, they absolutely should be. Both men gave the game show a noticeable boost in the ratings during their respective runs, so it stands to reason the episode between them would be a big winner for the game show.
Plus, it's becoming remarkably clear that the public wants to see these two men go to battle. Jennings v. Holzhauer could be a legendary matchup that's up there as the trivia equivalent of Ali and Frazier, Batman and Superman, and Obi-Wan and Darth Maul. Point being, rivalries like these don't come along often, especially in the world of game show television, so Jeopardy! needs to capitalize on this cash cow and milk it for all it's worth.
Jeopardy Aims To Take Action Over Leaked Video Of James Holzhauer's Defeat
Should James Holzhauer and Ken Jennings go head to head? Sound off in our poll and stick with CinemaBlend for more news on Jeopardy! and other summer television and movies.
This poll is no longer available.
Your Daily Blend of Entertainment News
Mick likes good television, but also reality television. He grew up on Star Wars, DC, Marvel, and pro wrestling and loves to discuss and dissect most of it. He's been writing online for over a decade and never dreamed he'd be in the position he is today.